One thing we get asked all the time at Anticipation Events is, "How do I find affordable wedding venues in Chicago?" Well, it's not easy. Chicago is one of the most expensive markets in the country for weddings and much more. But it is doable. And we're here to help.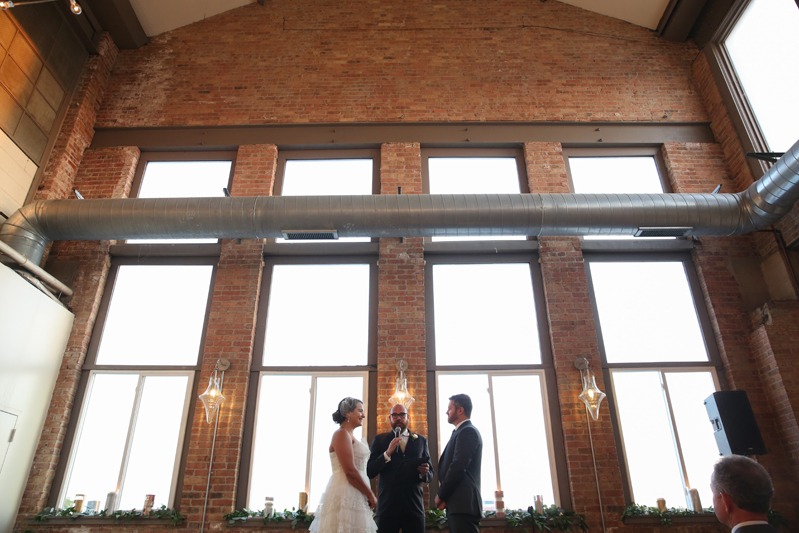 how much does a wedding cost in chicago?
One of the most important questions you need to answer is how much does a wedding cost in Chicago. That way, you can figure out not only what you want to spend (obviously, zero dollars), but what you're probably going to need to spend (obviously, a little more than that). The average cost of a wedding in 2018 was $33,931, according to The Knot's Annual Real Wedding Study. (1) A Chicago wedding is even higher. Most of that cost goes to your venue and catering, so get ready for some sticker shock.
Wedding Wire, the authority on all things wedding, says the national average is $6,000 for a wedding venue. (2) Again, in Chicago, it's even higher. Couples typically spend $9,000 on their venue here. Yikes! So, if you're thinking you can get a venue for $1,000, you may have to think again, unfortunately. But, we have some tricks up our sleeves to help you keep it under $10,000. Or even $5,000, believe it or not!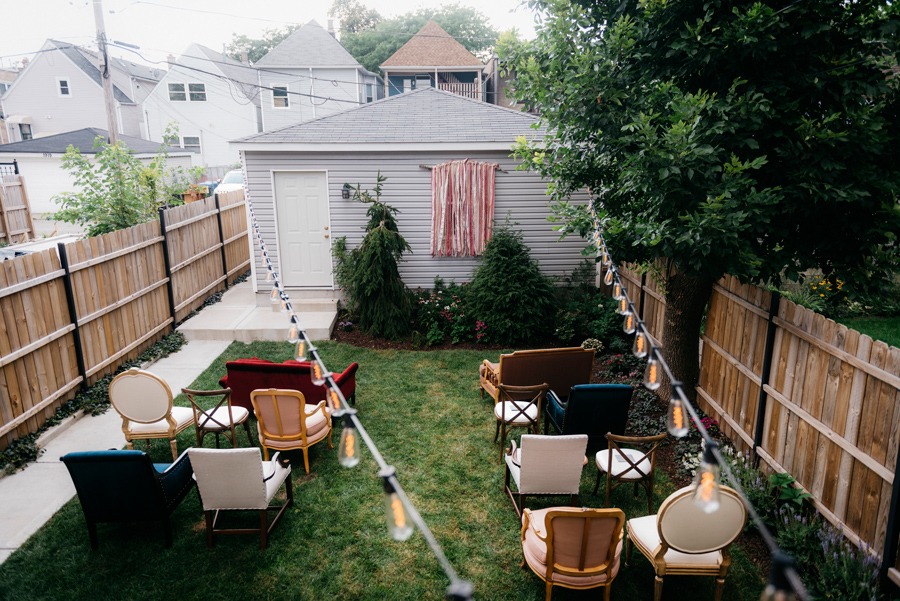 top tips for planning an affordable wedding in chicago
When you're planning a wedding, it's easy for costs to add up fast, so here are our top tips to find an affordable wedding venue Chicago:
1. plan ahead
The first thing you should do after you get engaged is to start looking for your wedding venue. If you're planning to get married more than a year later, you can sometimes snag some deals because you can book ahead at the current rates. It may not seem like saving now, but by the time you get married, you'll see the savings! Once your venue is locked in, start working on the rest of your vendors. Again, they may be willing to book ahead, but at their current rates, so the more you lock in early, the better.
2. be flexible
This rule applies to your wedding venue and pretty much everything in your wedding. The more flexible you can be, the better.
Start with being flexible on the date. The venue may have one date left in that year that they're trying to book, so if you're flexible, you may get it. Other than that, be flexible when it comes to season, day of the week, and even time. You probably know that Chicago's wedding season is typically April to November, so if you're dreaming of a winter wonderland wedding in January, you're in luck! You'll probably score a deal on your venue and a lot more.
The same rule applies to the day of the week (Saturdays are the most expensive, so consider a Friday or Sunday if you want to save a little) and time. If you consider ending at 11 p.m. instead of midnight, you may be able to save a little and it all adds up fast! Or, consider a brunch wedding to save a lot on costs. People drink less, food costs are lower and venues charge a lot less for daytime events. All in all, a great way to save money.
3. guestlist
It's simple math: Fewer guests = spending less. The Knot estimates that couples spend an average of $258 per guest, so, if you're trying to save money on your wedding the first thing to consider is cutting the guest count. We know, we know, easier said than done. And yes, it will be the end of the world if Aunt Mary doesn't get an invitation. But, is it really worth $258 to you to invite all 12 of your besties from college? Or every single third cousin? If not, think about taking them off the list and your costs will drop quickly.
If you can keep your guest list under 200, usually, you can fit in smaller, less expensive venues, so we highly recommend keeping the numbers low. There are many benefits to a small wedding as well, like getting to talk to all of your guests!
4. food & beverage
The meal is by far the biggest cost of your wedding, so this is one place to look closely when trying to save money. First, using a venue that allows you to bring in off-site catering and your own alcohol can be a great way to save money. But it also means more work for you, so keep that in mind when you're trying to decide if that's the right fit.
If you book a venue with on-site catering, they will give you menu options and bar packages to choose from, so you just decide what you want to serve your guests. If you pick a venue that allows off-site catering and BYO alcohol, your options are pretty much endless, so you can spend a lot of time getting proposals and going back and forth with caterers and liquor stores to confirm details (that is, unless you have a wedding planner, but see more about that below) and logistics (there are lots and lots of logistics). But, the benefit is that you can pick exactly what you want to serve and often save quite a bit of money. So, weigh the pros and cons and decide what's best for you.
As for alcohol, booking a venue that allows you to bring in your own liquor can really help you cut costs. Lots of venues make the bulk of their money on bar packages, so if you can find one that doesn't do their own alcohol, it can really help your bottom line. That being said, if you BYO alcohol, keep in mind that usually means you're responsible for bringing in everything for the bar – mixers, non-alcoholic beverages, garnishes, cups, stirs, and even ice. It also means you need to get the alcohol there and back out the same day and make sure it's served by licensed bartenders (it's the law), so lots of things to consider. If you're going to BYO alcohol, we highly, highly recommend working with an experienced caterer (that can also provide licensed bartenders) and, of course, experienced planners (like us, we're just sayin') to make sure you have everything you need and it goes as smoothly as possible!
5. just ask
One of the easiest ways to have an affordable wedding? Just ask! If you have a specific budget in mind when you're talking to vendors, tell them. If you don't, tell them your priorities so they can put together proposals that are in line with your expectations. After you get proposals from vendors, if you like them but they're more than you want to spend, ask your vendors if there's any flexibility. Your venue may tell you that you can cut down on hours, catering/bar packages or add-ons to save a little. Your florist, for example, may be able to recommend ways to reuse flowers from your ceremony at the reception or other ideas to get what you want and save on costs. Just ask and see what they can do. And if they can't recommend ways to save, at least you know that, too.
6. do it yourself
DIY weddings aren't just a trend, but a great way to save a little money. We're not suggesting you should DIY your bouquet or cake (trust us and leave those to the professionals), but if you're the kind of person who likes to roll up their sleeves and get busy, making your own escort cards, table numbers or other decor items can be a great way to save a little cash. We also love DIY favors, so check out this article for Elizabeth's best advice on "How to make your own DIY wedding favors." (3)
7. hire us!
Obviously, we think you should hire us if you're looking for "affordable wedding venues Chicago." We're not just saying that because we want to plan your wedding. We're saying that because we know how to save money on weddings and we can work with you to create — and stick to — a realistic wedding budget. We tell clients all of the time that we'll pay for ourselves with the money and time we will save you by the time the wedding arrives. But don't just take our word on it. Check out this article from the queen herself, Martha Stewart, to find out more. (4) And then call us and we'll get to work!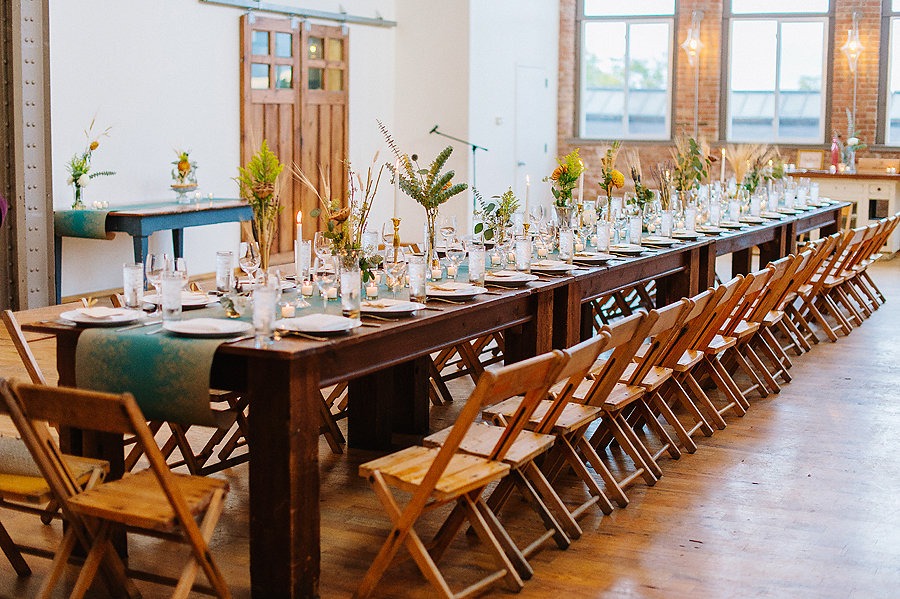 how NOT to plan an affordable wedding in chicago
We get questions all the time about how to keep the cost of a wedding down. We get it. We're married ourselves and felt the sticker shock, too. Keep in mind … you're throwing a party for 100 or more of your closest friends and relatives. Usually with dinner, appetizers, dessert, a full bar, and the best outfits you've ever worn in your lives. It's really hard to do that and keep it affordable!
Here are some questions we get a lot:
Can't I just rent out a restaurant instead of a venue? Then wouldn't the price per person be basically what we pay to eat there?
Yes, you can rent out a restaurant if one is available. Unfortunately, this isn't a great way to save on expenses. Restaurants are set up to feed lots of people in one night. So, if you want to rent one out, you're basically going to pay what the restaurant would have made that night. So, if a restaurant usually makes $10,000 in one night, you're going to pay that to make sure they don't lose money on your event. Many restaurants won't close down for the night, but have party rooms available. This can be a good way to save some money if you don't mind sharing your venue with other diners. Party rooms generally have a minimum food and beverage spend instead of a rental fee, so you're only paying what you'd spend on food & beverages and not more.
I've heard that having a buffet is cheaper, so can't I just do that and save a bundle?
True. Having a buffet can be cheaper because you won't need as many servers as you would for a plated dinner. However, your food costs are usually higher because guests are serving themselves and tend to pile more on their plates than they're going to eat (you know we all do it, especially when the food looks soooo good!) Keep that in mind and consider having a staffed buffet where servers actually serve the buffet food so they can control the portion size. You won't need as many staff members as you would for a plated dinner, so it's still a good way to save. Family-style is another great way to save a little dough. We love family-style weddings because food is served at the table, but guests pass plates around and share just like you would if you were eating with your own family. Again, it requires less staff than a plated dinner, but guests don't need to get up or wait in long buffet lines, so it's a really nice option.
My family really wants to have the wedding over Labor Day weekend, so can I save money by having a wedding then?
Eh… not really. Holiday weekends are some of the busiest weekends of the year for weddings, so if you're looking to save, we'd recommend staying away from Labor Day, Memorial Day and the Fourth of July, especially. In Chicago, September and October are the busiest time of the year and New Years' Eve weddings are often more expensive.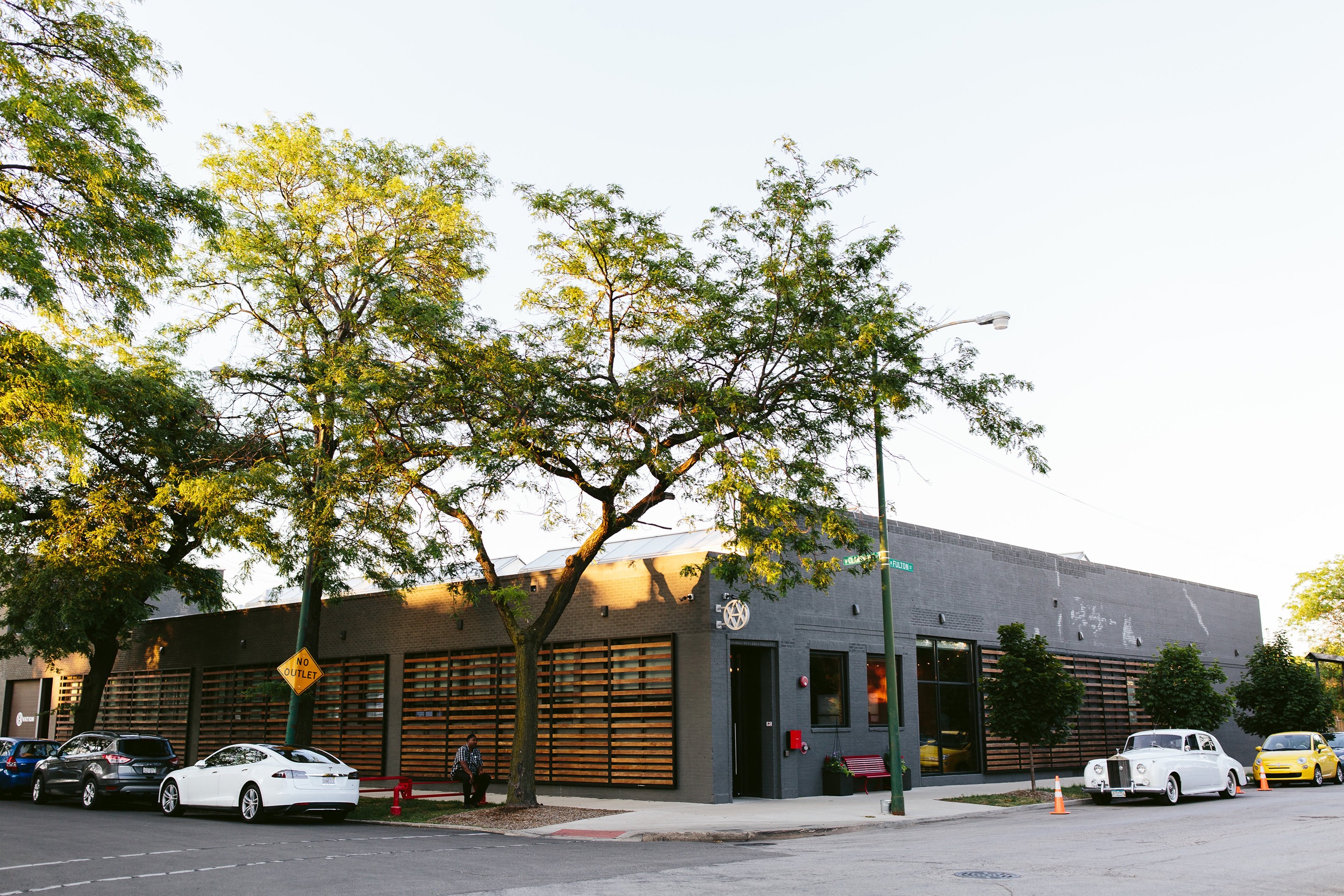 our favorite affordable wedding venues Chicago
As one of the best event planning companies in Chicago, we've worked in tons of Chicago wedding venues from the most expensive to the least. Here are a few that we think combine the best of both worlds – gorgeous space, excellent staff, and great price.
Fairlie & Kitchen Chicago
One of Chicago's newest venues, Fairlie, is also one of the most affordable. With 15,000 square feet and some of our favorite caterers on their list, you get a lot of space and some amazing yet affordable food. Rental rates start at just $5,500 at Fairlie and the amenities are killer. We can't wait to work there, so please book it and then call us, okay?
Having a smaller wedding? Fairlie's sister space, Kitchen Chicago, is perfection. With 3,400 square feet, Kitchen Chicago is just right for an intimate reception (and ceremony too, of course). It may have a small footprint, but the ceilings are sky-high, making this intimate space that much more magical. We love working there – just check out these weddings to see why.
Ovation Chicago
It's no secret we've done a LOT of weddings at Ovation Chicago. (You can check out tons of weddings we've done there on our website.) There's a reason we love this place so much. It's a beautiful space, easily accessible and you can bring in off-site catering and your own alcohol! With rates starting at $7,000, it may not seem like the cheapest out there, but the amenities included are huge (that price INCLUDES A DJ!) and you can save big time on your food & beverage costs. It books up FAST though, so if you want to get married here, call right away!
Sculpture Garden at Bridgeport Art Center
The Skyline Loft at Bridgeport Art Center is one of the city's best-known wedding venues in Chicago. It's a huge 18,500-square-foot space and, unfortunately, that means it comes with a hefty price tag and books up FAST. But not everyone realizes that the Bridgeport Art Center actually has two spaces. The Sculpture Garden on the first floor is equally as gorgeous as the Skyline Loft, but at 12,000 square feet, it's the Skyline Loft's lesser-known kid sister. It also has a stunning 4,500-square-foot outdoor covered patio that is perfect for a wedding ceremony or cocktail hour – or both! Rates start at $5,500 and the venue has several off-site catering options, so it's definitely worth checking out. And, of course, check out our website to see plenty of stunning weddings we've coordinated in both spaces!
The Joinery
Another one of the newer wedding venues Chicago, we love The Joinery not just because it's affordable and flexible (off-site catering is allowed), but because it's the sweetest little venue in Logan Square and we love it. At just 2,400 square feet, The Joinery is small, so it really only works for intimate weddings, but if that's your bag, it's perfect. Rental rates start at $4,500 and include some seriously great amenities. You can even rent a two-bedroom apartment attached to the space so you don't need to worry about transportation to or from the venue and a hotel room! (And get some inspiration from Melanie + Seth's sweet wedding at The Joinery on our blog and you'll know why we love it so much.)
A wedding in your own backyard!
Not everyone has a backyard big enough to accommodate a wedding, but if you do, it's definitely something to consider. Having a wedding reception in your backyard can be a lot of work (we definitely want to help if you're doing this) and requires tents and rentals that add up, but with careful planning, it can be a great way to save money. For example, if you're having your wedding on your property, you can BYOB and even make your own food if you want – many of the catering laws don't apply on private property.
But, you may also want to consider hosting the ceremony only in your yard. It's a great way to save a little cash and have a beautiful outdoor ceremony at the same time. You'll need to rent chairs (and think about a rain plan), but other than that, there's not a lot of expenses. Check out our owner Elizabeth's backyard wedding, plus a few more of our favorite backyard soirees.
need more tips?
You've got it! Contact Anticipation Events now to set up a time to chat and we'll be your own wedding angel to help you plan the affordable wedding of your dreams!
*eye candy courtesy of Jeremy Lawson Photography (photo 1), Erin Hoyt Photography (photo 2), Anna Page Photography (photo 3) and Nicodem Creative (photo 4)
Resources
Looking For More? Explore Related Posts: