Ok, we're totally biased on this one, but when our very own Elizabeth got married last summer, it was, of course, our dream backyard wedding! Get ready for some serious eye candy. When wedding planners plan their own weddings, the results are beyond incredible. Elizabeth is going to take it from here…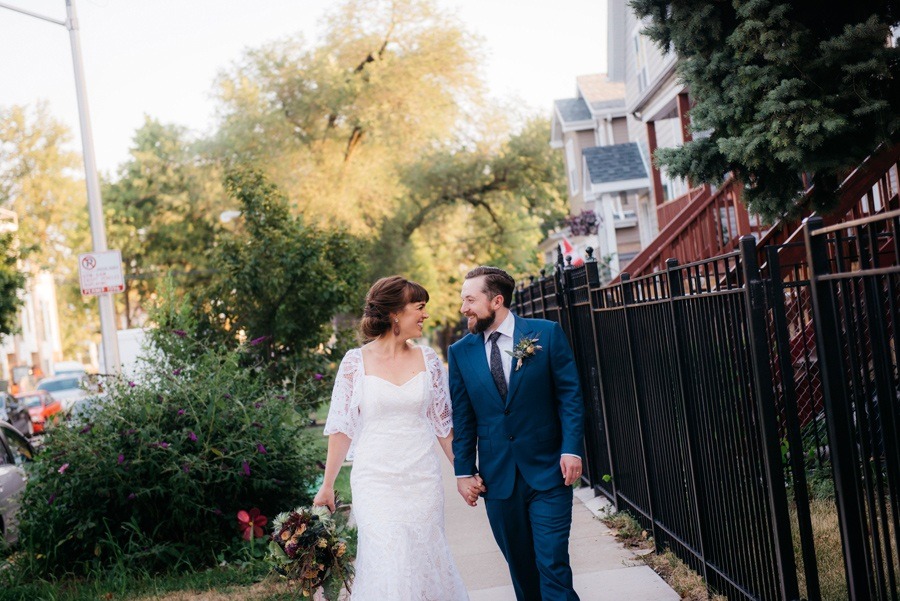 The Plan
We decided to have our wedding in our backyard. It is tiny and just fit our immediate family, which sounded perfect to us. Neither of us really love to be the center of attention, but we also couldn't imagine eloping without our families there. It took us a while to get to this place, and we understood it was going to be a more expensive way to do things (we also like to party and we hosted a party the next night for friends and extended family.) It worked for us. My only advice on this is to do what is going to make you the happiest.
Emma (Team AE newbie, but wedding PRO) coordinated for us and of course that's the first question everyone asks me: did you have a wedding planner?! Clearly, I planned this thing, but also clearly, I know enough to know I didn't want to be flipping the room on my wedding day. So with the help of some very rad vendors, a whole lot of Team AE, and a few little details I wanted to include, we made it happen.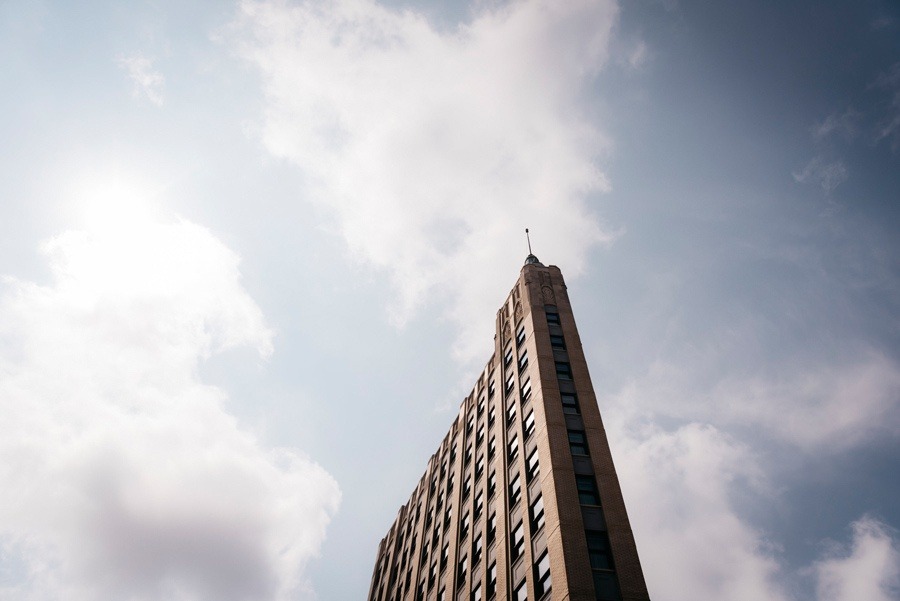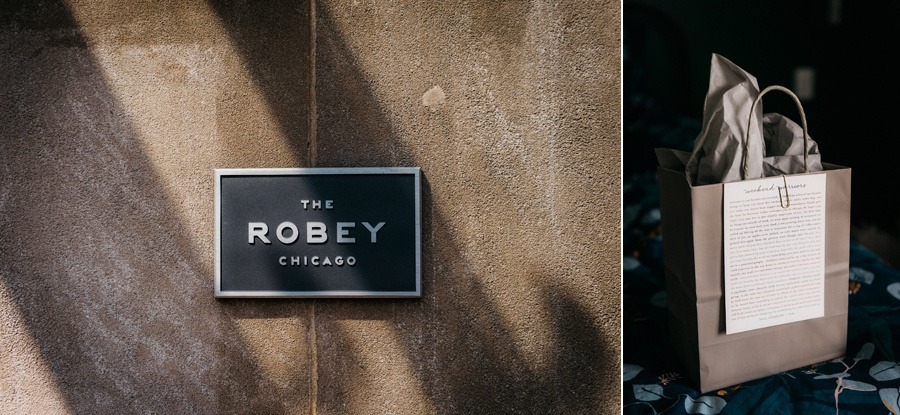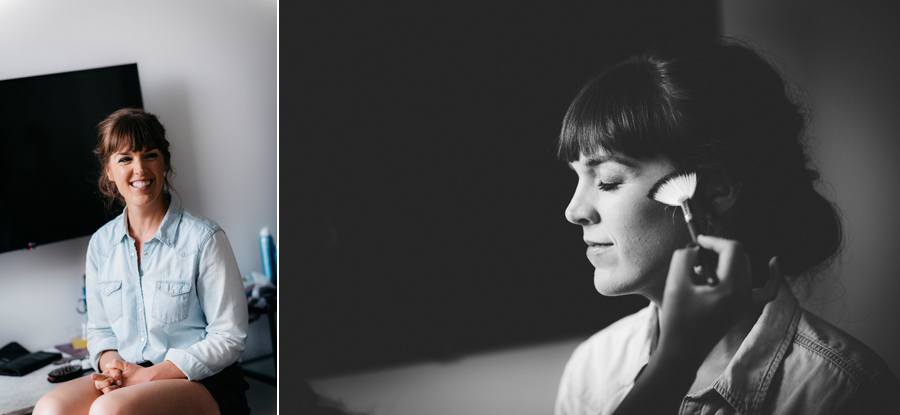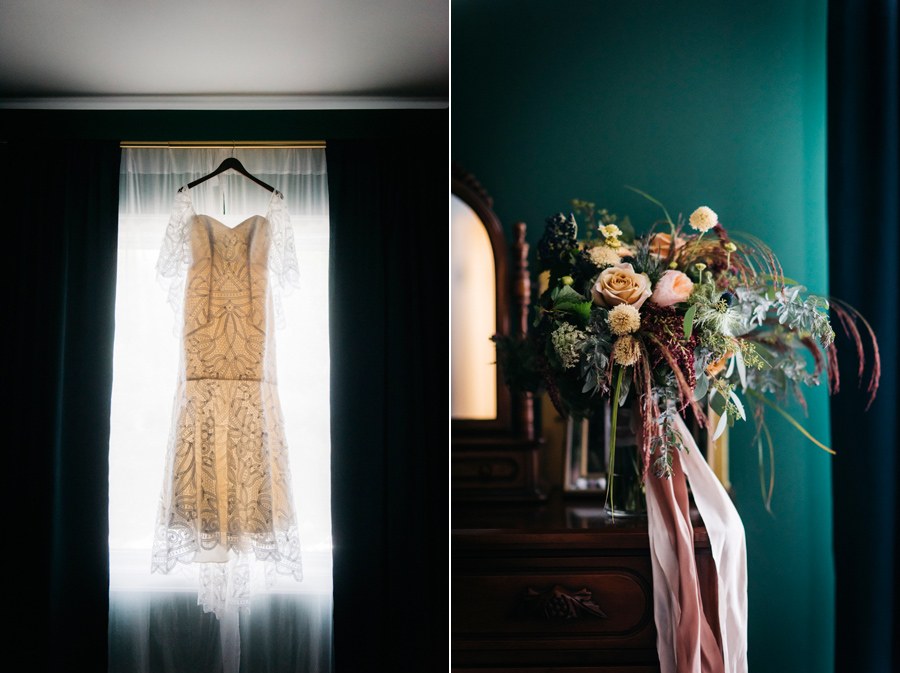 The Prep
My mom, sister, and SIL got our hair and make-up done at The Robey hotel where my family stayed, ate empanadas, and chilled out. It was truly one of the least stressful days ever, because honestly, doing my own hair and make-up is stressful. We decided not to see each other before the ceremony so I practiced my vows for a little bit upstairs while Tom was relegated to the basement to get ready. Erin Hoyt did her thing and everyone showed up on time! 🙂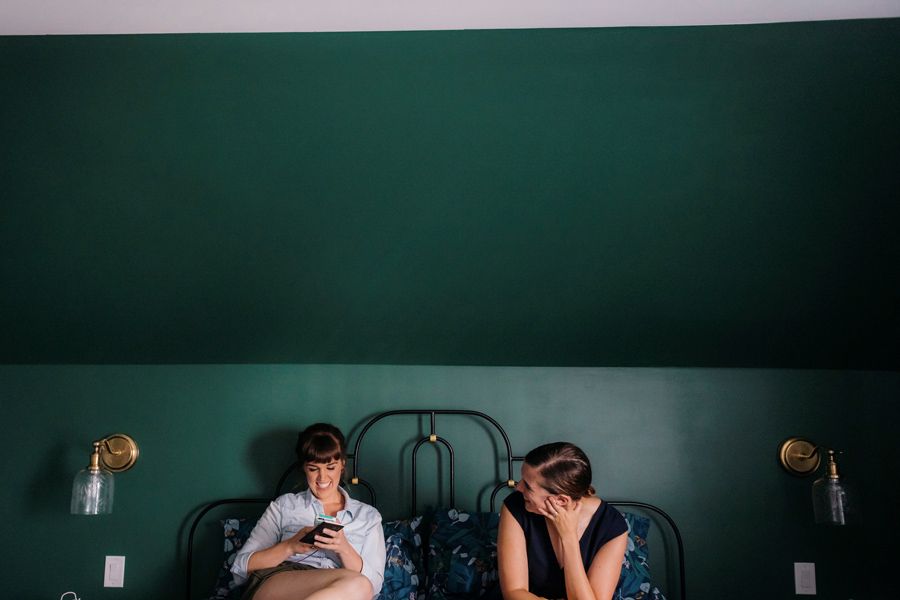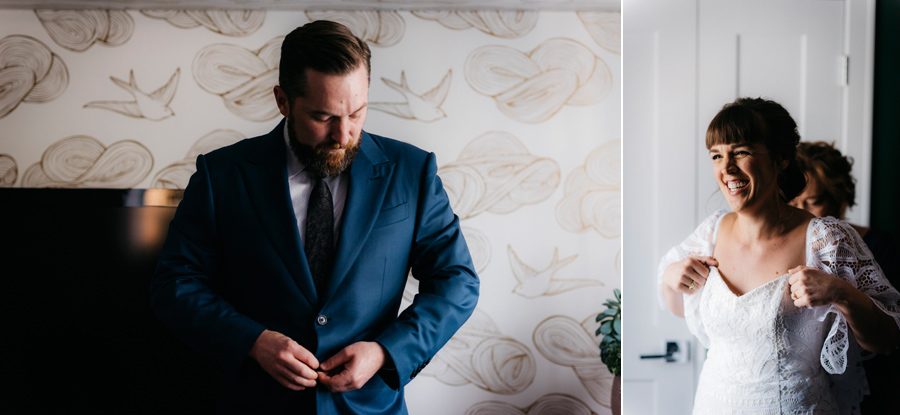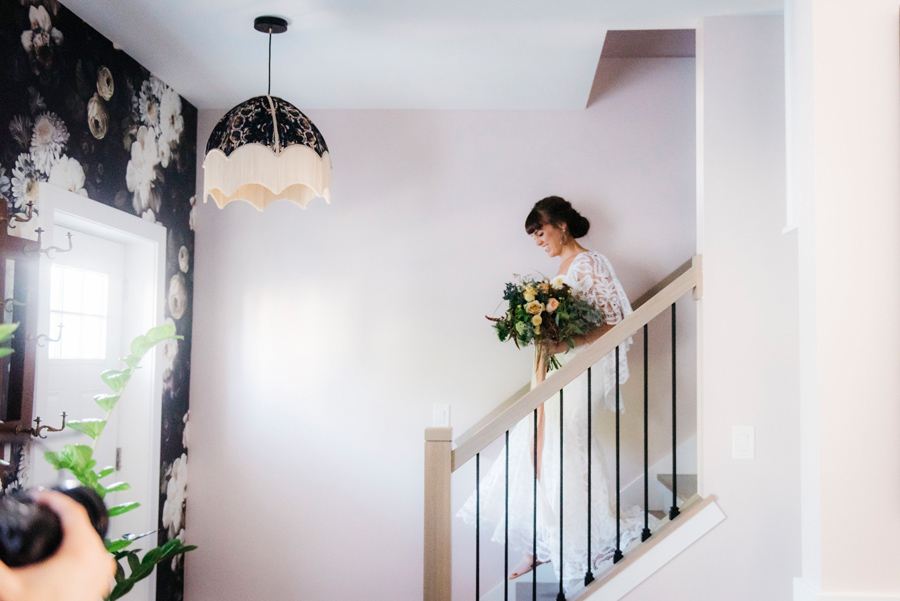 The Details
I love paper. Invitations are something that a lot of clients are willing to cut back on when budgets get tight, which I totally understand, but I went for a rad piece of acrylic for our ceremony invite since I only had to buy 10 of them. It had an email that Tom had sent me while we were just starting to date on it along with a few details for gathering the fam, in the backyard. Our party RSVP included a little bit of whimsy with the responses and I did source a whole lot of vintage stamps for the envelopes because I can be a glutton for punishment in regard to details.
I made a couple of installations to cover up windows behind the ceremony and on the deck behind the bar. Tom's mom brought me two giant sticks from their family farm in Wisconsin. This is their favorite place in the whole world (we considered having our wedding there, even) and though it might seem like a bit much, it was a little piece of the farm on our big day. We supplied some vintage hankies for tears (from some) and sweat (for all!) and rented a mix of furniture for ceremony seating to make the yard a little more comfy, colorful and eclectic.
My BIL is a som and he paired wines for each of the five courses we shared for dinner (listen, I married a chef and he didn't ask for much during this process) and Tom had his SIL make me an incredible book of his writings for me through the years on paper she actually made. It took Tom and me about 18 tried to get those two strands of lights up in the backyard, every morning we would wake up and they had fallen down. One of the biggest miracles was that they didn't crash down on our dinner table that day.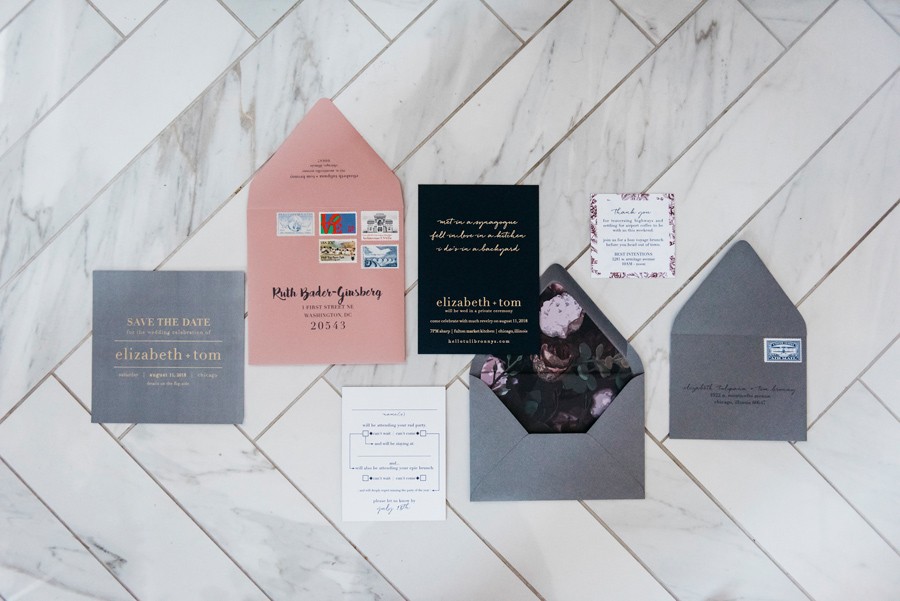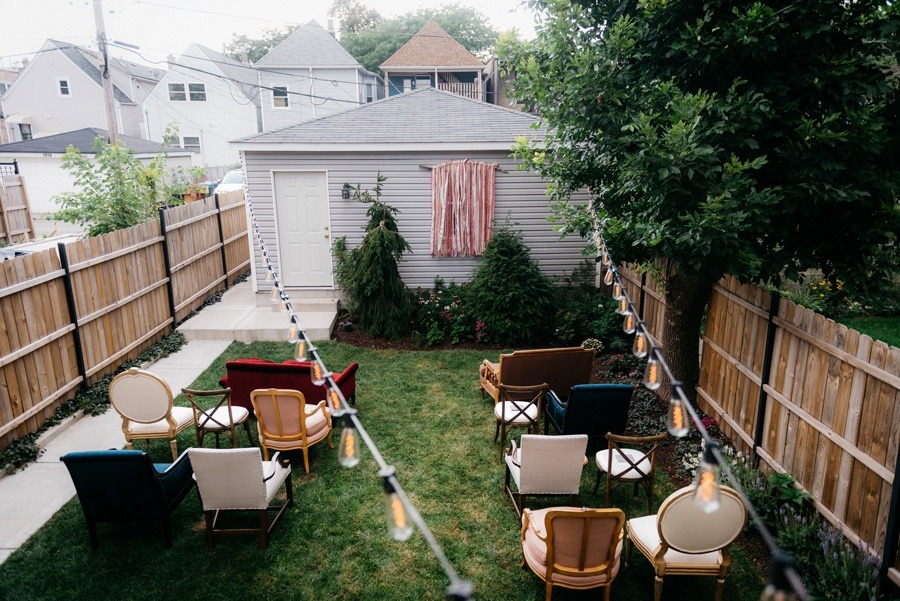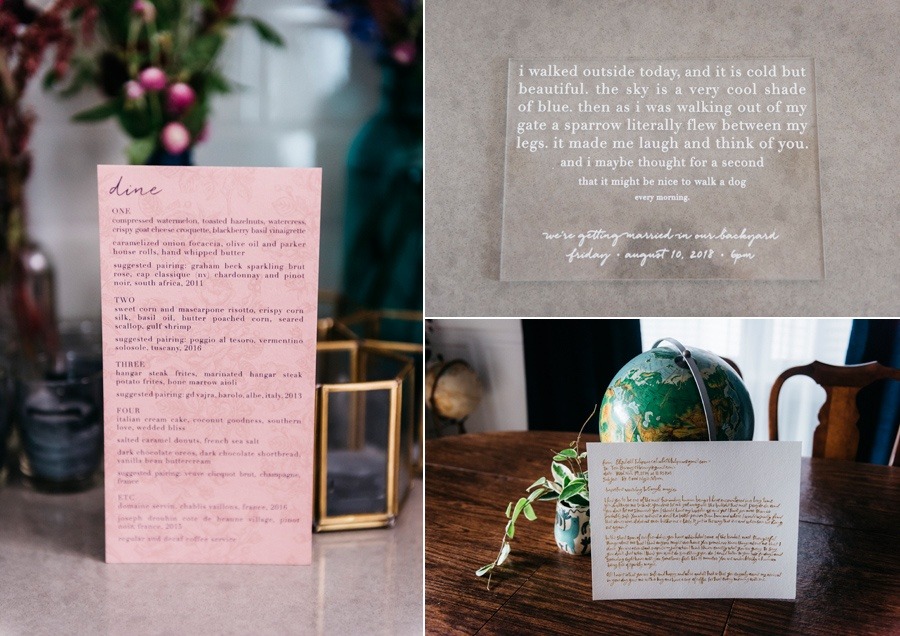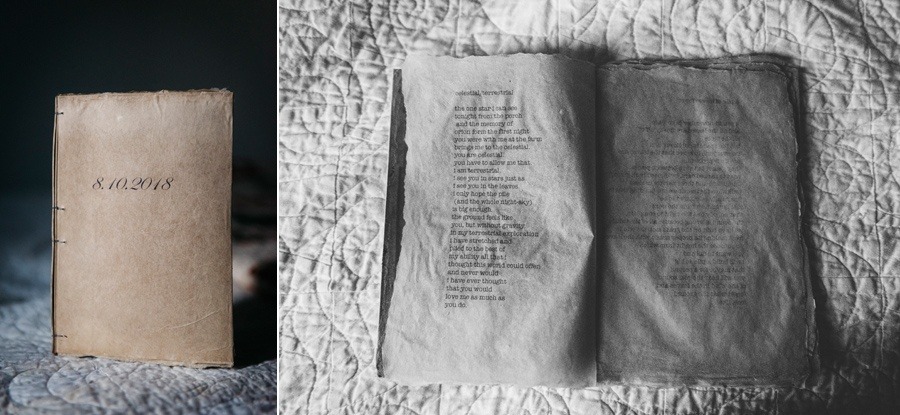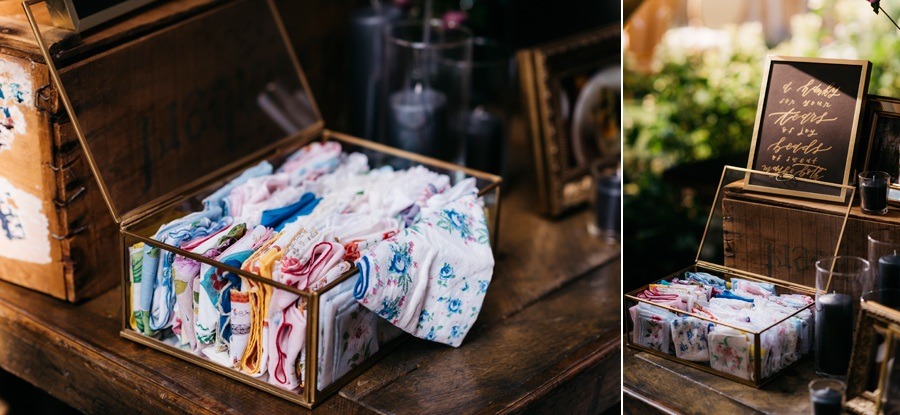 The Ceremony
Then it was time to do the dang thing. The second giant miracle of the day was the absolutely perfect weather. I swear that every other weekend that month was either 105 degrees or raining, and on our wedding day it was sunny and hot during the day and gloriously cool and breezy that night. Our back-up plan was the even tinier living room, so I will always be thankful for that.
I never really understood why people wanted to have ring bearers or flower girls in their wedding until I had a nephew. Finn in his tiny suit stole the show. After Emma tossed him in the general direction of the aisle, he ran with aplomb to Uncle Tom Tom and surely ate up the round of applause he received for it. We really wanted our ceremony to be and feel significant and Bonnie did an amazing job working with us on it. Even though we had a lot of ideas we incorporated it was so helpful to have her draft it for us. We wrote our own vows and then also agreed to a few things we both wanted to vow to each other too.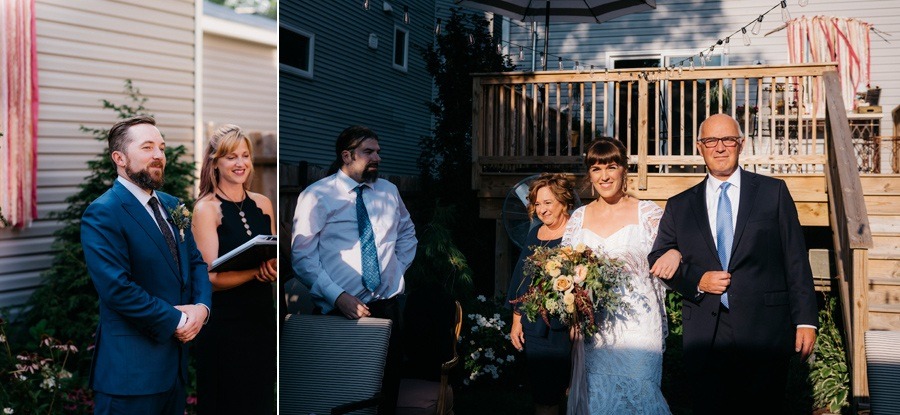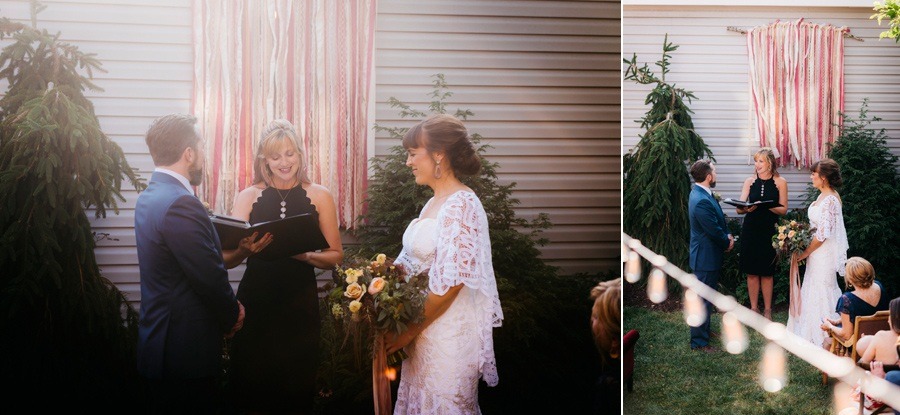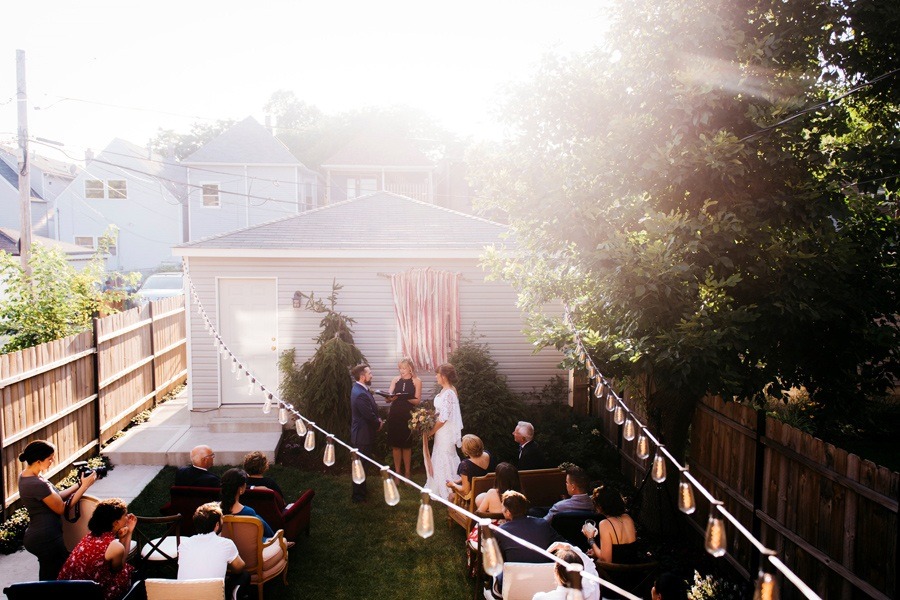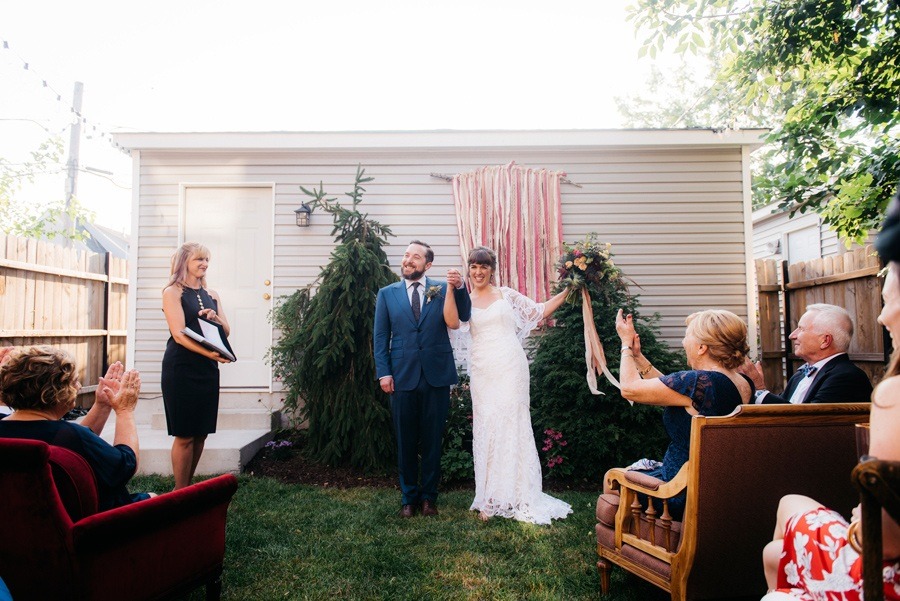 The Garden Party
After the ceremony, we took a little walk around the street to take a few pictures. We couldn't go far because, at the last minute, I definitely decided to be a barefoot bride. While we did that, the team did a yard flip! As you know from reading our post on setting the table, it's my favorite chore.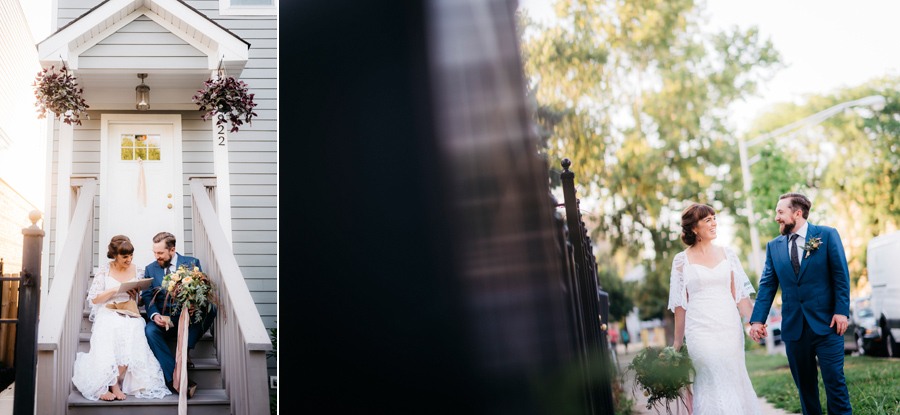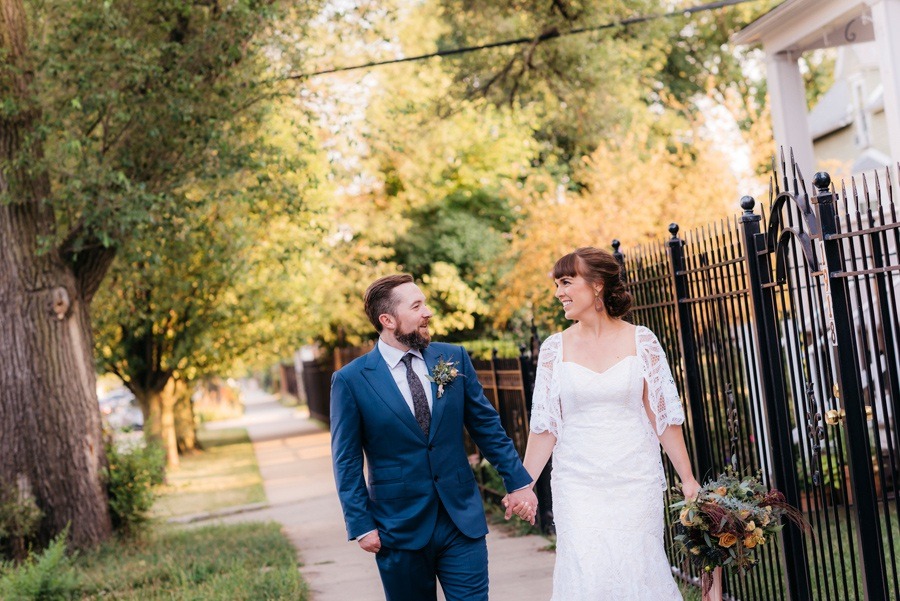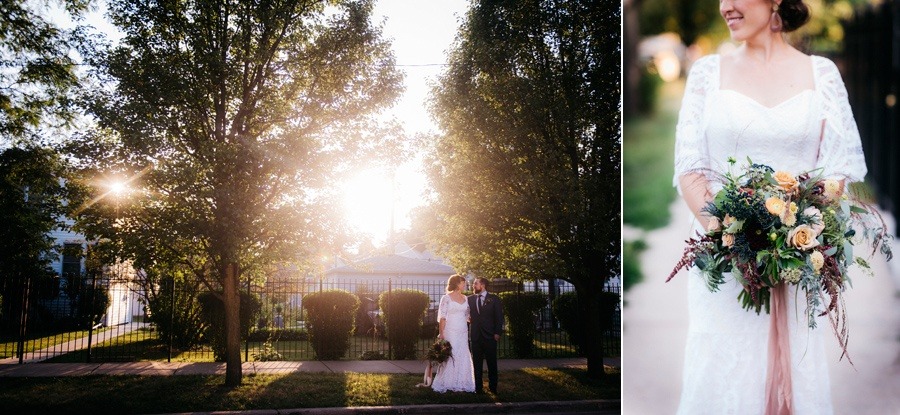 The Table
We were gifted a set of china that belonged to my great-grandmother for our engagement that inspired the table setting. We borrowed (and then were subsequently gifted) a beautiful set of gold flatware (my dream!) from Tom's mom that had belonged to her sister. The glassware is all of the things we use daily: our everyday water glasses (yes, they're pink) plus our wine and champagne coupes. My mom sewed the table runner for us. I bought the grey napkins from World Market which we now use every day. We set up a bar on the deck with the rest of our glassware (yes, we own flutes and coupes, I love champagne.) And yes, we did serve a margarita specifically so I could use those glasses. Also, margaritas are delicious.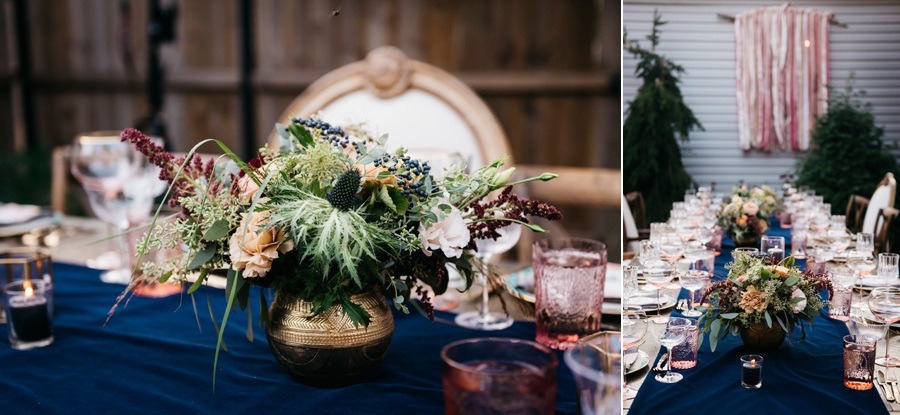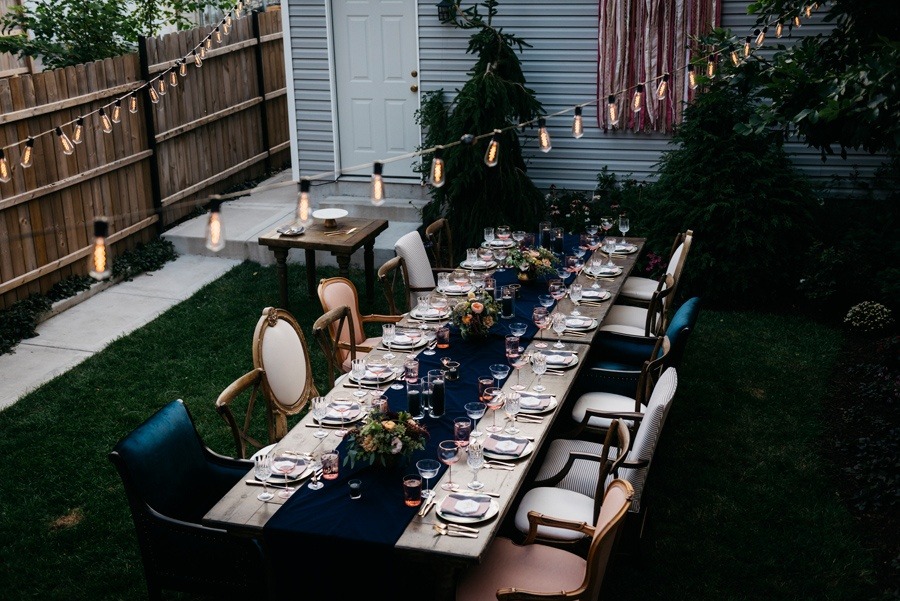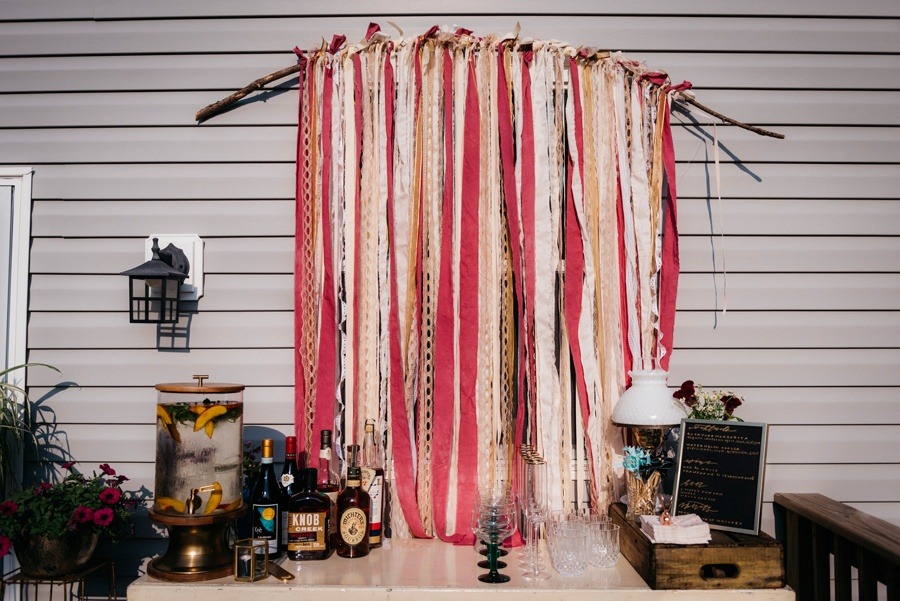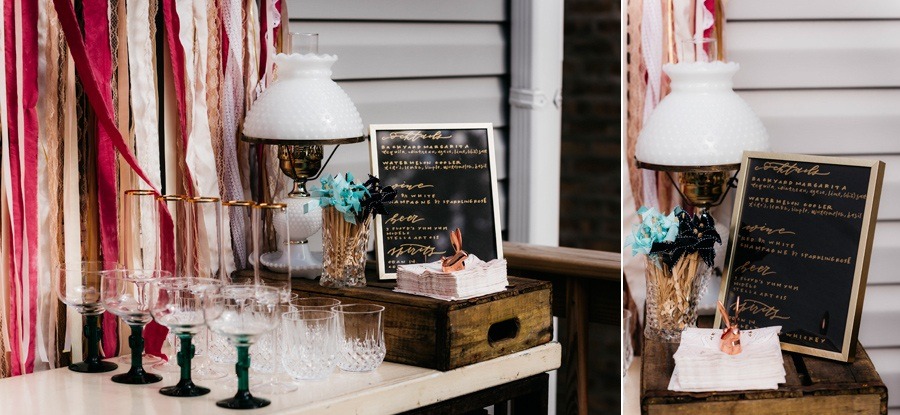 The end and the beginning
We feasted on a delicious and extravagant dinner, of which we both ate every bite. My sister and Tom's brother gave amazing toasts and we cut an Italian Cream Cake. This is a secret family recipe that we make for all celebratory occasions so I had to make for the wedding.  We chatted and drank and generally relaxed the rest of the night. Was everything perfect? Absolutely not. But was the day fantastic, and stress-free, and one of the best? Definitely.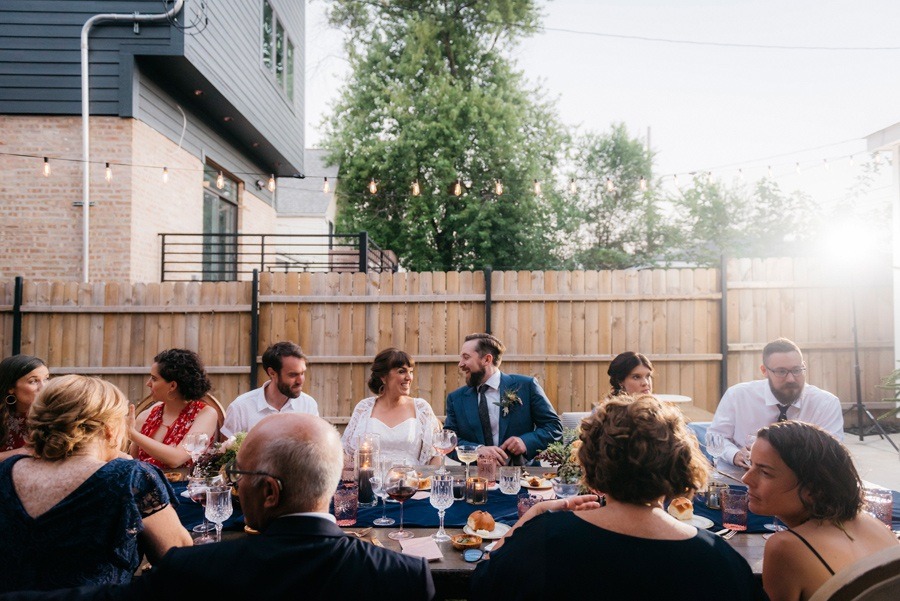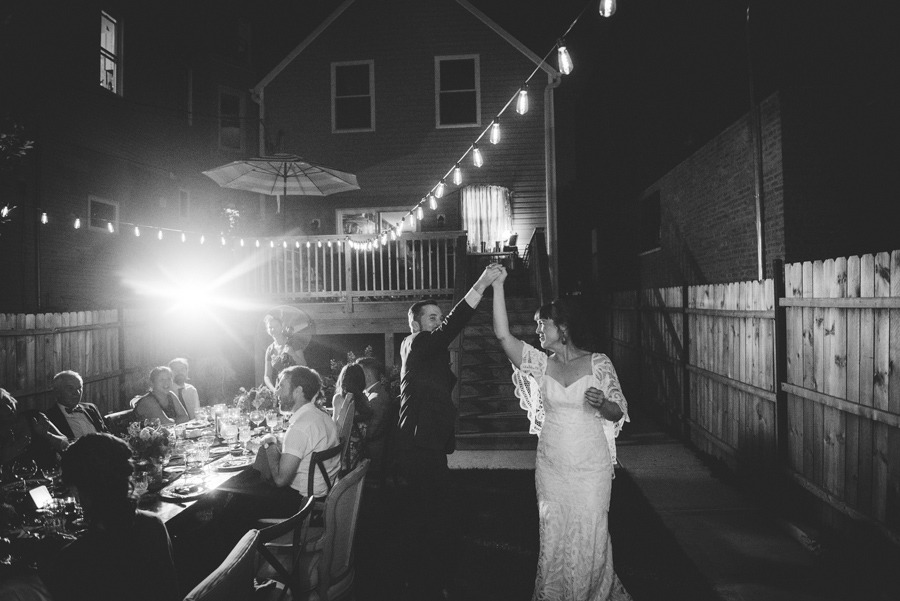 *eye candy by the unbelievably incredible Erin Hoyt Photography
Elizabeth + Tom's Vendors
Ceremony + Reception Venue: Elizabeth + Tom's Backyard
Planning, Styling, Coordination: Anticipation Events
Dress: Alice Padrul
Caterer: Truffleberry Market
Rentals: Bowery & Bash
Officiant: Chosen with Bonnie
Photography: Erin Hoyt Photography
Hair: Epoch Studio Salon
Makeup: Debra Petrielli Hair & Makeup
Hotels: The Robey & Ace Hotel
Floral: Asrai Garden
Invitations: Spilled Ink Press
Calligraphy: Maison Blanche Lettering
Looking For More? Explore Related Posts: