We just love a good outdoor wedding, so when Jenna + Max asked us to coordinate their wedding at Max's family's house in Wilmette, we couldn't wait! Combine the most perfect, personal venue with some seriously awesome DIY details an amazing band and a fun-loving crowd and you have one of the best backyard weddings ever!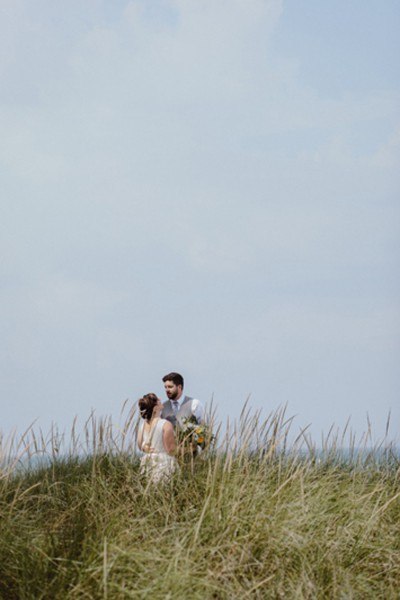 Jenna + Max started out the day getting ready at their next door neighbors house so they could have a blast hanging out with their wedding party while keeping the wedding venue spotless! When hosting a wedding at a residence, having the neighbors on board is key.
From there, Jenna + Max headed out with their wedding party for some beautiful first look photos around the neighborhood and along the beaches of Lake Michigan.
While they were off taking pictures, Elizabeth was back at the house making sure that each and every one of Jenna's DIY details was in place and it looked spectacular when guests arrived! The biggest DIY however, came courtesy of the homeowners, Max's stepmom is the most amazing gardener and cultivated some serious eye candy with the big day in mind.
With the scene set, Jenna + Max were ready for the time of their lives! From the sweet ceremony to the rockin' dancing to our pals Gussied, Jenna + Max's wedding was one to remember. When you are invited into someone's home it's always a little different than meeting them at a venue. You get to know them a little better, you feel a little more like "one of them." I definitely fell a little bit in love with Max's family with all of the time we spent together, and couldn't have been happier for Jenna + Max.
*eye candy courtesy of Megan Saul Photography
Jenna + Max's Vendors
Ceremony + Reception Venue: Private Residence
Caterer: Food Evolution
Band: Gussied
Make-up: Aglaïa Bridal
Hair: Stephanie Reed
Photographer: Megan Saul Photography
Planner and Coordinator: Anticipation Events
Hotel: Sheraton Northbrook Hotel
Florist: Four Finches
Looking For More? Explore Related Posts: