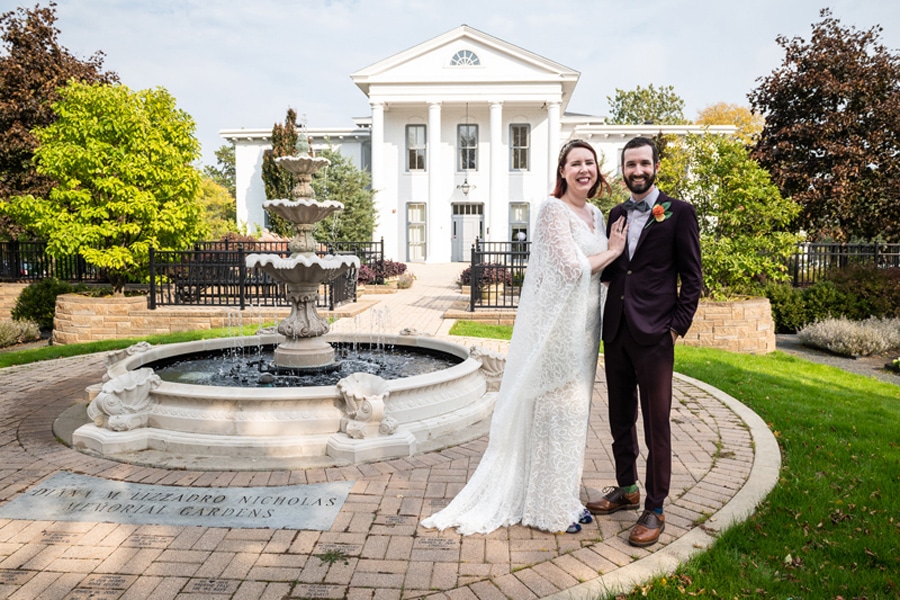 We're not going to lie. We think we're the best wedding planner in Chicago – and beyond. And we know we'll kick some serious butt when it comes to planning your wedding. But we also know that we don't want you to hire us unless you agree.
You're going to spend a LOT of time talking with us in the months leading up to your wedding and even more time with us on your wedding day, so we want you to like us a lot! Let's go over some stuff you should consider before hiring a wedding planner, what it is that we really do, and why we think it's key – even crucial – to hire a wedding planner for your big day.
what does a wedding planner do?
First, let's chat about what it is that we really do. It's just like the movies. We walk around barking orders at people while wearing a fancy headset. NOT! As you can probably guess, wedding planning – like most jobs – is a lot less glamorous than you'd expect. In reality, we joke that we spend a lot of time schlepping boxes and herding cats, but we also spend a lot of time hunched over our laptops drinking coffee and sending emails, going through contracts, writing timelines and confirming every single detail. We also spend a lot of time talking to you about your wedding day and making sure we know exactly what you want so you have the best day of your lives.
We also do a lot of this:
Researching vendors for clients. This means getting to know as many vendors as possible in Chicago and then spending time with you to figure out which vendors are perfect for your wedding and helping you book them.
Reviewing vendor contracts and helping negotiate terms so you get exactly what you want and at a price that works for you. We're crazy good at reading contracts and working with you and vendors to figure out how to make the most of your budget and more.
Meeting with potential clients, current clients, and vendors.
Creating a wedding budget and working with you to build a wedding within that budget.
Going to walkthroughs and leading rehearsals.
Creating ridiculously detailed timelines and checklists so your wedding day runs as smoothly as possible.
Answering all the questions we can possibly answer for our clients and giving as much advice as they would like us to give.
Answering all the questions we can possibly answer for our clients' vendors and going back and forth with them in the weeks leading up to the wedding to get it all right.
And, of course, being on-site on your wedding day from beginning to end to make sure everything goes according to plan (or adjusting the plan if it doesn't!) handling any last-minute emergencies, setting up escort cards and other little details, overseeing all of the other set up needs, coordinating with other vendors to make sure we're all on the same page all day, and being there to make sure you have everything you need (and a drink in hand) at all times.
Check out our comprehensive wedding planning checklist.
what is the difference between a wedding planner, event designer, and wedding coordinator?
As wedding planners, we wear a lot of hats and it's often confusing to figure out the difference between a wedding planner, event designer, and wedding coordinator. We get it. There was a time before we did this when we didn't know the difference, either.
Here's the answer in a nutshell: A wedding planner generally works with you from the beginning to plan your wedding day. If you want someone to help you find a venue, book vendors, order invitations, and basically design the day from start to finish – a wedding planner is for you.
A lot of clients like to plan their own weddings (and we get that – we do too!), so they usually hire a wedding coordinator. In that case, the client is basically their own wedding planner, but we take over once they plan out the big pieces and make sure everything is executed perfectly on the day of. Essentially, a wedding planner plans and executes events whereas a wedding coordinator executes what you've planned.
An event designer or stylist is a bit different. A wedding planner/coordinator usually deals with a lot of logistics (and trust us, there are a LOT of logistics); a designer/stylist generally thinks more about the aesthetics of how your wedding will look. They look at all of the elements – venue look, floral, lighting, place cards, place settings, etc. – and figure out how to put those together to give you the wedding of your dreams.
Of course, we do all of the above – planning, coordinating, designing, and styling. There's overlap between them, so it can get confusing. Wedding planning isn't a cookie-cutter business, so some couples may want a little wedding planning, a little styling, and a lot of coordinating; others may want more styling and less planning. No problem. We customize our services to fit each client's needs, so call us and we'll figure out what's the right fit for you.
Check out our wedding planning checklist.
how much do wedding planners cost in chicago?
WeddingWire's Annual Cost Guide shows that wedding planners cost anywhere from $600 to $4,320, so the range is pretty broad. In Chicago, we typically see wedding planners charge between $2,500 and $5,000 for day-of/month-of services and anywhere from $5,000 to $15,000 for partial or full planning.
There are a few things that factor into a wedding planner's rate and a lot of things we recommend considering when you book a wedding planner:
Experience. There are a lot of new wedding planners out there who are trying to get their feet wet, so they don't charge much in exchange for honing their craft at your wedding. If your budget is tight, this might be the right fit for you. You can get someone with a little experience who will help you out at a much lower rate than an experienced wedding planner. But a word of caution if you go this route: You get what you pay for. You may get an incredible wedding planner who just needs more clients before they can charge more. You might also get someone who's very green and doesn't know the ins and outs of planning a wedding and ends up being less than helpful in the end. Experienced wedding planners charge more – typically $3,000 or more for coordination services in Chicago – and there's a good reason. With our years of experience comes a lot of knowledge. That knowledge can save you money in the long run and, most importantly, be put to good use if anything goes wrong because an experienced wedding planner will know how to handle any situation immediately. They will also know the other vendors – how they work, what to expect of them, and which ones may need more help. If you're worried about things going wrong, get an experienced wedding planner and the peace of mind that goes with it.
It's a business. When you book a wedding planner, you're not just booking someone to help you out for the day. You're hiring a business and that business is covered like any other business to make sure your wedding is in good hands. A proper wedding planning business, like Anticipation Events, carries insurance, has a backup plan for every possible scenario, and has a professional reputation to back up its claims. When you hire a wedding planner, make sure you hire a planner that has all of these things. It not only gives you peace of mind but ensures that if anything goes wrong, you're covered. (But also know that a good wedding planner will move heaven and earth to make sure nothing goes wrong!)
Services included. The price of a wedding planner can also vary greatly based on what services are provided. Some wedding planners put a cap on the number of hours they will work before the wedding and how early they will start working with clients before their wedding day (for some it's a month out; for others, it's more). Basically, not all wedding planners or all wedding planning is created equal. At Anticipation Events, we offer unlimited availability via phone or email for questions and advice from the minute our client books us. That means if you book us two years before your wedding, you can ask us questions for two years. It also means we're probably not the cheapest wedding planners out there, but we prioritize quality over quantity and work very closely with a small number of clients each year to make sure we do our best for each one.
do i need a day-of wedding coordinator?
The short answer to the question, "Do I need a day-of wedding coordinator?": YES! The long answer: Absolutely yes! OK, we're admittedly biased here, but don't just take our word for it. According to WeddingWire, using a wedding planner or coordinator can actually save you money. And according to Brides, one of the five reasons you should hire a wedding planner is because they will help you manage your stress leading up to and on your wedding day.
If that isn't a great reason, we don't know what is! So give us a call and let us tell you many, many, many more reasons why you need us.
Looking For More? Explore Related Posts: