Many couples are beginning to plan their own weddings rather than enlist the help of a professional event planner to help defer the average cost of a wedding. While many couples will swear by the help a wedding planner provides in making sure their big day goes on without any problems, it can feel good to take some of the processes into your own hands.
When you get engaged, it's time for the wedding planning to begin. Some couples make the mistake of trying to plan their own wedding only a few months ahead of the event, only to find venues booked out.
The earlier you secure a venue, the better, especially if you are having the wedding at a popular time of year or at a destination venue. The earlier you secure a venue the two of you like, the less stressful the rest of the planning is.
But, what comes after the venue? What steps do you need to take to make sure the big day is as personalized for the two of you as possible while keeping the guests entertained? A wedding is meant to be a time of celebration and good times not just for the couple, but for the entire guest list, meaning a lot of consideration must go into the amenities and experience of the entire day.
Planning a full day's itinerary and hiring vendors is a first for many couples, and the process can feel overwhelming.
In this wedding planning checklist, Anticipation Events provides a comprehensive guide to the big day to help keep things simple.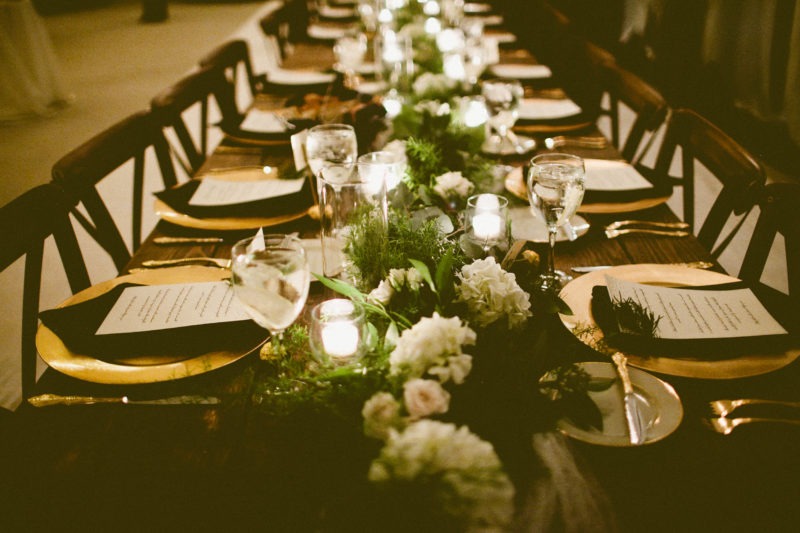 from the little stuff to the big stuff
The little stuff is just as important as the big stuff, but what many couples fail to plan for is the way they plan. Planning the big details first allows the event to feel more coordinated and professional. Once you have the big details down, you can decide on the smaller things like party favors and appetizer choices.
Planning the big details – the must-haves, the location, time of the month, and general activities, allows you to learn where to cut corners and where to splurge, as well. [1]
Not every wedding has to be cookie-cutter, especially since the day is meant to celebrate the union of two people. If cutting a cake isn't important to either of you, or you prefer other desserts over the cake, then why would you spend hundreds of dollars on a professionally baked cake?
Autonomy in wedding planning is a gift. Use it to personalize your wedding and celebrate your unique personality.
how do i use a wedding checklist?
How you use a wedding checklist is up to you. Most couples use a checklist to guide them through the year before the big day and take everything as a suggestion for what they should consider.
An increasing number of couples are foregoing several traditions to make the special day uniquely themselves, so it's important to take into consideration what you want out of the wedding. [2]
Do you want arranged seating, or do you want the two families to mingle and sit where they like? How about a multi-course meal, buffet-style catering, or potluck-style food instead of gifts?
Look over the wedding checklist in full with your partner to determine the three top "must-haves" for each of you. Make sure you plan for those and then see where you can begin cutting elements out. Or, if both of you want a traditional wedding, follow the checklist down the row!
how long before a wedding should you start planning?
For many couples, the wedding planning begins shortly after the engagement, with the average engagement lasting a year before the couple ties the knot. Most venues book a year in advance, so it is important to start contacting venues for their availability around the wedding date. If you are flexible with the date and have not yet sent save the dates, venues are more likely to be able to accommodate your needs.
For shorter engagements, couples may wish to have a smaller wedding, booking a smaller venue, and cutting out some of the traditional planning to provide a more intimate experience with the guests.
For longer engagements, the more time to plan, the better. Securing the venue ahead of time will help make the rest of the planning easier, allowing you to contact vendors, get samples, and price-compare at a more leisurely pace.
plan your wedding with confidence
Wedding planning can be a stressful undertaking if you don't give yourself the time and help you need to make everything happen. [3]
These stresses are what make many couples opt for a wedding planner so they can focus on other aspects of life while their big event is planned for them, but for the DIY duo, planning your own wedding is still possible – it just takes help!
Staying organized is one of the most important things you can do when you are trying to plan your own wedding, and that's where a checklist benefits you the most. Not only are you taking ideas from a guide instead of making up answers on the fly, but you are also able to plan in advance.
Think about what areas of planning your partner would be good at managing and assign them tasks from the checklist. When they are done, make sure the task gets checked off.
Have an eager mother or helpful cousin who is willing to help you take on some tasks? Enlist their help!
Event planners have a full staff and the experience necessary to be able to manage all areas of wedding planning by themselves, where the DIY couple is unlikely to have ever hired vendors or planned something of this capacity before. Plus, it is always more difficult to plan something that means a lot to you.
Using a checklist can help you enlist help by delegating specific tasks out to friends and family members. Modify these tasks to your needs; for example, if your best friend wants to help, you may be able to assign them to the task of finding a photographer rather than the checklist's task to "hire a photographer."
Vendor communication, contracts, and final say should go through the couple, but friends and family can still help you do the time-consuming legwork it takes to get to the final phase of hiring help.
Plan Out Your Tasks on a Timeline
From the checklist, what do you need to have accomplished every month or week leading up to the event? You can get as granular or open with the timeline as you need to.
Fortunately, checklists are often divided into a timeline already, which helps guide how far out you should begin planning. Checklists also prioritize each task in order of earliest to latest from the top-down, enabling you to see at a glance what needs to be taken care of first.
With the help you've enlisted, you can blast through the checklist in no time at all.
It's never too early to start talking to vendors, getting samples, requesting viewings, and signing contracts. Starting the negotiations early can help you secure a better deal and allow you to take time in making sure the vendor or venue is a perfect fit for what you are looking for, rather than rushing into a contract because you're short on time.
Even your vendors can be prioritized along a timeline. Most venues book a year in advance, making them one of the first types of vendors to begin researching and negotiating with, while many other vendors only require a few months' notice on average.
For catering, flowers, and bakeries, several months will be necessary so they can pin down exactly what you need out of their services, while DJs, videographers, and photographers only typically need a few months notice depending on the season, making them some of the last vendors you need to begin negotiations with.
All of that said, it is important to give yourself as much time as possible because nobody wants to be scrambling last minute to make sure everything is in place!
the ultimate wedding planning checklist:
Congratulations! You're engaged, in love, and the day is going to be spectacularly unique to you and your partner.
Below is our Ultimate Wedding Planning Checklist. This should be modified to fit your needs because even if you're going traditional, the day should be all about the two of you. Don't forget to enlist help from friends and family and keep yourself organized!
12 months or more
You just got engaged and there is so much to plan! But don't worry, for now, you can focus on the big details. The smaller details can come later. When planning the date, remember that there are peak wedding times and off-season times that can help you save money, but above all, it is important to choose the best month for the two of you.
Choose a date
Talk about budget and finances
Create a wedding website
Hire a planner (we're a great choice)
Start negotiating with the venue for the ceremony and reception
Begin searching for the right vendors: caterer, baker, florist, videographer, photographer, DJ, and officiant.
Begin your guest list
Figure out your wedding style, colors, and stationary
Talk about must-haves
10-11 Months
It's time to start booking venues and getting things in order! Did you know that Chicago is a popular wedding destination and has many affordable venues?
Shop for wedding dresses, veils, and any accessories
Choose wedding party guests: best people, ring bearers/flower people, any dogs that may be going down the aisle
Reserve the ceremony and reception venues
Hire your photographers, videographers, caterers, DJ/band, florist
Mail your save-the-dates
Purchase the wedding dress and any bridal accessories
8-9 Months
Things are falling into the place and the big day doesn't seem so far away now.
Find 2-3 hotels in different price ranges for guests coming in out of town.
Create registries with 2-3 brands
Browse wedding invitation designs and coordinate stationery for the programs, menu cards, thank you cards, and party favors.
6-7 Months
Only a few more months of planning left before you can enjoy the big day with your partner.
Decide on a wedding day hair and makeup style
Book the officiant and meet with them to discuss any plans for the ceremony
Reserve rentable extras such as dance tents for outdoor weddings, chairs, linens, lighting, and other décor items
Choose your cake style and schedule tastings with local bakeries
Get groomsmen fitted and decide on suit style if applicable
Order wedding invitations
Hire musicians or DJ for the ceremony
Book or arrange transportation options to and from the different venues
Purchase the wedding bands
4-5 Months
You've nailed down the bigger details and the event is coming together. It's time to start planning the smaller details for the big day.
Meet with the florist to discuss flower ideas for the wedding party, attendants, venues, cake, centerpieces, etc.
Send dress in for alterations
Book honeymoon flights and hotels
Book room for the wedding night
Order wedding cake
Prepare play and do not playlists for the DJ
Book a reservation for the rehearsal dinner
Invite rehearsal dinner guest list
3 Months
It still feels like it's so far away, but it's almost time to get packing! If you have a wedding outside of your hometown, be sure to plan travel times a couple of days before and after the wedding to accommodate town hall errands.
Finalize the honeymoon plans and documentation
Purchase any travel tickets or accommodations
Plan ceremony and reception seating
Experiment with hair and veil styles with your stylist
Finalize readers and readings
Finalize the reception menu
Purchase: toasting flutes, serving pieces, guestbook, flower basket, ring bearer pillow
Order menu cards
Order wedding favors
Mail the wedding invitations
2 Months
Begin writing vows
Review ceremony details with the officiant
Apply for a marriage license
Finalize playlists
Finalize fittings for wedding party and parents
Create a day-of itinerary for vendors
Decide on your "Something Old, New, Borrowed, and Blue"
2 Weeks
Confirm time, date, and location with all vendors
Confirm honeymoon reservations
Pack for honeymoon
Pick up the marriage license and rings
Get haircuts done
Delegate after-wedding duties: return rentals, return tuxes, return marriage license,
Give final count to the caterer
Prepare final payments and tips to vendors and personnel
Give photographer and videographer shot list
Relax!
Looking For More? Explore Related Posts: