My signature move is definitely wallpaper. Infamously known for wallpapering a rental property with skeletons, I constantly resist the urge to wallpaper every single room in the house. My sister- and brother-in-law just bought their first house and they have the perfect wall for a statement wallpaper. Obviously, you know I wanted in on that, so I decided to share the collection of places I browse for wallpaper that I put together for them. A note: I am a wallpaper purist. I've never even used removable wallpaper. One, because this isn't something I put up myself and, two because wallpaper a dying art I like to support. It doesn't seem like there are that many people who put wallpaper up anymore, and it looks hard as hell. So, I like to support those who keep this analog art going.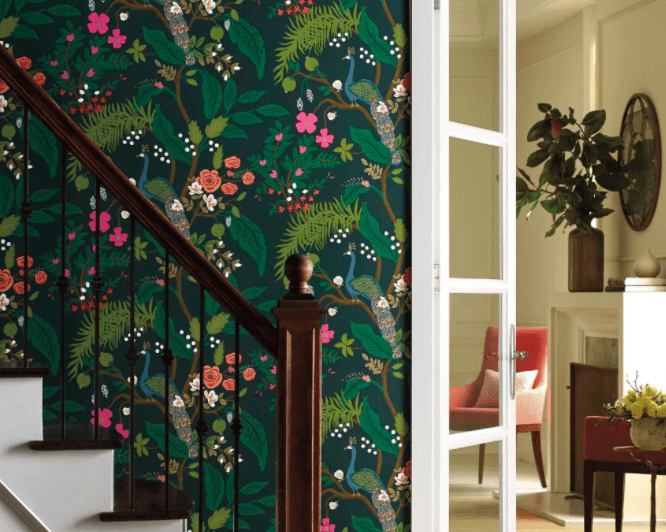 Okay, everyone loves Rifle Paper Co. but just this year they partnered with York Wallcoverings, the oldest and largest wallpaper producer in the United States, to manufacture a new wallpaper collection with 76 options. Each sheet is made with the highest-quality print techniques, creating the most vibrant colors and lush textures and it does not disappoint. Founded by a wife and husband team, Rifle Paper Co. wallpaper is made in the USA!
We are about to paper a bedroom with the Emerald Peacock Wallpaper (above) and I can't wait!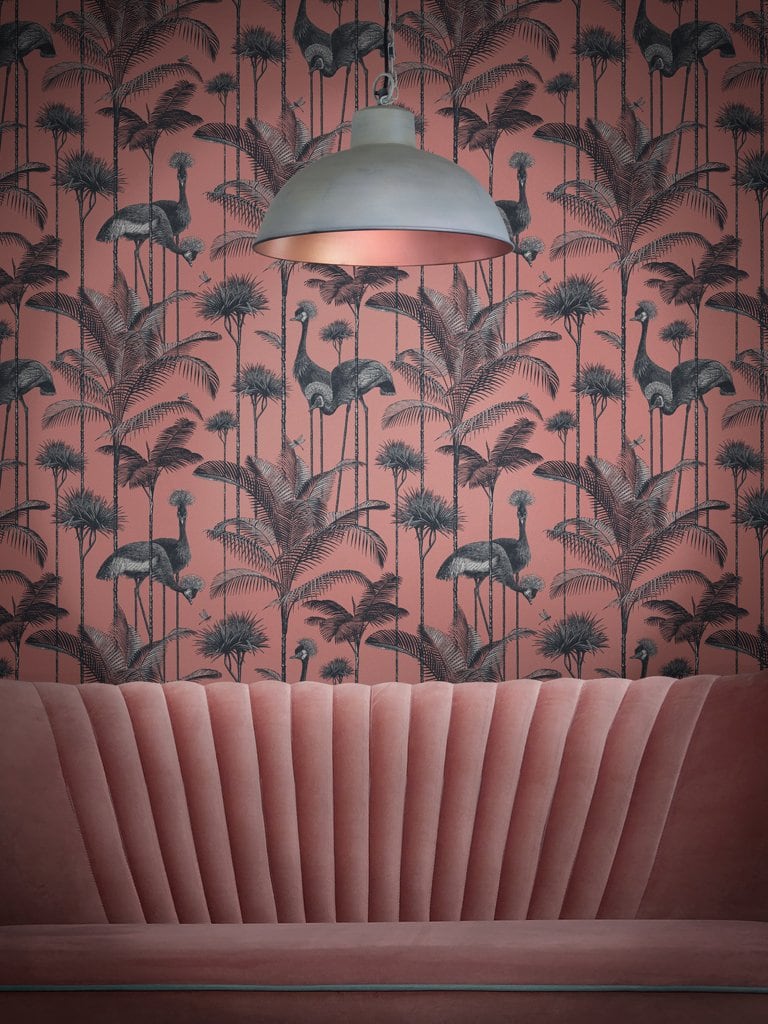 Forget mass-produced, boring, and uninspiring design. The mission at Divine Savages is to deliver stunning wallpapers and fabrics, gorgeous home accessories, limited edition art prints, and beautiful gifts. With eye-catching and eclectic creations that add personality, glamour, and style to any interior, their collections bring a wild reworking of the traditional. Fusing both classic and modern, each of their designs offers the chance to turn every room into a living masterpiece. 
These are fairly pricey, but we covet so many including Safari Soiree, Crane Fonda (pictured above), Gershwing Gold, and Jungle Faunacation.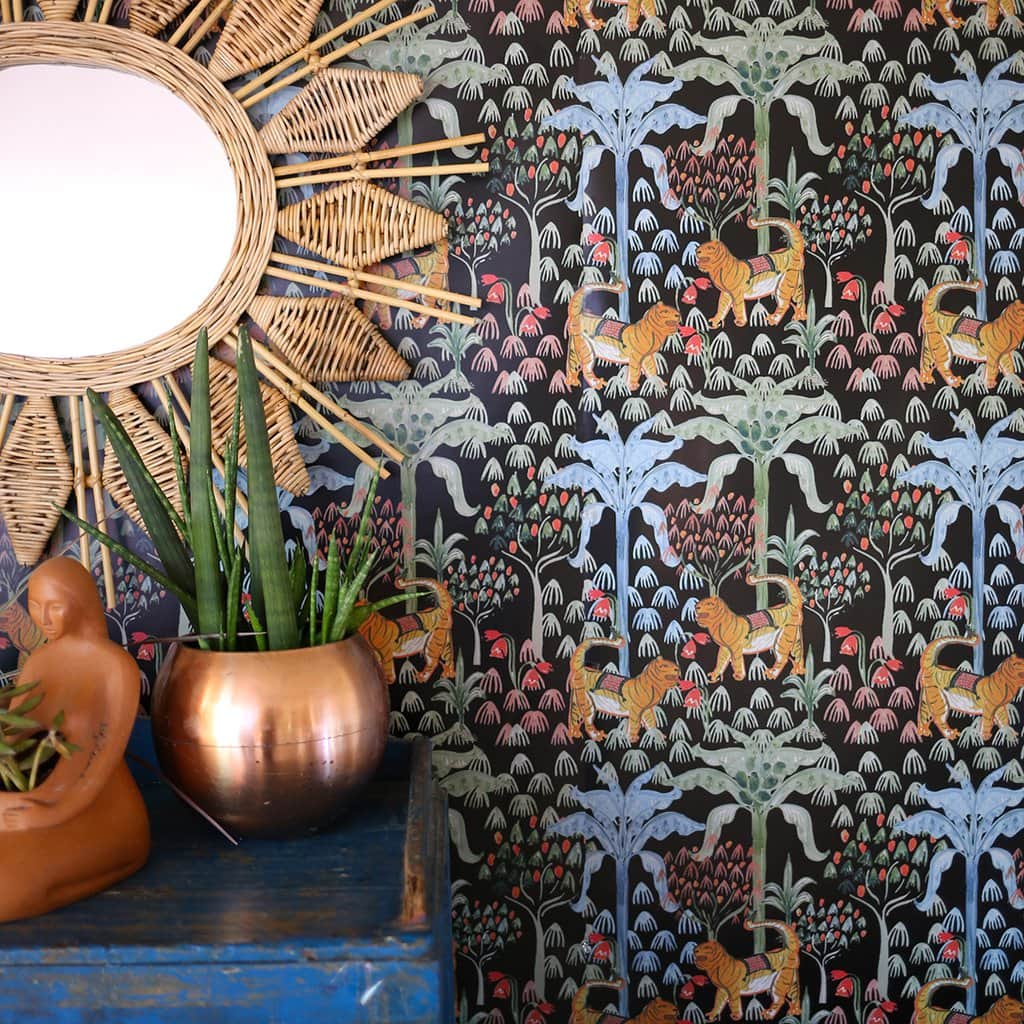 Jungalow's style is wild and all about injecting color, pattern, and life into the home. They believe that wallpaper is one of the best ways to do that and I agree. Since Justina Blakeney is all bringing good vibes home, she employed symbols of positive energy (plants, hamsas, the sun) into her wallpapers and wove these symbols throughout the line. Every single piece in this collection began with a sketch or a painting from Justina Blakeney's notebook. 
We want Tigris Wallpaper in Onyx shown above.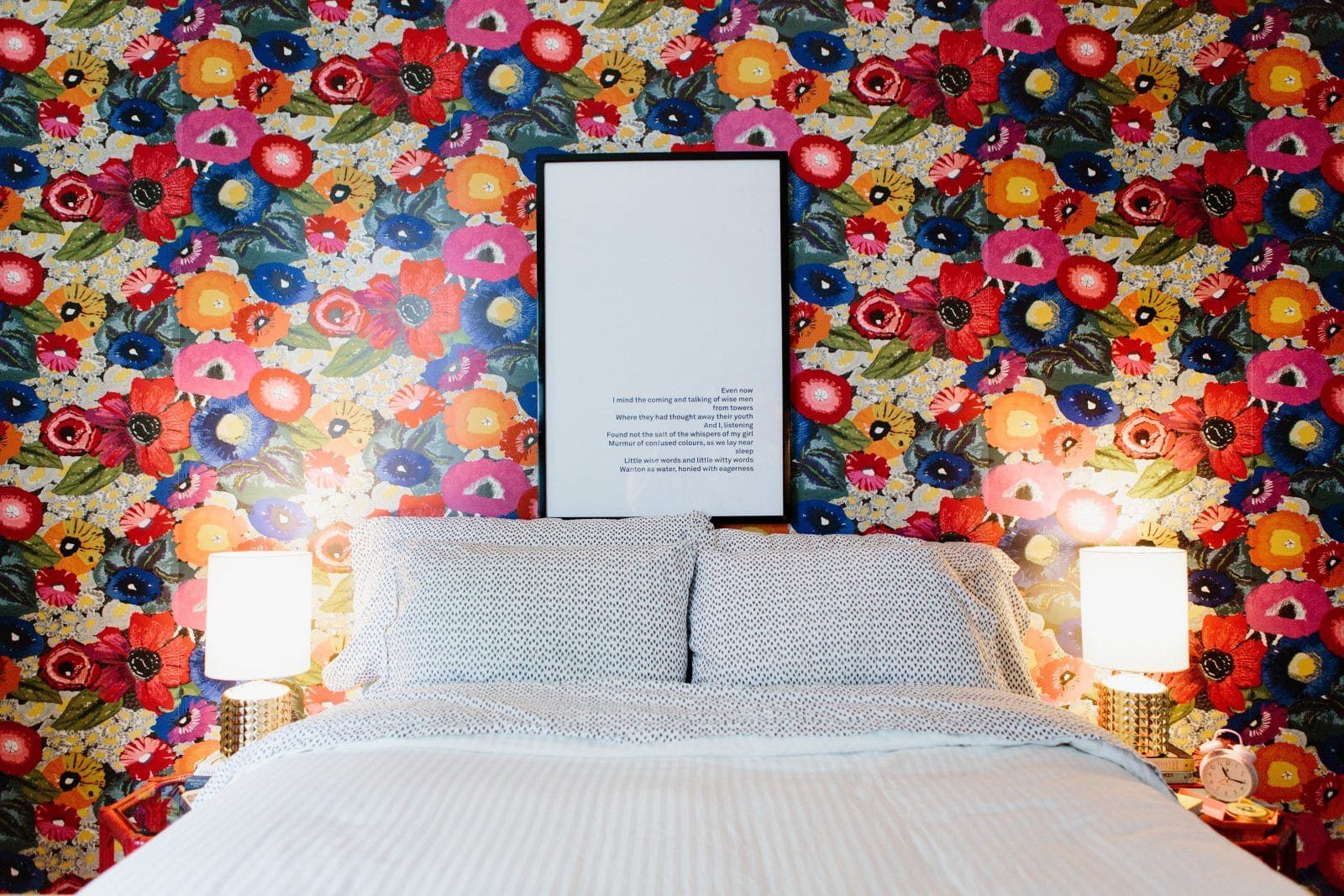 You know the style of Anthropologie and if it's your style this is a great place to look for wallpaper. You can usually wait for a 20% off sale, and they actually have some reasonable prices from various designers. 
We had Blazing Poppies in our old bedroom (see above) and we love Jungle Dream and Speakeasy, and Sardines.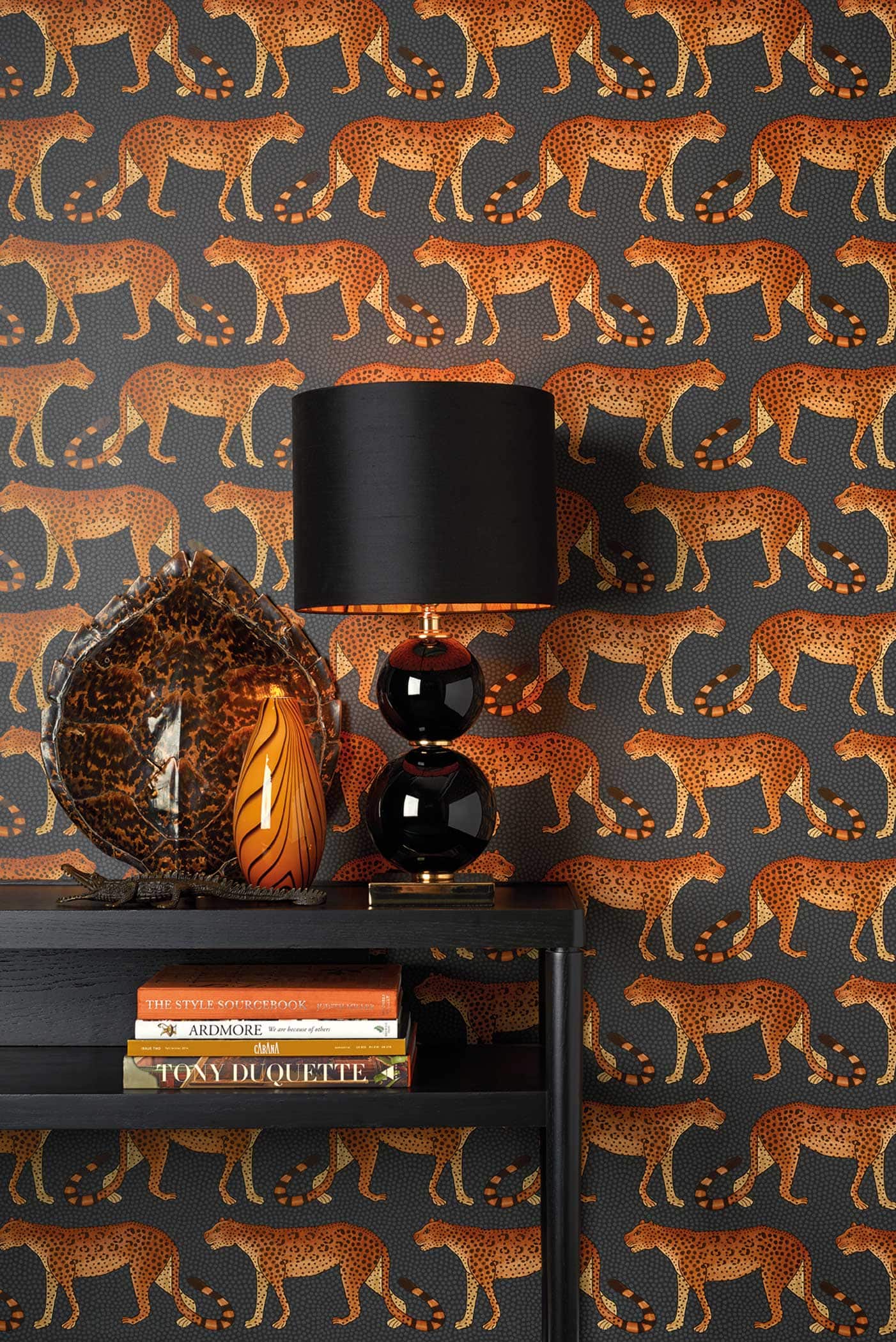 Okay so you have to find a stockist who carries these and they are VERY expensive but so fun to browse and dream about (or paper a small space?!) 
We are obsessed with Leopard Walk (shown above) and Flamingo Icons and Talavera and Versailles Grand (swoon!)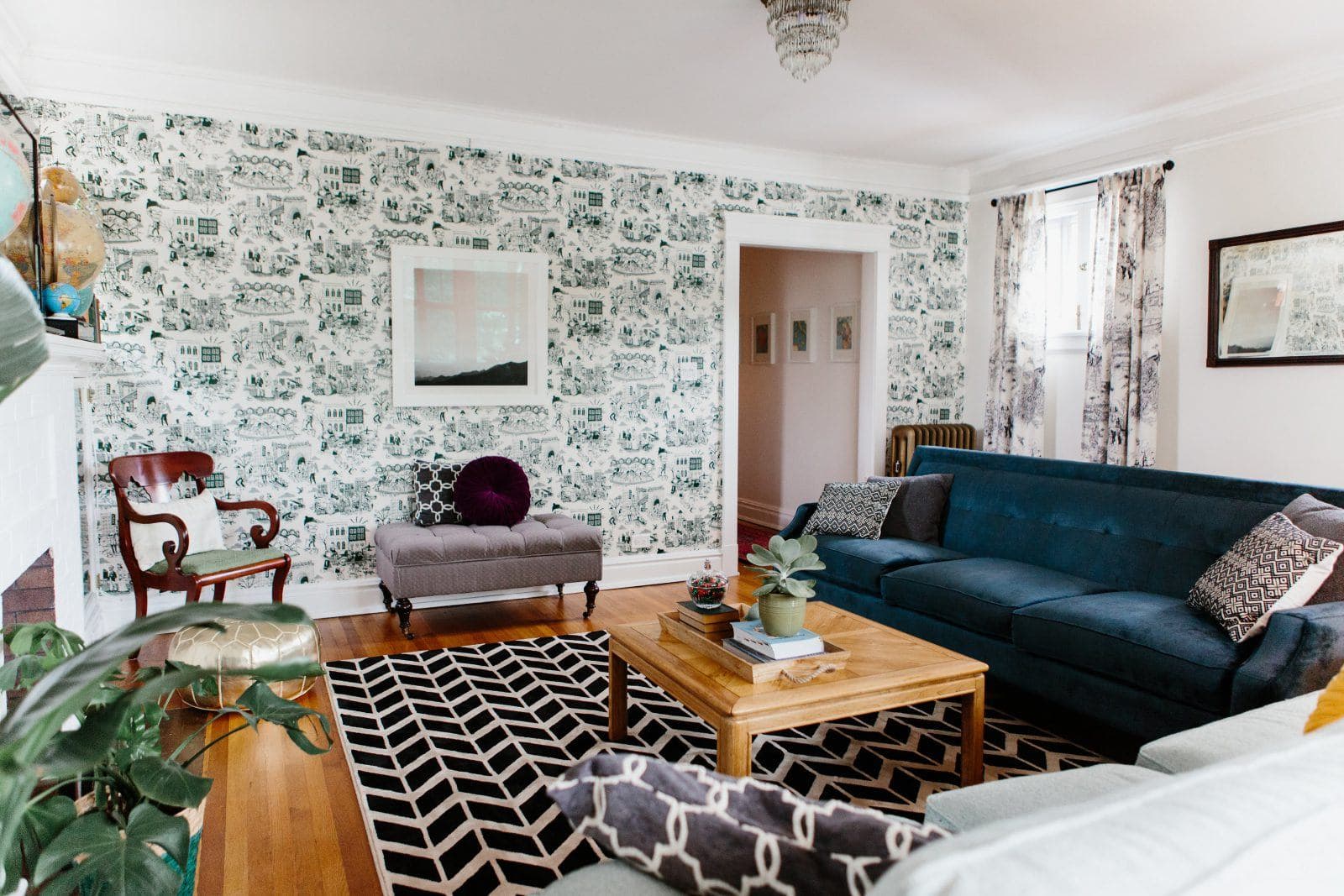 Definitely the wildest of the bunch, they want to put an end to the expression "if walls could talk" and finally give them the voice they've been wanting. With hundreds of designs, an endless list of material options, murals, and even the choice of scratch n' sniff, they have something to make your home truly yours. 
We put up these sweet skeletons in our old apartment (see above) and we kind of want them up again?!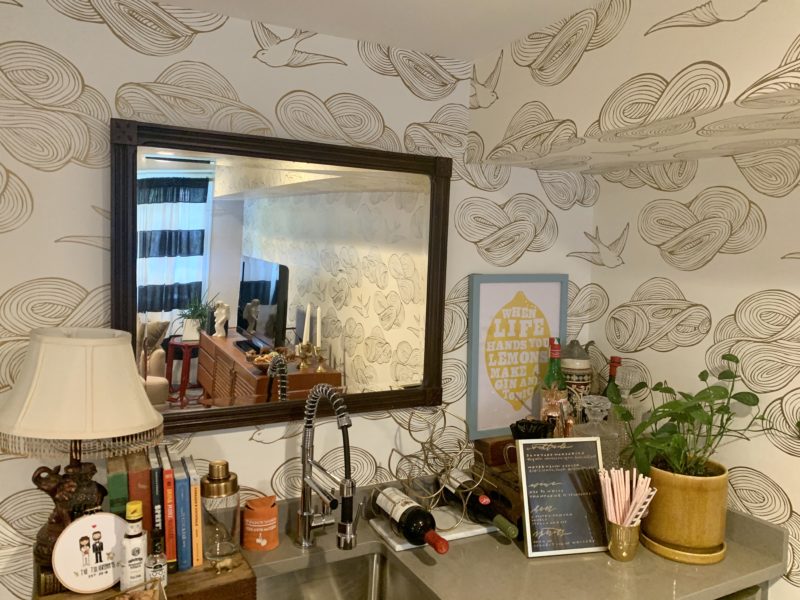 Hygge & West is founded upon the Danish concept of hygge that loosely translates to cozy, but means so much more. All of life's small but wonderful moments can be described as hygge. They hope that their products help bring more hygge into their customers' homes – creating a cozy, beautiful environment where small, everyday moments can be enjoyed. Hygge & West is women-founded and they do have removable wallpaper tiles if you are so inclined!
We have Daydream (gold) in our basement (see photo above).
Tag us in a picture of whatever you wallpaper and cheers to as many bright and bold walls as one house can possibly hold.  
*eye candy courtesy of Rifle Paper Co. (photo 1), Divine Savages (photo 2), Jungalow/Justina Blakeney (photo 3), Brittany Purlee for Apartment Therapy (photos 4 & 6), Cole & Sons (photo 5), Anticipation Events (photo 7). 
Looking For More? Explore Related Posts: