Get ready for one of the sweetest weddings of 2014! Erin + Kevin's were married at Kitchen Chicago and the party was nothing short of amazing, full of an insane amount of DIY details, tons of delicious food, and plenty of loving sentiments and tears of joy.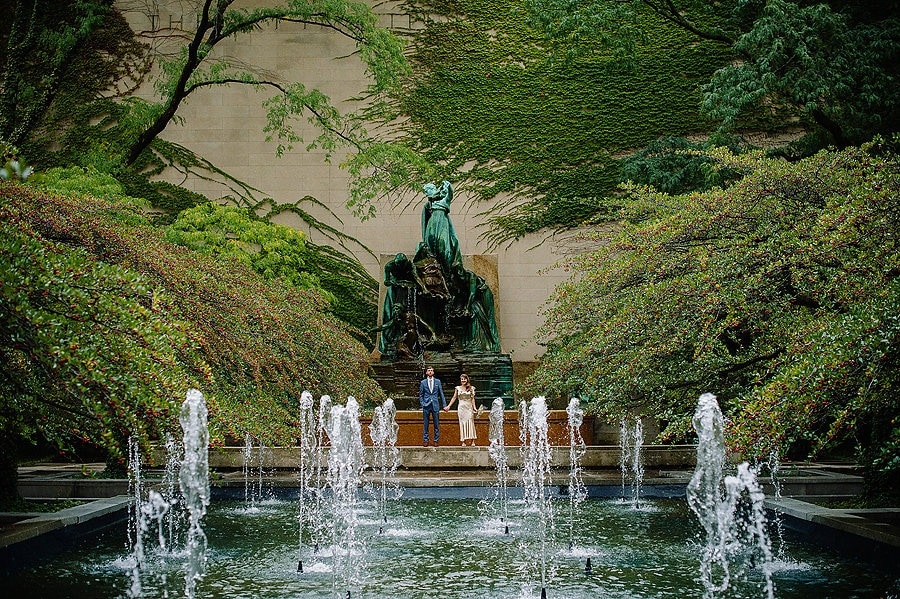 Erin + Kevin had big ideas and a lot of very specific things that they wanted to get just right. Their wedding vision was full of big ideas that took tons of blood, sweat and tears on their part to make happen. The best thing about Erin + Kevin was that they knew what they wanted and they were determined to make it happen. Starting with that dress…
For the ceremony and reception, Erin collected vintage vases and filled them with floral arrangements she and her friends created. Their wedding ceremony at Kitchen Chicago was super personal: officiated by their dear friends, the ceremony was sweet, sentimental and heartfelt, always the best start to a great wedding day.
For the reception, Erin + Kevin wanted an intimate, small affair, so we lined up all of Kitchen Chicago 's rustic farm tables and created one big long table in the center of the room. Lined with Erin's handmade floral arrangements, candles, and gorgeous paper table runners, it looked amazing. For dancing, we moved the tables out of the way while Erin changed into another gorgeous dress transforming her into a BOMBSHELL if we've ever seen one! It pays to work at BHLDN when you're a bride-to-be, that's for sure!
To say Erin + Kevin's wedding at Kitchen Chicago was full of love, life, and laughter is an understatement. Just looking at this couple makes us smile. Thanks again for letting us be part of your wedding day, Erin + Kevin!
* eye candy courtesy of Anna Page Photography
Erin + Kevin's Vendors
Ceremony + Reception Venue: Kitchen Chicago
Caterer: Fig Catering
Photographer: Anna Page Photography
Videographer: Don't Shout Films
Day-of Coordinator: Anticipation Events
Bakery: Hoosier Mama Pie Co.
DJ: Jon Swegle, friend of the bride + groom
Transportation: Buckingham Limousine
Rehearsal Dinner: Estrella Negra
Hotels: Holiday Inn Downtown + Holiday Inn O'Hare
Rentals: Tablescapes
Sound Equipment Rental: Just Press Play Productions
Officiants: Jacob Huelster + Alisha Wright, friends of the bride + groom
Flowers: Steve's Flower Market
Looking For More? Explore Related Posts: