Laura + Dan's wedding at Salvage One in Chicago was beyond gorgeous. If you have never been there before, you should check it out. They describe themselves best, so I'm not going to mess it up: "We save architectural elements from the wrecking ball. We work to preserve and pass on our history. We have been helping our customers breathe new life into salvaged materials for nearly 30 years. We aim to take salvage further by working with you to add creativity and style to your space. Our store is over 60,000 square feet full of materials and design ideas on four floors. We have a full work shop to do custom work, and a yard full of garden and landscaping ideas." But it's also a wicked-cool place to have your wedding, but you better have a little bad-ass in you.
Like I said, pretty awesome, right?
Laura and Dan met through Laura's sister via Beloit College in Wisconsin (random side note: this was random because I lived in Beloit when I was a wee little one. I went to Happy Face Preschool. Most people have never heard of Beloit- which is my point.)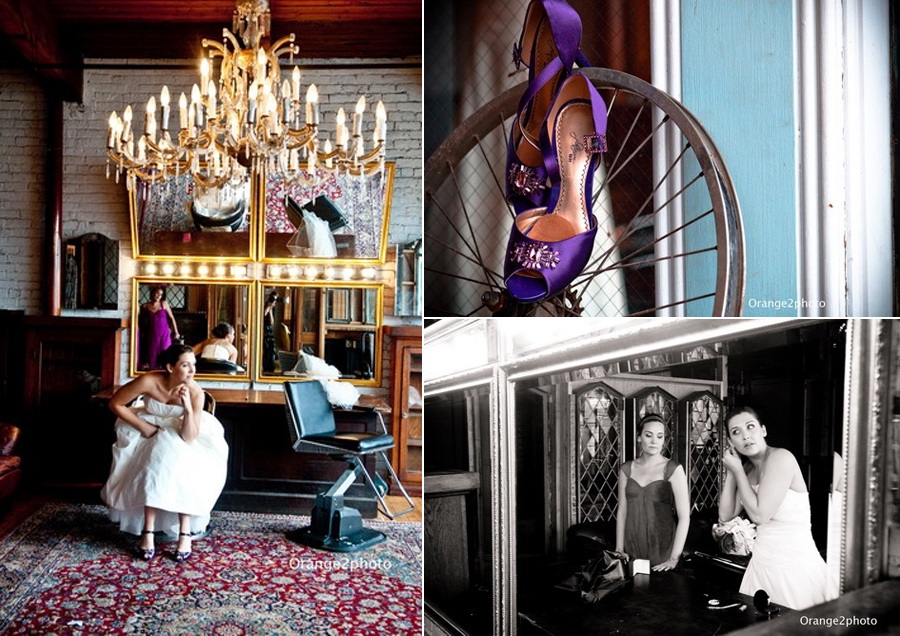 The ceremony was inside because it was pretty cold out, but the backdrop for it is amazing.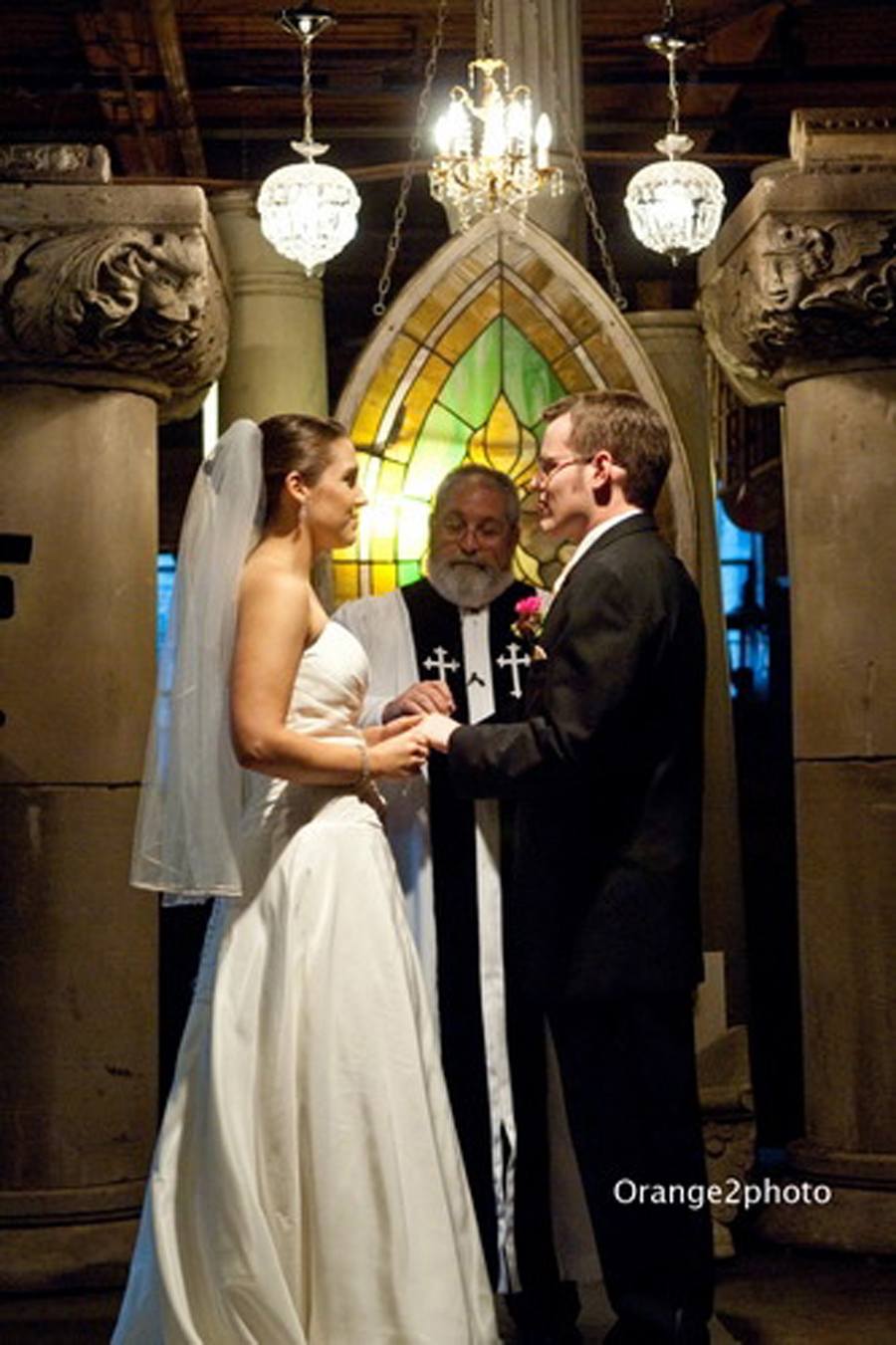 Laura and Dan planned a fun surprise that even their families didn't know about! They hired a bluegrass band to play during the ceremony and cocktail hour. It was so fun and everyone loved it!
Another thing that is really cool about Salvage One is that dinner is served on the second floor and the tables and chairs used are all items that are for sale at the store. It means that each table is different, some seat four and some seat 12 people, and each table has a unique set of chairs at it. It makes seating a little more complicated because if they sell one of the tables the day before your wedding, you have to re-work the seating, but you get all the chairs and tables with the rental fee and they don't need linens as they are beautiful on their own. Check out their tables: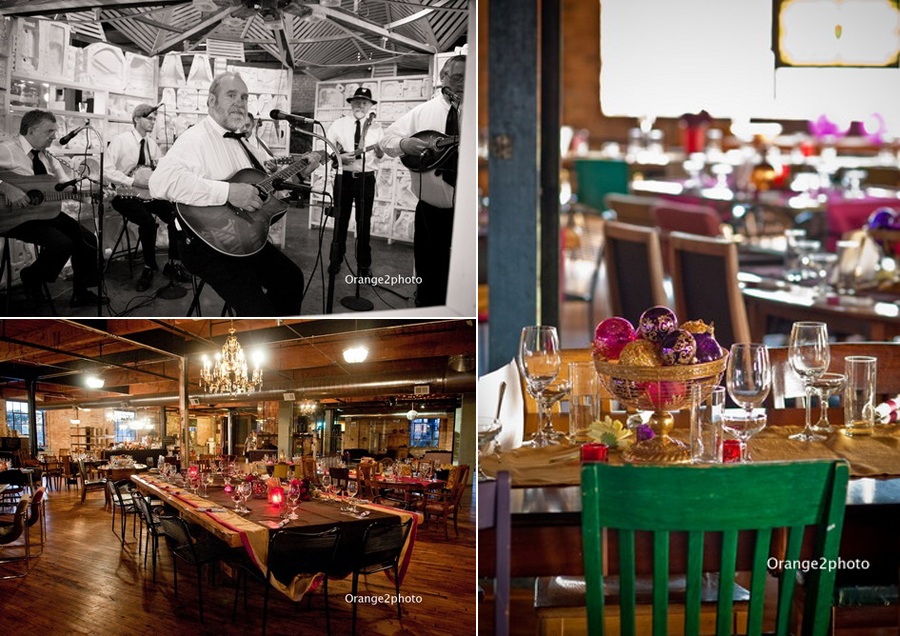 They had bright pink, purple and gold fabric that Laura's sister brought back from Japan and her mom made into table runners. She also stocked up at the after Christmas sale at
Pier One
and got all of the stuff for her centerpieces and a bunch of Christmas ornaments that we used in the centerpieces and as favors for their guests.
I love how unique their wedding was. Amazing French food, a tango for their first dance, a completely unique setting, Christmas decorations that were totally re-purposed for a wedding and a Dairy Queen ice cream cake surprise for the groom. Go Team Zeewagen!
*I like to give credit where credit is due: all pictures courtesy of Lizz via Orange 2 Photography
Laura + Dan's Vendors
Ceremony & Reception: Salvage One
Reception decor: Laura, with help from Pier One
Catering: Cook au Vin
Photography: Orange2Photo
Videography: Loudbyte Cinematography
Cake: Sweet P Sweets
Groom's Cake: Dairy Queen
DJ: Style Matters
Ceremony & Cocktail Music: Basically Bluegrass
Day-of Coordination: Anticipation Events