Tanya + Sarah got married at the Wyndham Grand Chicago Riverfront and it was spectacular. These two were so funny and fun to be around, there were a few times I had to remind myself I was at work!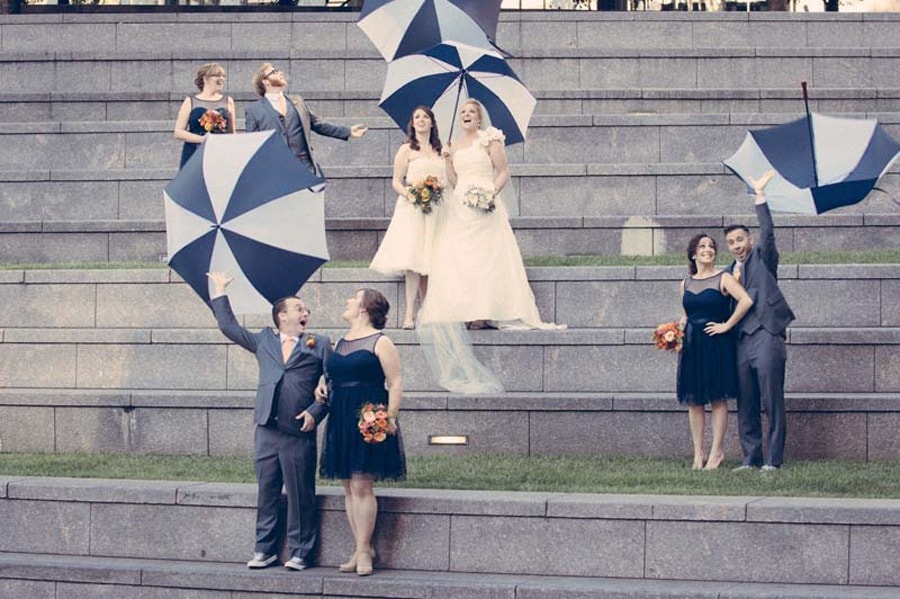 They got all dolled up at the hotel and were close byso many great downtown Chicago photo ops. Michael Novo Photography killed it with the photos, so many for me to choose from, I don't know how in the heck Tanya + Sarah choose their favorites.  One of my favorite florists in town (you can see why looking at those bouquets) Asrai Garden put them in touch with us and I was so happy when they said they had met with a bunch of different planners and didn't "feel it" until they found us!
Sarah manages bands and her great friend Aaron Wilhoft sang them down the aisle. I'm not impressed easily but I kind of wanted to be a creeper and ask if he would sing at all of my weddings…I could make you a star, Aaron!  With a few happy tears, some glorious sunshine streaming through the windows, and a Russian blessing from Tanya's parents, Tanya and Sarah made it official with Anita Weds and all of their friends and family looking on.
Oh my god, did these guys know how to party. They drank and danced and toasted and spun vendors around the dance floor all night long. Such a fun-loving couple and a wedding that was a dang joy to be apart of. Check out their wedding featured on Equal & Forever, aptly titled "The Princess and the Rockstar!" So perfect, I love it (and them.)
* eye candy courtesy of Michael Novo Photography
Tanya + Sarah's Vendors
Ceremony + Reception: Wyndham Grand Chicago Riverfront
Caterer: Wyndham Grand Chicago Riverfront
Day-of Coordination: Anticipation Events
Ceremony Musician: Aaron Wilhoft
Officiant: Anita Weds
Florist: Asrai Garden
Bakery: Alliance Bakery
Photographer: Michael Novo Photography
Videographer: Media Mix Entertainment
DJ + Lighting: Media Mix Entertainment
Rehearsal Dinner: Sweetwater Tavern + Grille
Make-up: Traci Fine, Fine Makeup Art
Hair: Blushing Brides Hair Design
Hotel: Wyndham Grand Chicago Riverfront
Rentals: M&M Special Events
Looking For More? Explore Related Posts: