Lauren + Bob said "I do" last fall at the Chicago Yacht Club. The event was perfection with all of its nautically inspired decor and, of course, that beautiful backdrop!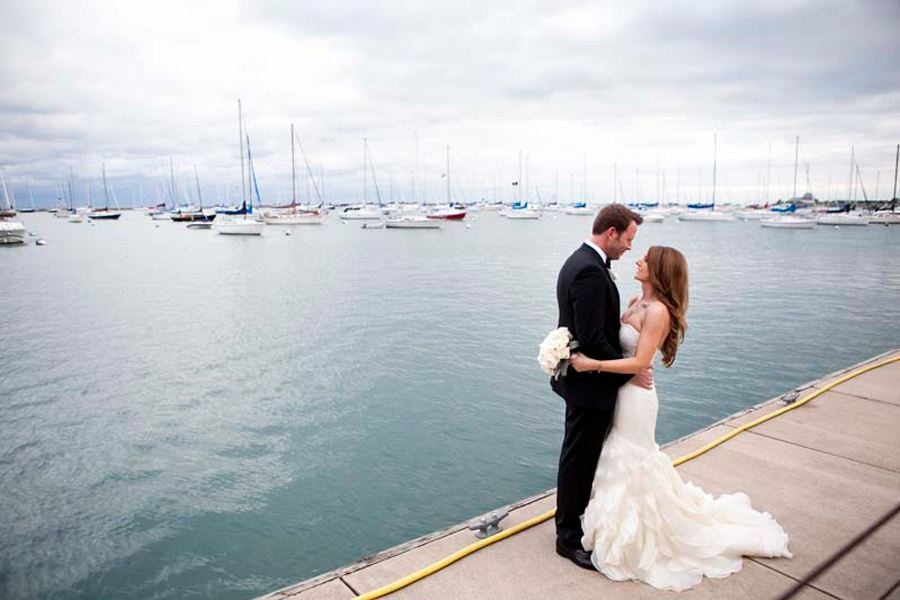 One of my favorite things is when someone hires me when they kind of know me. Lauren and I share a mutual good friend and we had met several times at parties and showers for her. People love to talk weddings with me (and let's face it, I love it too) but I never, ever go into any kind of sales pitch. Mostly because I am a big weenie and I am a terrible saleslady. Lauren followed AE on social media and reached out right after Bob popped the question. All the warm fuzzies happened and before any of us knew it, it was game day!  The couple got ready for their big day at the Hyatt Regency overlooking the lakefront.
They are not photogenic at all are they?! HA, just a couple of supermodels, no big deal. From there, they headed out around town for some great shots with Heather. A little rain didn't stop these babes…it only made their photos better. Those boots! That umbrella! Loving it!
Back at the yacht club against the gorgeous setting of Lake Michigan and a humongously awesome yacht, we helped bring Lauren + Bob's vision to life. Classic, sophisticated, with just enough gold and sequin to keep my feining at bay.
It was so fun to plan this with them and while they might be relieved that all of the planning and preparation is over, I wouldn't mind doing it all over again. Congrats to a most excellent couple on a beautiful wedding day.
*eye candy courtesy of Heather DeCamp Photography
Lauren + Bob's Vendors
Ceremony + Reception Venue: Chicago Yacht Club
Caterer: Chicago Yacht Club
Photographer: Heather DeCamp Photography
Videographer: DeLack Media Group
Coordinator: Anticipation Events
Florist: Ashland Addison Florist
Make-Up: Aga Kaskiewicz
Hair: Marija Ariana Puljic
Bakery: Just Desserts
DJ: Toast & Jam
Cocktail Hour Musician: Zoie Moser
Violinist: Edith Yokely
Transportation: Classic Wedding Car
Rehearsal Dinner: Trattoria Isabella
Hotel: Hyatt Regency Chicago
Rentals: Lil Epic Event Design + Melina's Rentals
Officiant: Chicago Weddings
Looking For More? Explore Related Posts: