We're TEN!
Anticipation Events is 10 years old this month! Instead of throwing a party for ourselves we decided to throw a party for YOU. It could be a wedding, an anniversary, a birthday, whatever, we're just jazzed to team up with some of our wildest friends who also happen to be the best in the business. Enter our rad party giveaway to win pies, photography, videography, cake, rentals, invitations, music, an outfit, and MORE!
To enter, head over to our Instagram and follow the steps listed! Get the details below of all of the things you will win, and enter before 11:59 PM on Thursday, September 5. The winner will be announced Saturday, September 7!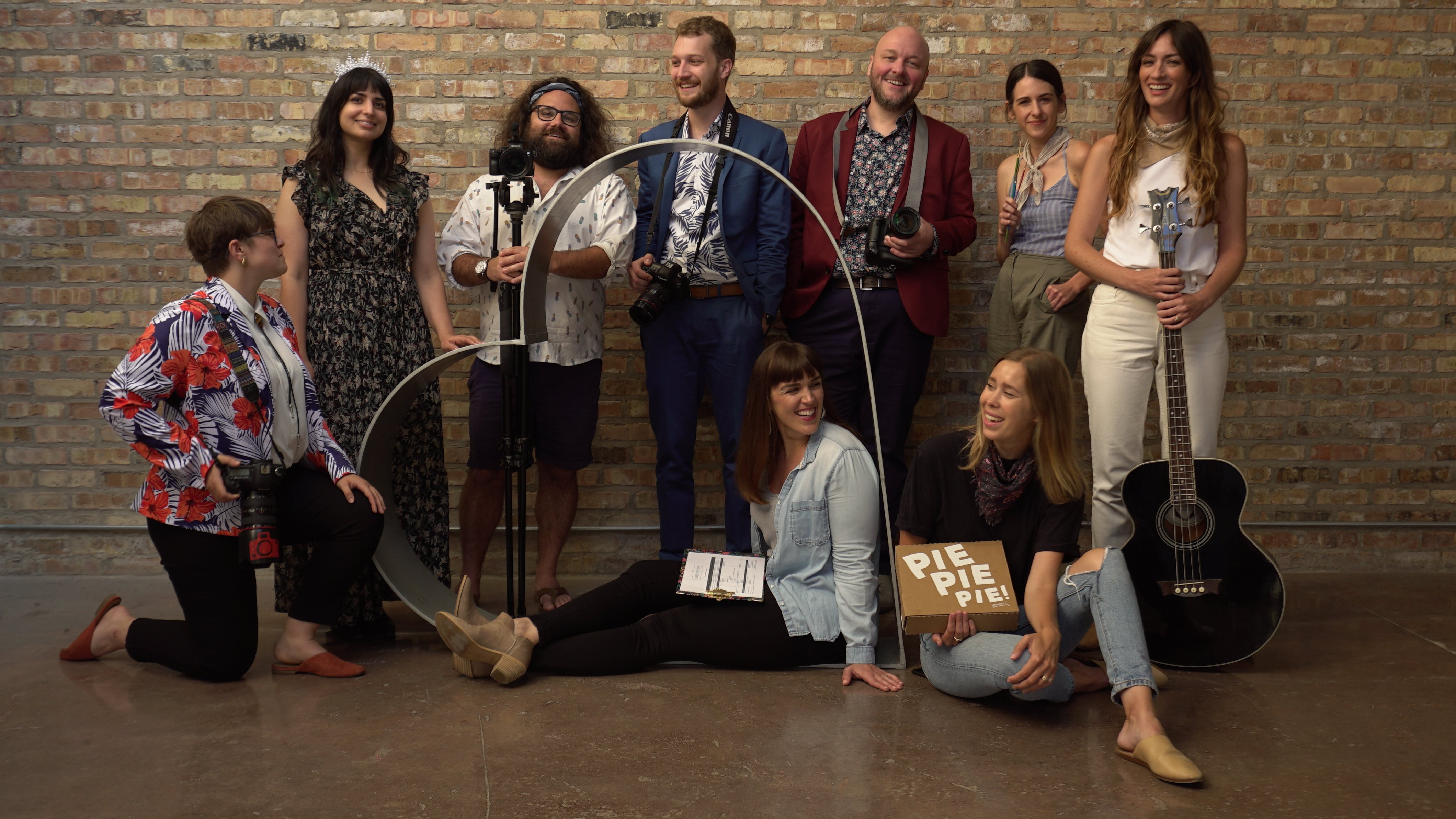 What you win:
Anticipation Events is a boutique event planning and styling company specializing in atypical and stylish weddings, social occasions, and special events. We're crazy good at making sure every detail is in place down to the last disco ball. Our attention to detail and ability to organize, paired with an eye for style means you get the best of both worlds: planner and designer.
With hundreds of events planned, dozens of crises averted, and countless candles lit, Team AE is your secret weapon to a stress-free event. When we're not at a party, we dabble in music, food, interiors, and travel to keep our senses honed and inspiration flowing. We call Chicago home, but you can book us worldwide.
Not only did we coordinate the best vendors in the business to make this party happen but we will be onsite for up to 5 hours to coordinate on the day of. 
Maison Blanche is the Chicago-based creative studio of lifelong Francophile Christen Whitehouse (hint – Maison Blanche translates to my last name in French). We specialize in bold and artful wedding and event signage, stationery and fine art, and as the daughter of a talented artist and illustrator, I am most happy with a paintbrush in hand. I aim to create out of the box pieces of art that will live on well beyond your big day, and with a decade of experience in the industry, I also ensure that each and every design is as functional as is beautiful. 
Included for the winner, for up to 100 guests:
Save the Date + Addressed Envelope (Watercolor Brush Lettering)

Invitation (Ceremony + Reception Details)

RSVP Card

Envelope + Addressing (Watercolor Brush Lettering)

Two complimentary suites for photography and keepsake

Welcome Sign

Escort Cards with watercolor brush lettering

Table Numbers

Menu per table
Nimble Well is a boutique tabletop rental company that keeps up with current wedding and event design to give our clients access to large rental collections of colorful glassware, cake stands, and servingware. If Pinterest had an estate sale, it would be our stuff.
We're offering the winner's choice of rentals from the whole collection up to $350. For example, a lush dessert table design or glassware for your guest tables.
Jeremy Lawson Photography was founded by Jeremy in 2004. Since his beginnings shooting weddings on film in his hometown in Indiana, Jeremy has brought his creative eye, his passion, and his sense of humor to hundreds of weddings in the Chicago area and beyond. He has become one of the highest-rated photographers in Chicago and has expanded his business to include two associate photographers in Chicago. Jeremy and his teams' work has been featured in Vogue, CS, The Knot, and Huffington Post. Jeremy's work and personal demeanor is an embodiment of his company's motto: It's Your Party. Have Fun. 
6 hours of event day coverage by 1 JLP photographer including a website of the images with digital download.  Additional coverage and options are available for purchase. 
Bang Bang Pie & Biscuits continues Mid-Western cooking traditions, eager to serve up our unique take on hospitality, decadence and cafe life.
10 pre-sliced menu pies with gingham boats & forks, along with a complimentary pie tasting!
If you're on the hunt for a live band that is fun, friendly and delightfully different then look no further. We're music geeks who've absorbed the sounds of bluegrass, rock n' roll and timeless classics. Our music has an old-time soul with a modern belly. Instead of trying to duplicate a song, we "gussy it up" into our own style. No party is too small or too big for Gussied, we play farms, barns, wineries, swanky lofts, country clubs and everything in between – even summer camps! We also play weddings, festivals, and private events with our full band or smaller instrumental ensembles. 
Two hours of background "cocktail" music with Gussied's instrumental trio (fiddle/guitar/bass). Music will include a mix of bluegrass, country, gypsy jazz, Irish, and classic tunes.
Belle Custom Atelier is a heritage custom design studio founded in NYC by Giselle Ghofrani the daughter of Chicago's favorite alteration studio The Dress Doctor. Belle specializes in creating the ultimate gown for your wedding day or others in your party. We also carry several designers who specialize in customizations or are in the high-end luxury market.  Belle is for anyone who is looking to be part of their entire gown creation process, from silhouette to final touches like lace appliqué or embroidery design. Because we are a shop-in-shop at The Dress Doctor, we have access to their expert atelier and also ours in NYC to provide you with the best pattern-makers, seamstresses, and materials in the industry.
Belle is including a voucher towards anything in our boutique from veils to gowns and accessories, this could cover your entire party look!
LEAP Weddings is a wedding film company based in Chicago, IL focused on storytelling and showcasing your authentic self on one of the happiest days of your lives. Always fresh, never cheesy. Our work blends a documentary approach with a unique edge resulting in engaging films that are a reflection of your one-of-a-kind story. We have over 13 years of experience and have captured over 600 zealous cake cuttings. Our team works to get to know your love story, document it live in action, then turn it into a film that you can post on Facebook to make Grandma cry and your friends who couldn't make it jealous – (just kidding!) But ultimately so you can relive your special day for years to come.
Package Offering: The Basics – Ceremony + Reception Films. 
We deliver chronological edited videos of both your ceremony and formal events of your reception. The package includes:
2 filmmakers

Coverage of Ceremony + Reception (Introductions, Toasts, Cake Cutting, First Dance, Parent Dances, etc)

Full multi-camera edit of Ceremony + Reception Formalities with audio

Digital Delivery of Raw Footage
Emily Nejad launched Bon Vivant in 2016 and has been perfecting her signature style ever since. Think toweringly tall cakes with colorful marbled Swiss meringue buttercream decorated with anything and everything lavish: edible lace, cookies, flowers, handcrafted chocolate crowns, lollipops, and lots of sprinkles. Nejad's work has graced the covers of Chicago's Redeye and Chicago Woman Magazine, where she was named one of Chicago's 10 influential women in food. Bon Vivant's pop up donut and cake decorating classes have been featured by brands like Macy's, Lululemon, Romona New York, Diane Von Furstenberg, and West Elm. Nejad lives and works in Chicago's Albany Park neighborhood.
Bon Vivant is providing The Mighty Mini – Confetti Cake with Vanilla Almond Buttercream. Ordering a mini is like asking a bartender to make you their favorite bourbon or gin drink- you'll know what the base flavors are, but the rest is left to the whim and imagination of the expert. Serves 4 to 6 people. No substitutions on flavor or design.
OFFICIAL RULES
NO PURCHASE, SUBSCRIPTION OR PAYMENT IS NECESSARY TO ENTER OR WIN. A PURCHASE, SUBSCRIPTION OR PAYMENT OF ANY KIND DOES NOT INCREASE YOUR CHANCES OF WINNING. VOID OUTSIDE THE 50 UNITED STATES, DISTRICT OF COLUMBIA, AND WHERE PROHIBITED.
PARTICIPANTS MUST MEET ALL OF THE FOLLOWING CRITERIA AT THE TIME OF ENTRY:
OVER 21 YEARS OF AGE

A LEGAL RESIDENT OF, AND LOCATED WITHIN, THE UNITED STATES
THESE RULES APPLY TO THE ANTICIPATION EVENTS TENTH ANNIVERSARY GIVEAWAY (THE "GIVEAWAY"). PARTICIPATION / ENTRY IN THIS GIVEAWAY CONSTITUTES THE ENTRANT'S ("PARTICIPANT," "ENTRANT," "YOU," OR "YOUR") FULL AND UNCONDITIONAL AGREEMENT TO AND ACCEPTANCE OF THESE OFFICIAL RULES, INCLUDING THE DECISIONS AND INTERPRETATIONS OF SPONSOR AND/OR THE JUDGES, WHICH ARE FINAL AND BINDING ON ALL MATTERS RELATING TO THE GIVEAWAY.
GIVEAWAY PERIOD: THE ANTICIPATION EVENTS TENTH ANNIVERSARY GIVEAWAY (THE "GIVEAWAY") RUNS FROM MONDAY, AUGUST 12, 2019, AT 3:00 PM CENTRAL TIME ("CT") (THE "GIVEAWAY START DATE") THRU THURSDAY, SEPTEMBER 5, 2019, AT 11:59 PM CT (THE "GIVEAWAY END DATE"). THE PERIOD FROM THE GIVEAWAY START DATE THROUGH THE GIVEAWAY END DATE IS REFERRED TO AS THE "GIVEAWAY PERIOD." SPONSOR'S DESIGNATED COMPUTER IS THE OFFICIAL TIME CLOCK FOR THE GIVEAWAY. 
SPONSOR: THE GIVEAWAY IS SPONSORED COLLECTIVELY BY THOSE ENTITIES LISTED IN APPENDIX BELOW (COLLECTIVELY, THE "SPONSOR"). EACH OF THE ENTITIES PROVIDED IN THE ATTACHED APPENDIX, INCLUDING THEIR SUBSIDIARIES AND AFFILIATES, AND ANY OTHER PARTNERING COMPANIES OR AGENCIES ASSOCIATED WITH THE GIVEAWAY, TOGETHER, HEREINAFTER WILL BE REFERRED TO AS THE "GIVEAWAY PARTNERS."
HOW TO ENTER: DURING THE GIVEAWAY PERIOD, YOU MUST ENTER THE GIVEAWAY BY FOLLOWING ALL NINE (9) GIVEAWAY PARTNERS (SEE APPENDIX) ON INSTAGRAM AND COMMENTING/TAGGING A FRIEND ON ANTICIPATION EVENTS'S OFFICIAL INSTAGRAM ACCOUNT (@ANTICIPATIONEVENTS). BY DOING SO, PARTICIPANTS AGREE TO THESE OFFICIAL RULES. 
ALL ENTRIES MUST BE RECEIVED BY THE GIVEAWAY END DATE (THURSDAY, SEPTEMBER 5, 2019, AT 11:59 PM CT).

ANY ATTEMPT BY ANY PARTICIPANT TO OBTAIN MORE THAN ONE (1) ENTRY PER PERSON BY USING MULTIPLE EMAIL ADDRESSES, IDENTITIES, PROFILES, REGISTRATIONS, OR ANY OTHER METHODS WILL VOID THAT PARTICIPANT'S ENTRIES AND THAT PARTICIPANT MAY BE DISQUALIFIED. USE OF ANY AUTOMATED SYSTEM TO PARTICIPATE IS PROHIBITED AND WILL RESULT IN DISQUALIFICATION. PARTICIPANTS DO NOT NEED TO MAKE A PURCHASE OF ANY KIND TO ENTER THE GIVEAWAY. 

ALL ENTRIES BECOME THE PROPERTY OF SPONSOR AND WILL NOT BE ACKNOWLEDGED OR RETURNED.

SPONSOR RESERVES THE RIGHT, IN ITS SOLE DISCRETION, TO: (I) VERIFY ANY ELEMENT OF ANY ENTRY, RELATED MATERIALS OR ENTRANT'S ELIGIBILITY; (II) TO REQUEST ADDITIONAL INFORMATION; AND (III) TO DISQUALIFY ANY ENTRANT WHOSE PARTICIPATION MAY SUBJECT THE GIVEAWAY, SPONSOR OR SPONSOR'S ADVERTISERS, CLIENTS, OR CUSTOMERS TO CONTROVERSY, NEGATIVE PUBLICITY, SCORN, OR RIDICULE. BY ENTERING THE GIVEAWAY, YOU AGREE TO PROVIDE ANY DOCUMENTATION OR INFORMATION DEEMED NECESSARY BY, AND IN A FORM ACCEPTABLE TO, SPONSOR TO SATISFY THE ABOVE REQUIREMENT IF ASKED BY SPONSOR TO DO SO.
LIMIT: MAXIMUM ONE (1) ONLINE ENTRY PER PERSON FOR THE GIVEAWAY PERIOD.
ELIGIBILITY: THE GIVEAWAY IS OPEN TO ALL LEGAL RESIDENTS OF THE STATE OF ILLINOIS WHO ARE 21 YEARS OLD OR OLDER AT THE TIME OF ENTRY. VOID ELSEWHERE AND WHERE PROHIBITED. PERSONS IN THE FOLLOWING CATEGORIES ARE NOT ELIGIBLE TO ENTER THE GIVEAWAY OR WIN GIVEAWAY PRIZES: ANY PERSON WHO ON OR AFTER JANUARY 1, 2019, WAS OR IS: (A) A GIVEAWAY PARTNER OWNER OR EMPLOYEE; (B) A DIRECTOR, OFFICER, EMPLOYEE, AGENT, OR INDEPENDENT CONTRACTOR OF SPONSOR, OR ITS PARENT COMPANY, SUBSIDIARIES, AFFILIATES, OR SERVICE AGENCIES; (C) ANY ENTITIES RETAINED BY SPONSOR FOR THE ADMINISTRATION OF THE GIVEAWAY; (D) AN IMMEDIATE FAMILY MEMBER (DEFINED AS PARENTS, PARENTS-IN-LAW, CHILDREN, SIBLINGS AND SPOUSE (INCLUDING COMMON LAW), REGARDLESS OF WHERE THEY RESIDE) OF ANY ENTITY PROVIDED IN THE ADDENDUM; OR (E) ANY EXHIBITOR OR SPONSOR OF AN EVENT ORGANIZED BY THE ENTITIES PROVIDED IN THE ADDENDUM, INCLUDING ANY DIRECTOR, OFFICER, EMPLOYEE, AGENT, OR INDEPENDENT CONTRACTOR THEREOF. ANY OTHER PERSONS WITH WHOM ANY OF THE ABOVE ARE DOMICILED ARE ALSO NOT ELIGIBLE TO ENTER THE GIVEAWAY OR WIN GIVEAWAY PRIZES.
WINNER SELECTION: FINALISTS WILL BE SELECTED IN A RANDOM DRAWING UNDER THE SUPERVISION OF THE SPONSOR ON OR ABOUT SEPTEMBER 6, 2019 (THE "DRAWING DATE'). WINNER WILL BE ANNOUNCED ON OR ABOUT SEPTEMBER 7, 2019.
WINNER NOTIFICATION: IF YOUR ENTRY HAS BEEN DRAWN AS A FINALIST OR WINNER, YOU WILL BE CONTACTED BY INSTAGRAM MESSAGE VIA YOUR INSTAGRAM ACCOUNT PROVIDED WHEN YOU ENTERED THE GIVEAWAY WITHIN TWENTY-FOUR (24) HOURS AFTER THE SELECTION OF THE FINALISTS. IF A FINALIST DOES NOT MEET ALL ELIGIBILITY REQUIREMENTS, HAS NOT COMPLIED WITH THESE OFFICIAL RULES, CANNOT BE CONTACTED, DOES NOT RESPOND WITHIN THREE (3) DAYS FROM THE DATE SPONSOR FIRST TRIES TO NOTIFY HIM/HER, AND/OR THE PRIZE OR PRIZE NOTIFICATION IS RETURNED AS UNDELIVERABLE, SUCH FINALIST FORFEITS ALL RIGHTS TO CLAIM OR RECEIVE THE PRIZE AND AN ALTERNATE WINNER MAY BE SELECTED. AN AFFIDAVIT OF ELIGIBILITY/LIABILITY WILL THEN BE MAILED TO THE POTENTIAL WINNER. THIS MUST BE SIGNED AND RETURNED TO THE SPONSORS WITHIN 3 DAYS OF RECEIPT. IF THE AFFIDAVIT IS NOT RETURNED WITHIN THE SET TIME PERIOD AN ALTERNATE POTENTIAL WINNER WILL BE SELECTED. THE POTENTIAL WINNER CANNOT BE DECLARED THE GIVEAWAY WINNER UNTIL THE AFFIDAVIT IS RETURNED TO THE SPONSORS AND IT IS CONFIRMED THAT ALL OFFICIAL RULES HAVE BEEN MET. BY ACCEPTING ANY PRIZE, WINNER ACKNOWLEDGES COMPLIANCE WITH THESE OFFICIAL RULES.
PRIZE: UP TO $14,825 WORTH OF EVENT PRODUCTS AND SERVICES FOR ONE (1) EVENT. ALL PRIZES ARE AWARDED "AS IS" WITH NO WARRANTY OR GUARANTEE EXPRESS OR IMPLIED BY GIVEAWAY PARTNERS. GIVEAWAY PARTNERS DISCLAIM ALL AND ANY LIABILITY FOR THE ACTUAL PROVISION, QUALITY OR NATURE OF ANY THIRD-PARTY PRODUCT OR SERVICE ACCEPTED BY THE WINNER. THE AWARDING OF ANY PRIZE IS CONTINGENT UPON FULL COMPLIANCE WITH THESE OFFICIAL RULES. NO CASH OR OTHER SUBSTITUTION OF PRIZE IS AVAILABLE BY THE WINNER. PRIZE MAY NOT BE TRANSFERRED. SPONSORS RESERVE THE RIGHT TO SUBSTITUTE PRIZES OF EQUAL OR GREATER VALUE. THE WINNER IS REQUIRED TO COMPLY WITH ANY AND ALL APPLICABLE FEDERAL, STATE AND LOCAL LAWS, RULES AND REGULATIONS. ALL APPLICABLE TAX IS THE SOLE RESPONSIBILITY OF THE WINNER.
ANTICIPATION EVENTS

–

RETAIL VALUE $3,500

–  MONTH-OF EVENT PLANNING PACKAGE INCLUDING FINAL WALKTHROUGH, TIMELINE CREATION, VENDOR LOGISTIC COORDINATION, AND UP TO FIVE (5) HOURS OF COVERAGE ON EVENT DAY.

MAISON BLANCHE

–

RETAIL VALUE $1,375

–

CUSTOM INVITATIONS AND SAVE THE DATES. INCLUDES MAIN INVITATION, RSVP CARD, ENVELOPE AND ADDRESSING, TWO COMPLIMENTARY INVITATION SUITES FOR PHOTOGRAPHY AND KEEPSAKE, WELCOME SIGN, ESCORT CARDS WITH HANDWRITTEN WATERCOLOR BRUSH LETTERING, TABLE NUMBERS, AND ONE MENU PER TABLE.

JEREMY LAWSON PHOTOGRAPHY

– RETAIL VALUE $4,000 –

UP TO SIX (6) HOURS OF EVENT DAY COVERAGE BY ONE (1) JEREMY LAWSON PHOTOGRAPHY PHOTOGRAPHER, A WEBSITE OF THE IMAGES FOR DIGITAL DOWNLOAD. ADDITIONAL COVERAGE AND OPTIONS AVAILABLE FOR ADDITIONAL CHARGE. 

NIMBLE WELL

– R

ETAIL VALUE $350

– UP TO $350 IN TABLETOP RENTALS TO BE USED FOR DINNERWARE, GLASSWARE, FLATWARE, CAKE STANDS AND SERVING TRAYS.

BANG BANG PIE & BISCUITS –

RETAIL VALUE $400

– TEN (10) PRE-SLICED MENU PIES WITH GINGHAM BOATS AND FORKS AND A COMPLIMENTARY PIE TASTING. TASTING DATE AND TIME TO BE AT A MUTUALLY AGREED UPON TIME. 

GUSSIED

– RETAIL VALUE $900 – UP TO TWO (2) HOURS OF BACKGROUND COCKTAIL HOUR MUSIC WITH GUSSIED'S INSTRUMENTAL TRIO (FIDDLE, GUITAR & BASS). MUSIC WILL INCLUDE A MIX OF BLUEGRASS, COUNTRY, GYPSY JAZZ, IRISH AND CLASSICAL TUNES.

BELLE ATELIER –

RETAIL VALUE $1,800 – VOUCHER TO USE TOWARD ANYTHING IN THE BELLE ATELIER BOUTIQUE INCLUDING VEILS, GOWNS AND ACCESSORIES

LEAP WEDDINGS –

RETAIL VALUE – $2,500 – THE BASICS – CEREMONY + RECEPTION  FILMS. THE PACKAGE INCLUDES 2 FILMMAKERS, COVERAGE OF CEREMONY AND RECEPTION (INTRODUCTIONS, TOASTS, CAKE CUTTING, FIRST DANCE, PARENT DANCES, ETC.), FULL MULTI-CAMERA EDIT OF CEREMONY + RECEPTION FORMALITIES WITH AUDIO, DIGITAL DELIVERY OF RAW FOOTAGE

BON VIVANT CAKES –

RETAIL VALUE $40 – ONE MIGHTY MINI – CONFETTI CAKE WITH VANILLA ALMOND BUTTERCREAM

.

NO SUBSITUTIONS ON FLAVOR OR DESIGN, SERVES 4-6 PEOPLE.
CONTACTING SPONSOR: ANY NOTICE, FORMS OR DOCUMENTATION, ETC. NEEDING TO BE PROVIDED TO THE SPONSOR MAY BE PROVIDED BY EMAILING ELIZABETH@ANTICIPATIONEVENTS.COM. PLEASE INCLUDE ANTICIPATION EVENTS TENTH ANNIVERSARY GIVEAWAY IN THE SUBJECT LINE OF YOUR MESSAGE.
PRIZE DETAILS/RESTRICTIONS: 
EVENT PRODUCTS AND SERVICES MUST BE USED TOGETHER FOR THE PURPOSE OF HOSTING ONE (1) EVENT BETWEEN THE DATES OF JANUARY 1, 2020, AND DECEMBER 31, 2020. EVENT MUST BE HELD ON A DATE MUTUALLY AGREED UPON BY THE SPONSOR AND WINNER. 

EVENT MUST BE HELD WITHIN THE LIMITS OF THE CITY OF CHICAGO OR A 50 MILE RADIUS OF THE CITY OF CHICAGO. EVENT MUST BE HELD IN THE STATE OF ILLINOIS. 

THIS GIVEAWAY DOES NOT INCLUDE (BUT NOT LIMITED TO): PARKING FEES FOR VENDOR TEAMS (

WINNER MUST COVER ANY PARKING FEES

), TRAVEL OR TRAVEL EXPENSES (

WINNER MUST COVER ANY TRAVEL OR TRAVEL EXPENSES, IF APPLICABLE)

, LABOR COST NOT LISTED IN PRIZE DESCRIPTION OR ADDITIONAL EVENT NEEDS (I.E. VENUE RENTAL, CATERING, FLORAL, ETC.), TIPS, AND/OR COSTS ASSOCIATED TO OBTAINING EVENT OR OTHER LICENSES. 

ENTRANT IS RESPONSIBLE FOR OBTAINING ANY APPLICABLE LICENSES AND PERMITS AND MUST COVER ALL ASSOCIATED COSTS AND FEES FOR OBTAINING SUCH LICENSES AND PERMITS. IF LICENSES AND PERMITS ARE NOT OBTAINED AT LEAST 30 DAYS BEFORE THE EVENT DATE, WINNER FORFEITS ALL PRIZES ASSOCIATED WITH THE GIVEAWAY.

WINNER MAY BE RESPONSIBLE FOR SIGNING SEPARATE CONTRACTS WITH EACH PARTICIPATING VENDOR. ADDITIONAL SERVICES MAY BE ADDED WITH PARTICIPATING VENDORS FOR A FEE. 

PRIZE CANNOT BE APPLIED TO ANY EVENT SERVICES OR PRODUCTS PREVIOUSLY PURCHASED OR CONTRACTED WITH THE PARTICIPATING VENDORS
PRIVACY: WHEN YOU ENTER, WE COLLECT PERSONALLY IDENTIFYING INFORMATION ABOUT YOU, INCLUDING YOUR NAME, INSTAGRAM ACCOUNT, AND PERSONAL DETAILS. BY ENTERING AND PROVIDING THE REQUIRED REGISTRATION INFORMATION, YOU ACKNOWLEDGE THAT SPONSOR MAY SEND YOU INFORMATION, SAMPLES, OR SPECIAL OFFERS IT BELIEVES MAY BE OF INTEREST TO YOU ABOUT THE GOODS OR SERVICES OFFERED BY GIVEAWAY PARTNERS OR THEIR EXHIBITORS. BY ENTERING THE GIVEAWAY, YOU ACKNOWLEDGE THAT YOU HAVE READ AND UNDERSTAND THIS PRIVACY CLAUSE.
PUBLICITY: EXCEPT WHERE PROHIBITED BY LAW, ENTRY INTO THE GIVEAWAY CONSTITUTES PERMISSION TO USE EACH ENTRANT'S NAME, HOMETOWN (CITY AND STATE), VOICE, BIOGRAPHICAL INFORMATION, LIKENESS, PHOTOGRAPH AND ANY STATEMENTS REGARDING THIS GIVEAWAY IN ALL MEDIA NOW KNOWN OR HEREAFTER DISCOVERED, FOR ANY PURPOSE, INCLUDING WITHOUT LIMITATION, IN CONNECTION WITH, AND TO PROMOTE, MARKET OR ADVERTISE, THE GIVEAWAY, IN WHOLE OR IN PART, WITHOUT REVIEW, APPROVAL, CREDIT OR ATTRIBUTION, NOTIFICATION OR PAYMENT FROM OR TO ENTRANT OR ANY PERSON OR ENTITY, WORLDWIDE, IN PERPETUITY, OR ON A WINNER'S LIST, IF APPLICABLE. BY ENTERING THIS GIVEAWAY, YOU AGREE TO BE PHOTOGRAPHED AND INTERVIEWED BY THE SPONSOR FOR PUBLICITY PURPOSES AT LEAST TWICE AND WHEN GIVEN REASONABLE NOTICE GIVEN BY THE SPONSOR. GIVEAWAY IS SUBJECT TO ALL APPLICABLE U. S. FEDERAL, STATE AND LOCAL LAWS AND REGULATIONS.
GRANT OF RIGHTS: ALL ENTRANTS IRREVOCABLY GRANT THE GIVEAWAY PARTNERS AN UNLIMITED, WORLDWIDE, PERPETUAL, NON-EXCLUSIVE, ROYALTY-FREE, UNCONDITIONAL LICENSE AND ABSOLUTE RIGHT TO DISTRIBUTE, STREAM, POST, PUBLISH, BROADCAST, PUBLICLY DISPLAY, EXHIBIT, AND/OR OTHERWISE USE THE ENTRY AND ANY PHOTO, VIDEO OF THE GIVEAWAY ENTRANTS AND THE EVENT ITSELF.
DISQUALIFICATION: THE FOLLOWING ARE PROHIBITED AND WILL RESULT IN AUTOMATIC DISQUALIFICATION FROM THE GIVEAWAY: (1) USING ANY METHOD THAT ARTIFICIALLY INCREASES ODDS OF WINNING, INCLUDING WITHOUT LIMITATION INTERNET BOTS, WEB ROBOTS, WWW ROBOTS OR ANY OTHER TYPE OF BOTS AND BALLOT STUFFING; (2) NON-COMPLIANCE WITH THESE OFFICIAL RULES; AND (3) ANY OTHER ACT WHICH THE GIVEAWAY PARTNERS DETERMINE, IN THEIR SOLE DISCRETION, JEOPARDIZES THE INTEGRITY OF THE GIVEAWAY, IS UNSPORTSMANLIKE, OR IS INTENDED TO ANNOY OR HARASS ANY OTHER ENTRANT OR GIVEAWAY PARTNER.
RELEASE OF LIABILITY / DISCLAIMER OF WARRANTY: PARTICIPATING IN THE GIVEAWAY, ENTRANTS / WINNERS AGREE TO RELEASE AND HOLD HARMLESS ALL GIVEAWAY PARTNERS OR SPONSORS AND AFFILIATES FROM ANY AND ALL LIABILITY, FOR LOSS, HARM, DAMAGE, INJURY, COST OR EXPENSE WHATSOEVER, INCLUDING WITHOUT LIMITATION, PROPERTY DAMAGE AND/OR PERSONAL INJURY (INCLUDING EMOTIONAL DISTRESS), WHICH MAY OCCUR IN CONNECTION WITH PREPARATION FOR, OR PARTICIPATION IN, THE GIVEAWAY. THE RELEASED PARTIES ASSUME NO RESPONSIBILITY FOR ANY INJURY OR DAMAGE TO ENTRANTS / WINNERS OR THEIR GUESTS.
GENERAL TERMS AND CONDITIONS: THIS GIVEAWAY IS VOID WHERE PROHIBITED BY LAW. THE GIVEAWAY IS SUBJECT TO ALL APPLICABLE FEDERAL, STATE, AND LOCAL LAWS AND REGULATIONS. THE GIVEAWAY PARTNERS RESERVE THE RIGHT TO TERMINATE OR WITHDRAW THE GIVEAWAY AT ANY TIME, BY POSTING A NOTICE ONLINE AT WWW.anticipationevents.com. BY PARTICIPATING IN THE GIVEAWAY, EACH PARTICIPANT AGREES TO RELEASE AND HOLD HARMLESS THE GIVEAWAY PARTNERS AND EACH OF THEIR RESPECTIVE EMPLOYEES, OFFICERS, AFFILIATES, PARENTS, SUBSIDIARIES, DIRECTORS, SHAREHOLDERS, AGENTS AND LEGAL ADVISORS (COLLECTIVELY THE "RELEASED PARTIES") FROM ANY AND ALL LOSSES, DAMAGES, RIGHTS, CLAIMS AND ACTIONS OF ANY KIND IN CONNECTION WITH THE GIVEAWAY OR RESULTING FROM ACCEPTANCE, POSSESSION OR USE OF ANY PRIZE, INCLUDING, WITHOUT LIMITATION, ANY PERSONAL INJURY, DEATH OR PROPERTY DAMAGE. UNDER NO CIRCUMSTANCES SHALL ANY OF THE RELEASED PARTIES HAVE ANY LIABILITY OR RESPONSIBILITY FOR: (A) INCORRECT OR INACCURATE ENTRY INFORMATION, OR FAULTY, FAILED, GARBLED OR JUMBLED ELECTRONIC DATA TRANSMISSIONS OR PRINT BALLOT SUBMISSIONS, (B) ANY UNAUTHORIZED ACCESS TO, OR THEFT, DESTRUCTION OR ALTERATION OF ENTRIES AT ANY POINT, (C) ANY TECHNICAL MALFUNCTION, FAILURE, ERROR, OMISSION, INTERRUPTION, DELETION, DEFECT, DELAY IN OPERATION OR COMMUNICATIONS LINE FAILURE, REGARDLESS OF CAUSE, WITH REGARD TO ANY EQUIPMENT, SYSTEMS, NETWORKS, LINES, SATELLITES, SERVERS, COMPUTERS OR PROVIDERS UTILIZED IN ANY ASPECT OF THE GIVEAWAY, (D) INACCESSIBILITY OR UNAVAILABILITY OF THE INTERNET OR A GIVEAWAY SITE OR ANY COMBINATION THEREOF, (5) ANY INJURY OR DAMAGE TO A PARTICIPANT'S OR TO ANY OTHER PERSON'S COMPUTER, LAPTOP, TABLET, CELL PHONE, OR OTHER MOBILE DEVICE THAT MAY BE RELATED TO OR RESULT FROM ANY ATTEMPT TO PARTICIPATE IN THE GIVEAWAY OR DOWNLOAD ANY MATERIALS IN THE GIVEAWAY, OR (6) ANY TYPOGRAPHICAL ERROR OR OTHER ERROR IN THESE OFFICIAL RULES OR IN ANY OTHER COMMUNICATION RELATING TO THE GIVEAWAY. COPYING OR UNAUTHORIZED USE OF SPONSOR'S COPYRIGHTED MATERIALS, TRADEMARKS, OR ANY OTHER INTELLECTUAL PROPERTY WITHOUT EXPRESS WRITTEN CONSENT FROM SPONSOR IS STRICTLY PROHIBITED. ALL ENTRIES BECOME THE PROPERTY OF GIVEAWAY PARTNERS.
Looking For More? Explore Related Posts: