Jim and Lise tied the knot in September of 2010 at Garfield Park Conservatory.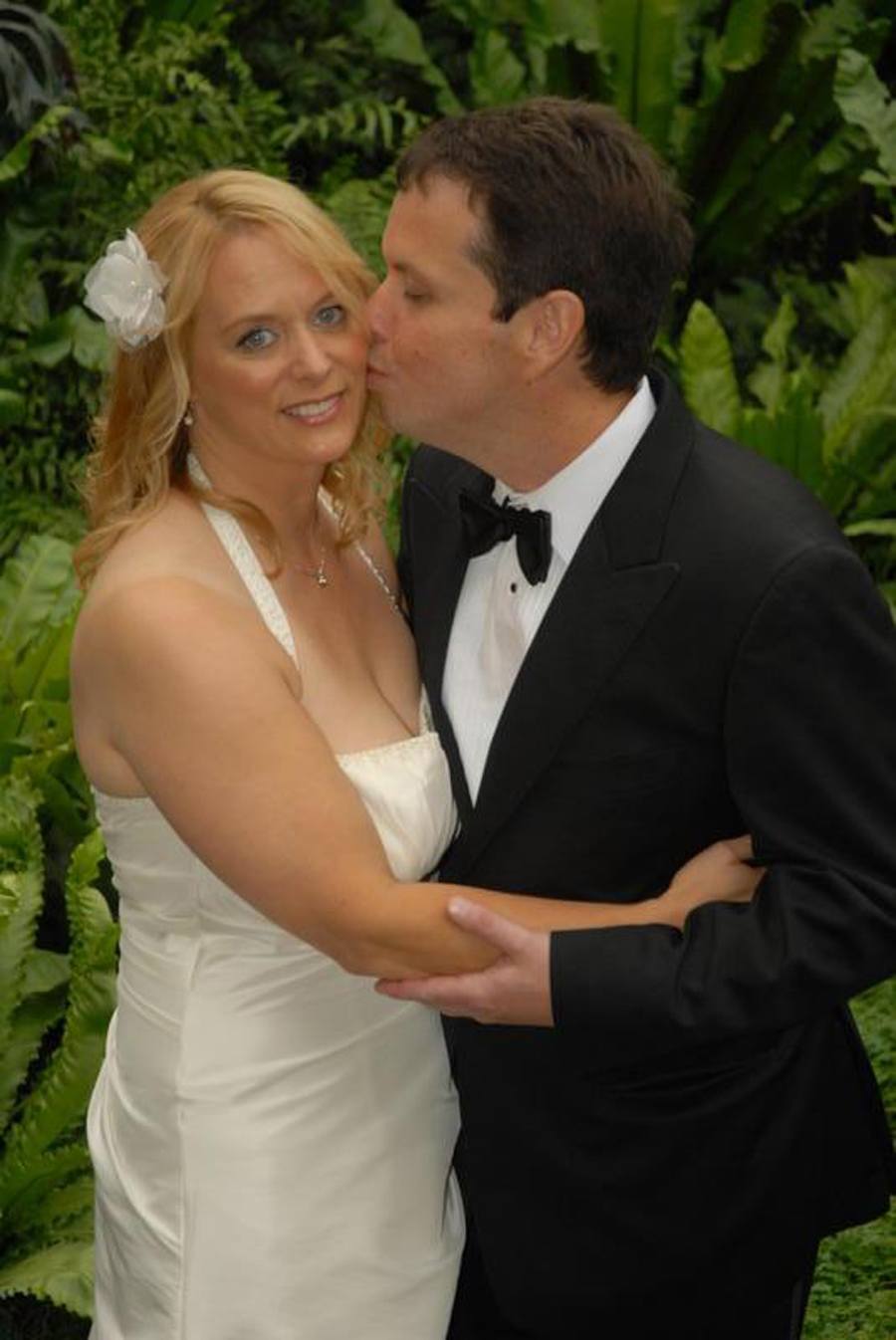 Aren't they so sweet?  I actually knew both of them before they hired me to coordinate their day.  They both work at Shedd Aquarium and in my former life I occasionally had the pleasure of working with them.  Mostly I would be asking them to disrupt the animals schedules by keeping the lights on or taking guests behind the scenes for a party I was planning. Oops. Sorry guys!  Also, an aside: Lise takes care of all the sharks at Shedd. Pretty amazing right?  Now you know why Jim had to lock that down asap!  Needless to say, I was thrilled and flattered when she reached out to me to ask me to coordinate.
We set up the conservatory for the reception while the wind howled on the patio where the ceremony was to take place.  Jim and Lise took the weather in stride and got some pictures out of the way before the ceremony started.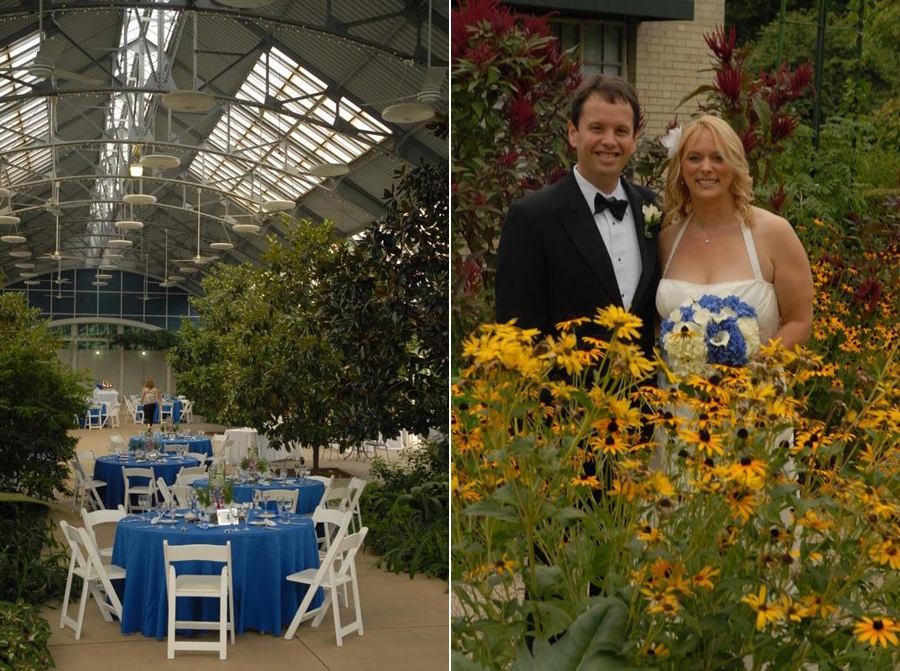 Their wedding was on a Friday night and it was, without question, one of the windiest days of the year.  Since half of their guest list was coming from the south loop we decided to wait a few more minutes to start the ceremony.  Guests were seated on the patio and six raindrops fell (literally, just a few drops) and it was a game-time decision.  If we didn't have the ceremony outside, we would have had to move the guests into the reception room and have them sit at their tables.  All along, they REALLY wanted the ceremony on the patio.  This moment will be etched into me for a long time: I looked at Lise and said it was now or never, she said let's do it and so we did.  I think because she takes care of sharks and is therefore, a bad*ss bride, she didn't care.  She was getting married outside.
I ran to cue the music, the bridal party lined up, and they walked a little faster than maybe we had originally intended.  As soon as everyone was down the aisle I ran for umbrellas: I was worried about her hair.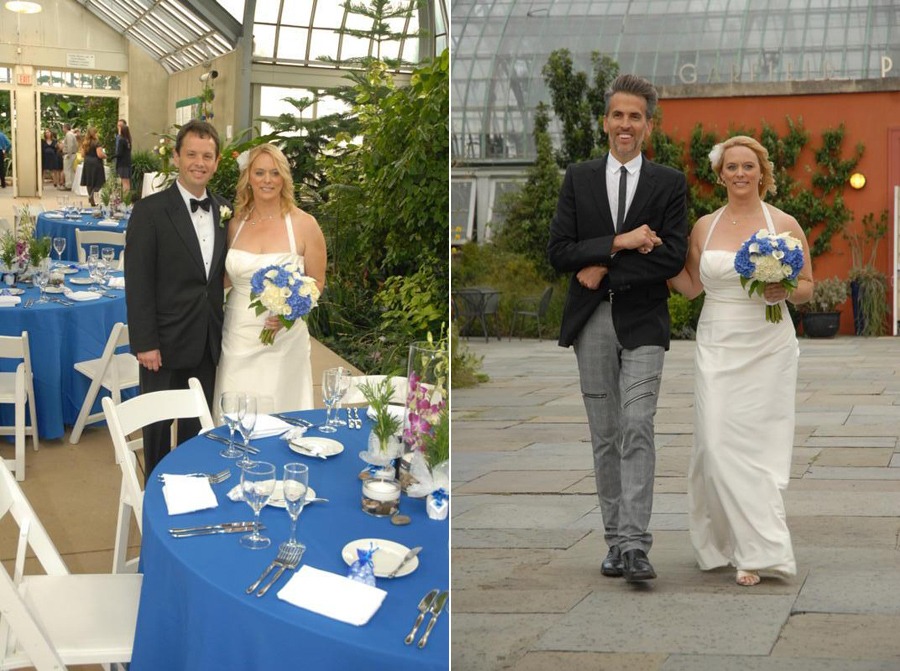 Lise's man-of-honor Jim walked her down the aisle.  Not to be confused with her husband, also Jim 🙂  Lise and Jim asked their friend and colleague Dr. Lisa (yes, everyone must have nearly the same name to be in this wedding!) to marry them.  She did an amazing job coping with the weather and the wind and a unity candle that just wouldn't stay lit.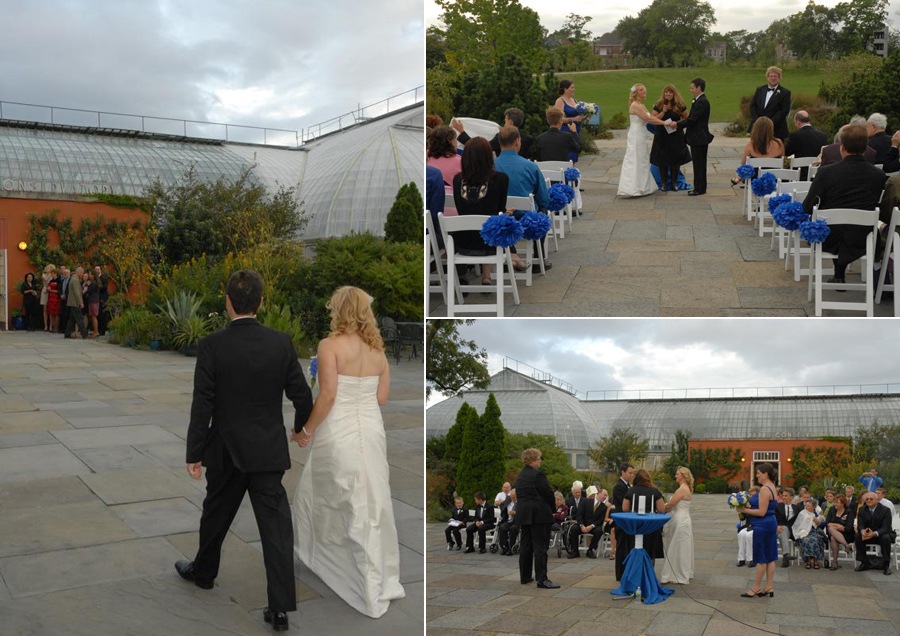 Come wind, or rain, or an aisle runner that just wouldn't stay put (we tried SO HARD) it didn't matter.  They were married and it was beautiful!
A little cake cutting and delicious cupcakes for dessert compliments of Sensational Bites. Lise and Jim live in the Southport neighborhood of Chicago and did an INCREDIBLE job of hiring a lot of small, local shops to take part in their wedding.  The results were amazing and it was such a fantastic way to support their 'hood.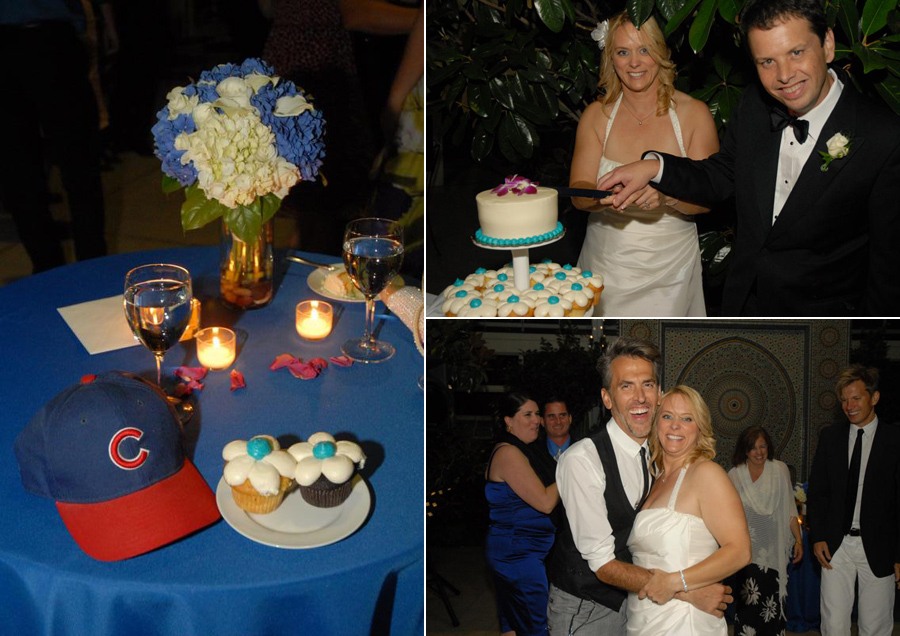 Oh yes, and then the party begins:

Man-of-Honor-Jim introduced a dinner club where course after course of the most amazing food you can imagine is prepared and served to his friends at his house.  The ticket to get in door?  A bottle of Veuve Clicquot.  Needless to say, Groom-Jim and Lise are now hooked and had to toast with it on their wedding night.  I highly doubt you can go back to Chandon after you know the glory of the Veuve.
…and a little Cubs rounds out the night!  Groom-Jim loves the Cubs.  He didn't put it on until later in the night, but a little Cubs love had to be included on their wedding.
Congrats Lise and Jim!  May everyday be as much of an adventure as your wedding day was and may every night end with a bottle of Veuve!
*Pictures in this post are courtesy of another Shedd Aquarium alumni (why yes, we are everywhere!): Ed Lines Photography
Lise + Jim's vendors:
Ceremony & Reception: Garfield Park Conservatory
Catering: Phil Stephani Signature Events
Cupcakes: Sensational Bites
DJ: Beep Media
Hair & Make-up: The Bridal Beauty Salon
Photography: Ed Lines Photography
Florist: Southport Blooms
Transportation: Elite Chicago Limo
Day of Coordination: Anticipation Events
Looking For More? Explore Related Posts: