Steven + Jeremy's Museum of Contemporary Art wedding was nothing short of amazing. They planned their wedding for the first weekend in November because it was their 22nd anniversary and they were ready to make things official. And make it official, they did!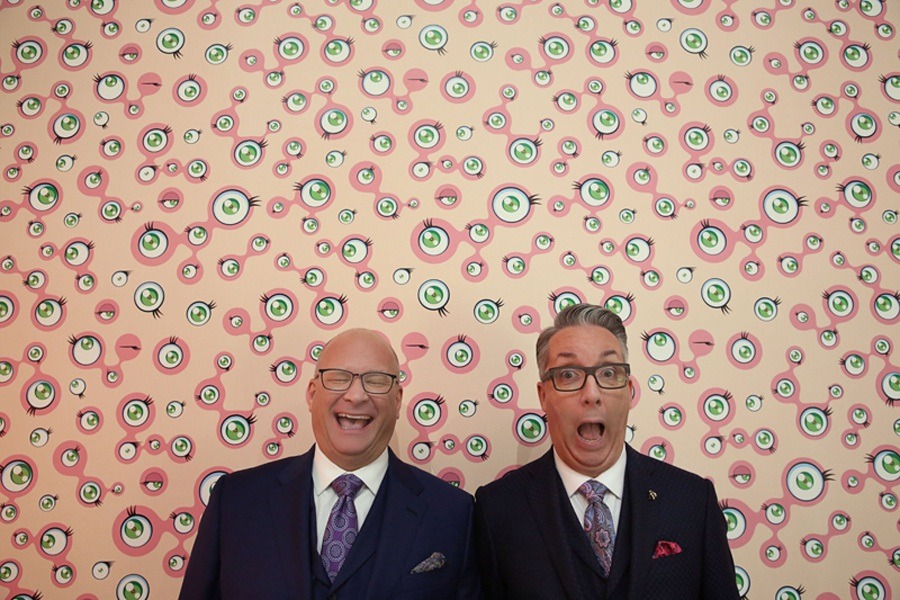 22 Years in the Making
After 22 years together, Steven + Jeremy knew they wanted a big party, but not a lot of fanfare. They started the day getting ready together at their home with their dogs like they always do, but, you know, with a photographer (the truly talented Jeremy Lawson Photography) capturing it for posterity.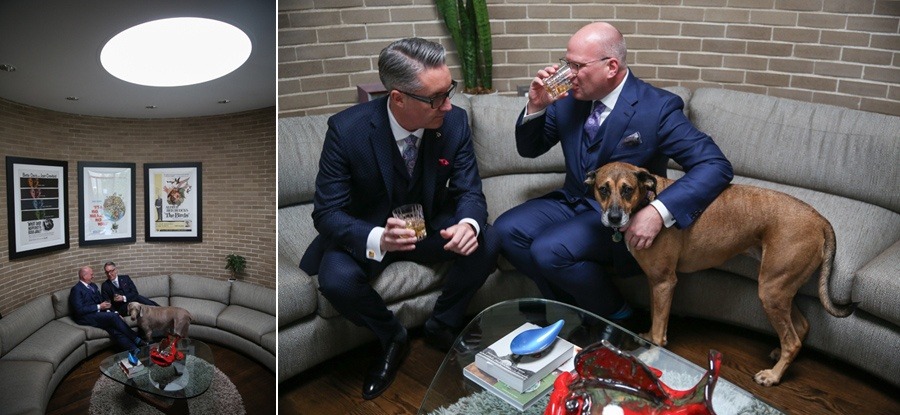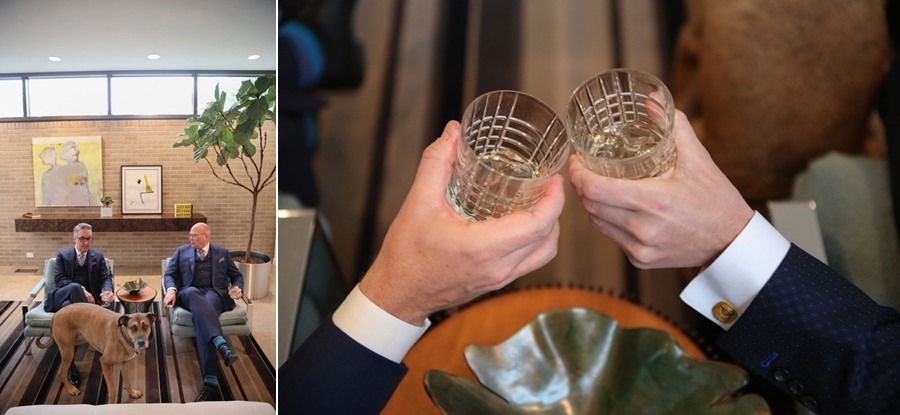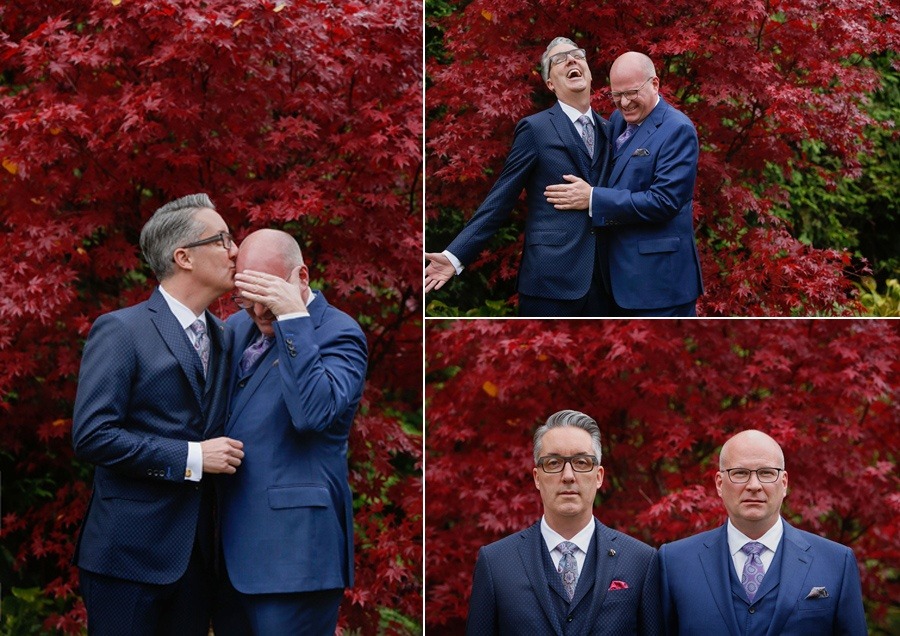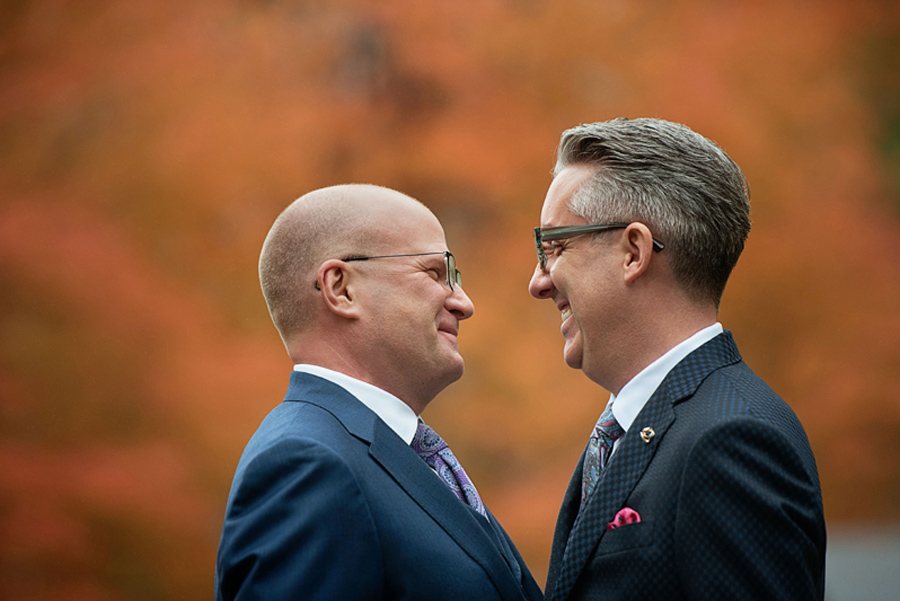 Planning the perfect day
As collectors of modern art, they knew the minute they looked at the Museum of Contemporary Art that they had found their venue. Anticipation Events worked side by side with them through the full-planning process to put together an amazing vendor team to capture the day and each and every detail was fully thought out and expertly planned. Their longtime friend officiated the ceremony and everyone in the audience was crying before they even walked down the aisle.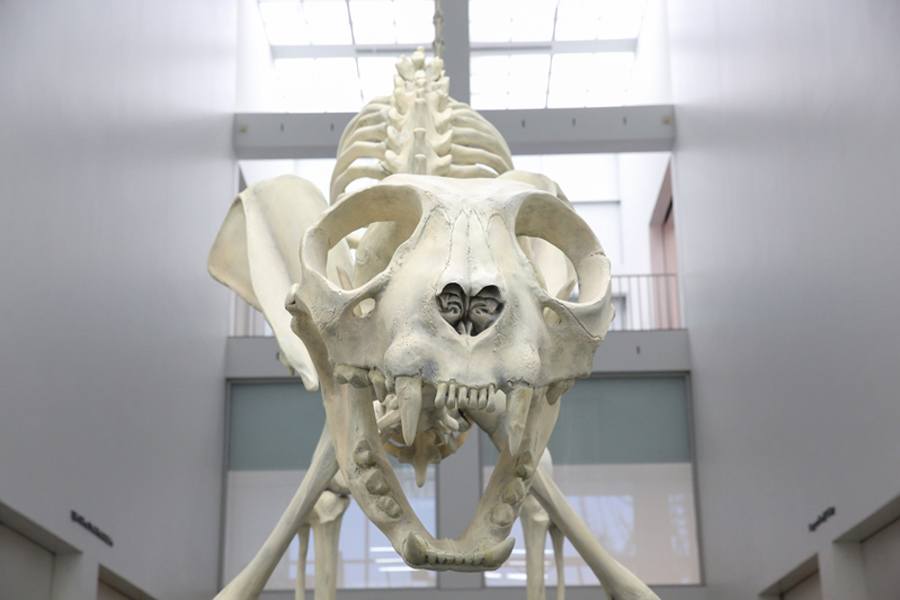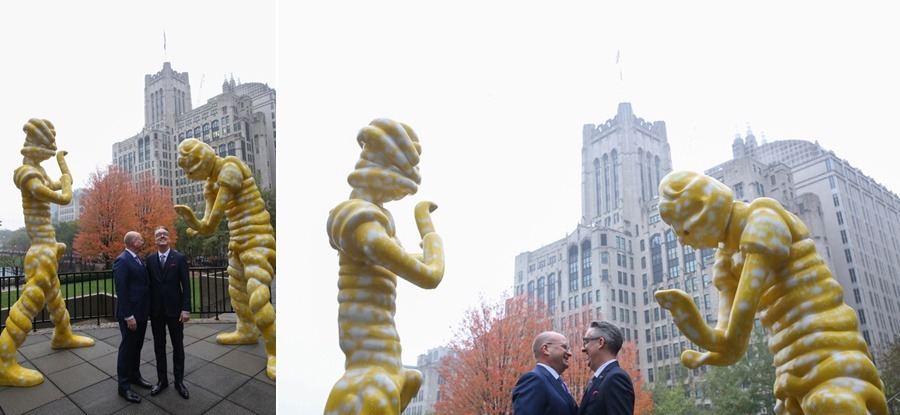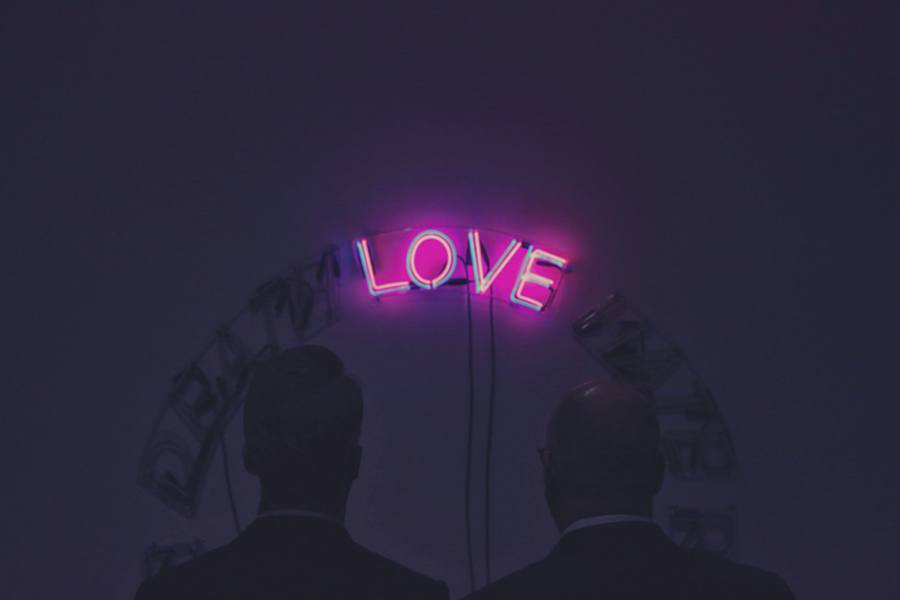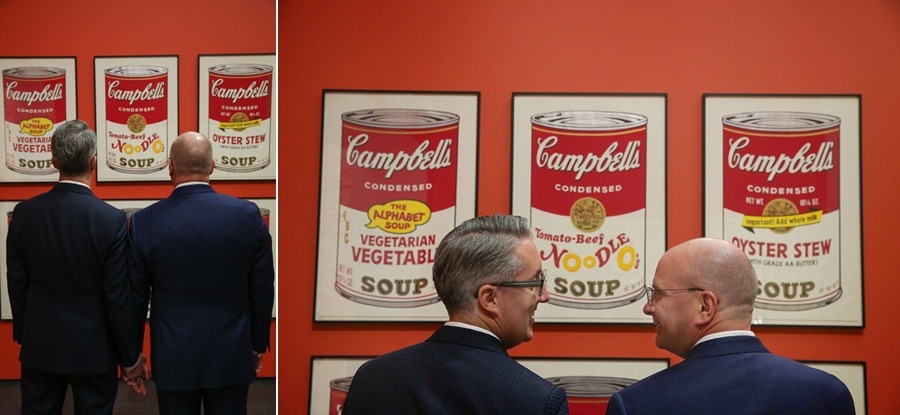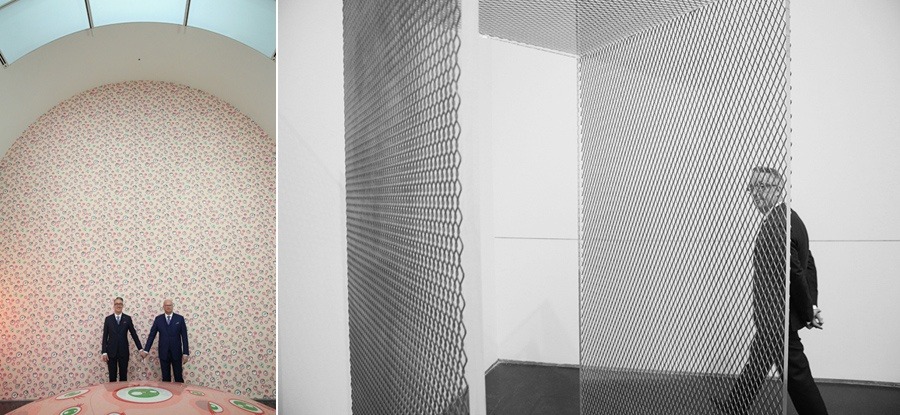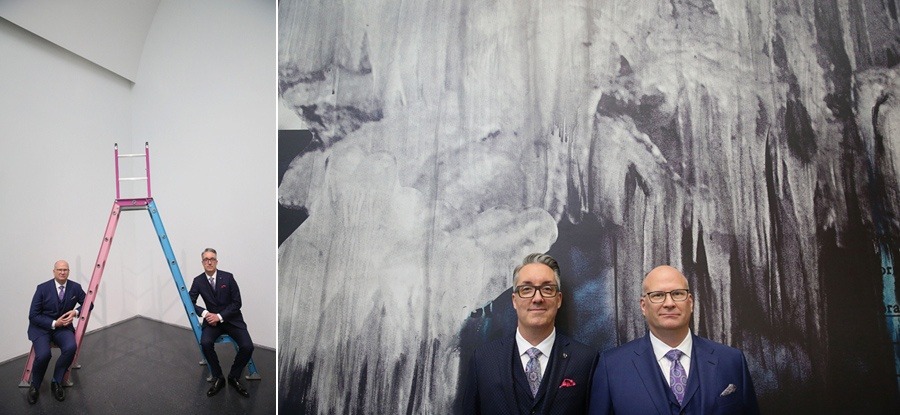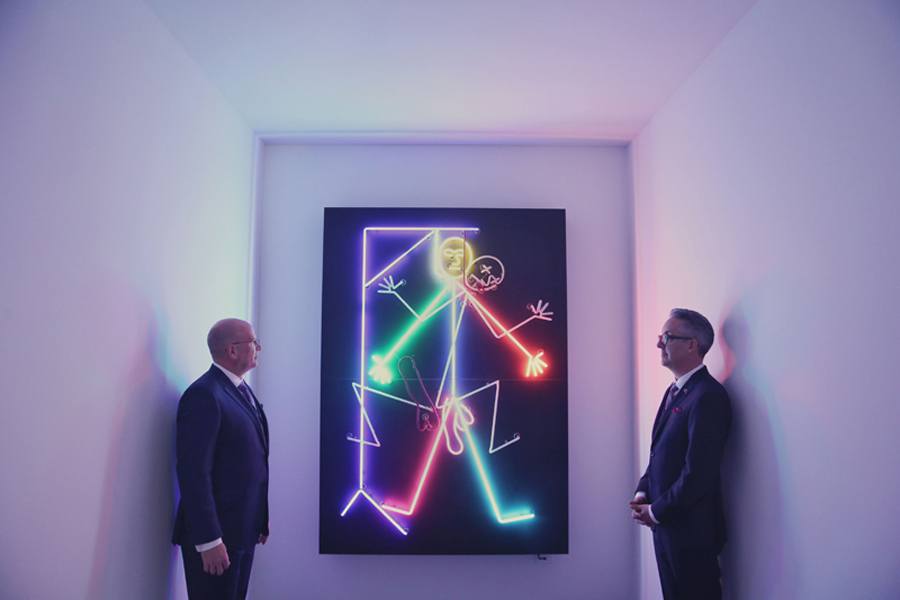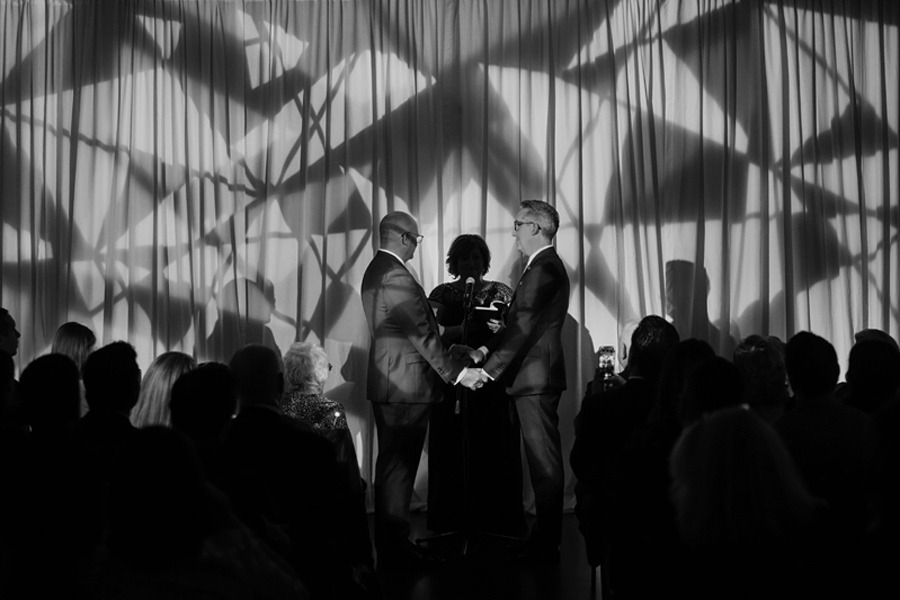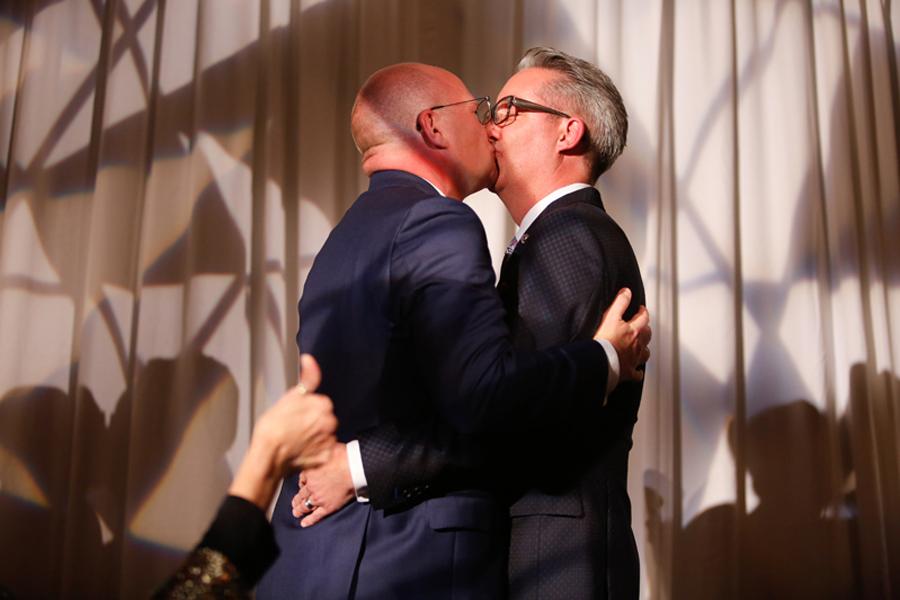 And a dinner party on steroids
Jeremy + Steven are known in their circles for having amazing dinner parties in their home and that's what they wanted their reception to feel like, but with 90 guests attending there were a few more people at this dinner party! Revel Decor created intimate tablescapes with copious amounts of candlelight and the lushest florals. The tablescapes paired with the hanging installation in the brand-new space at the museum, plus velvet linens, and vintage silverware made for a cozy dining experience.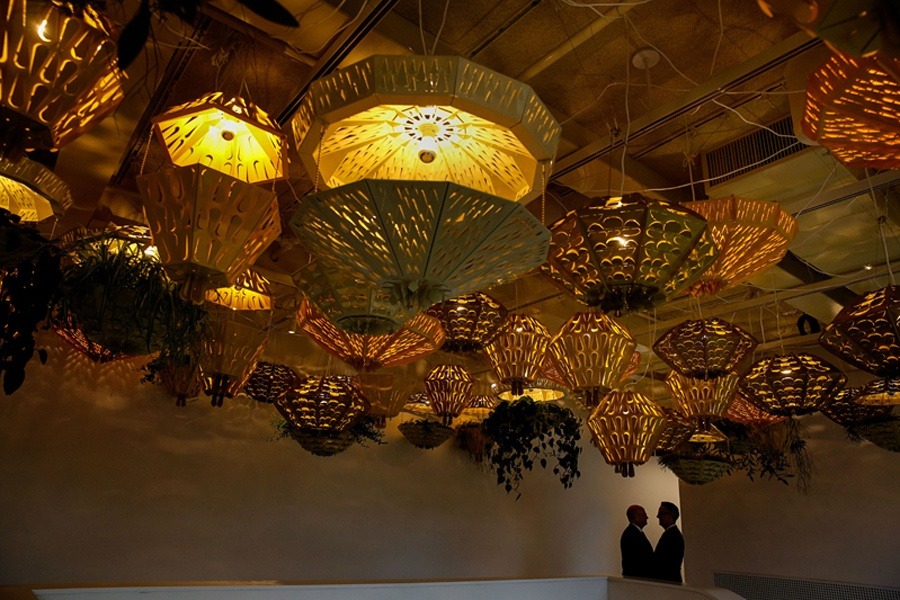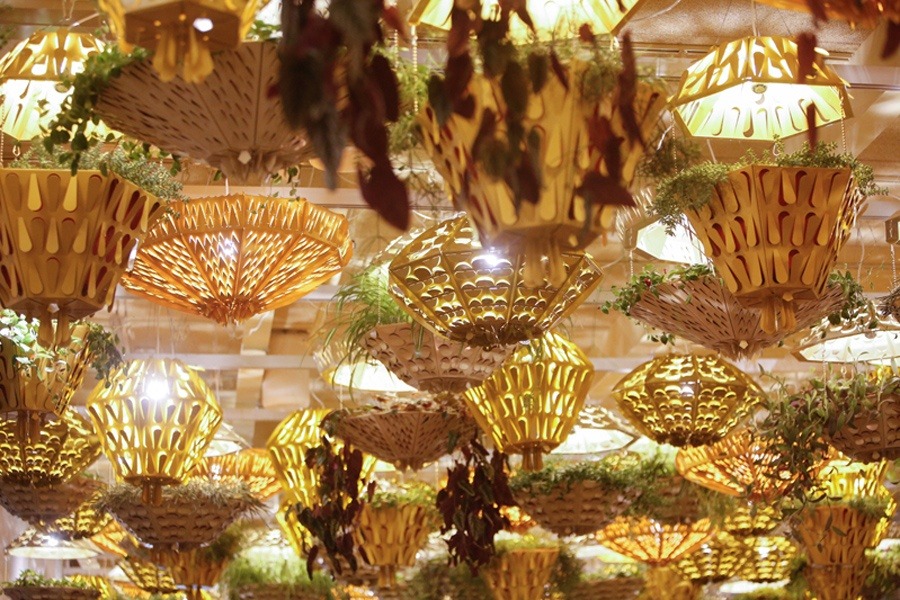 As if that wasn't enough…
The Museum of Contemporary Art wedding catering team put together a custom six-course meal for their guests including butternut squash and apple soup, wild mushroom agnolotti, slow roasted sea bass, and braised short ribs to name a few. Every Christmas, Jeremy + Steven give their friends and family a box of handmade chocolates that takes them three days to make. This year, everyone received their candy early: handmade passion-fruit milk chocolate and bourbon dark chocolate truffles. Decedent doesn't begin to describe it!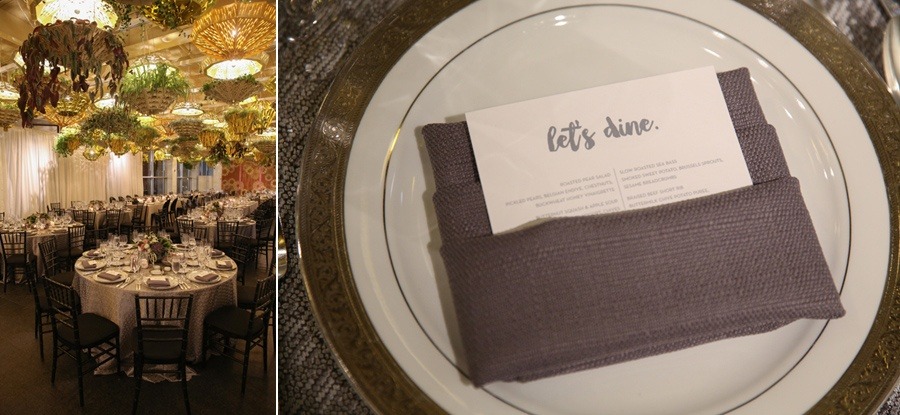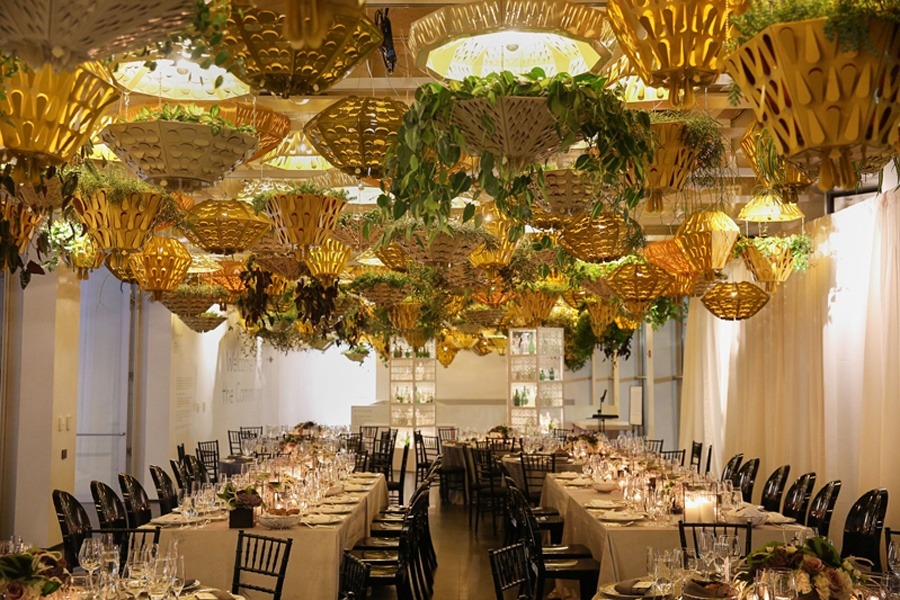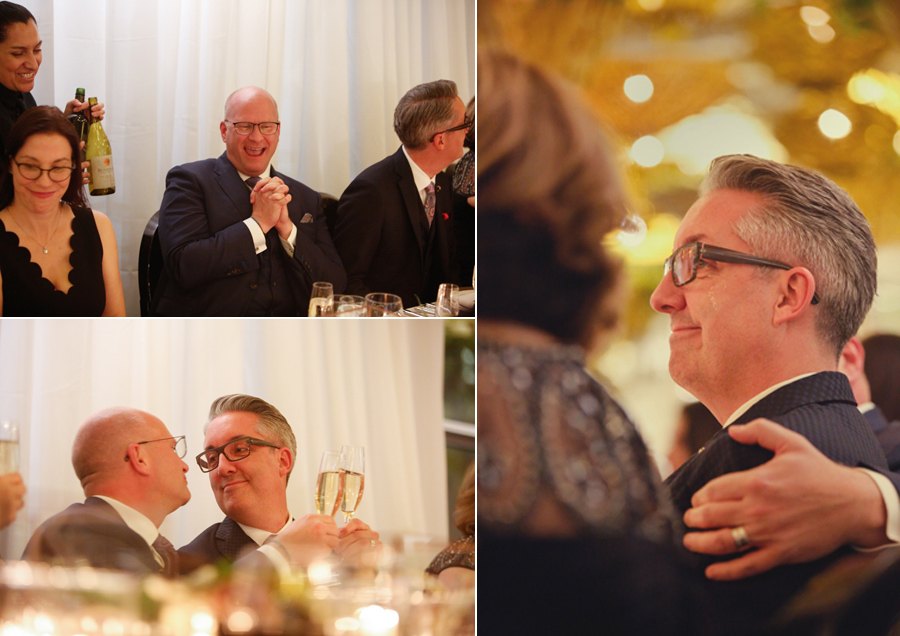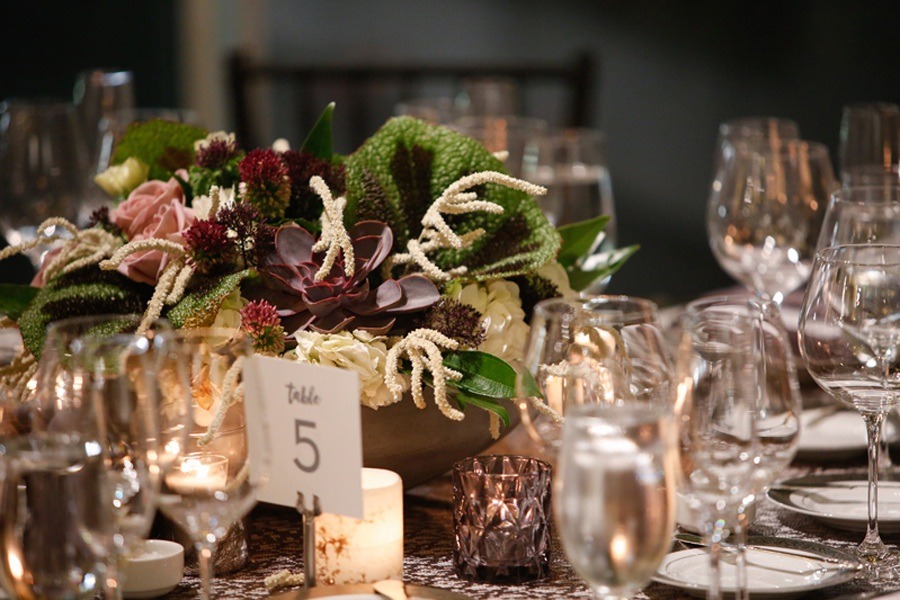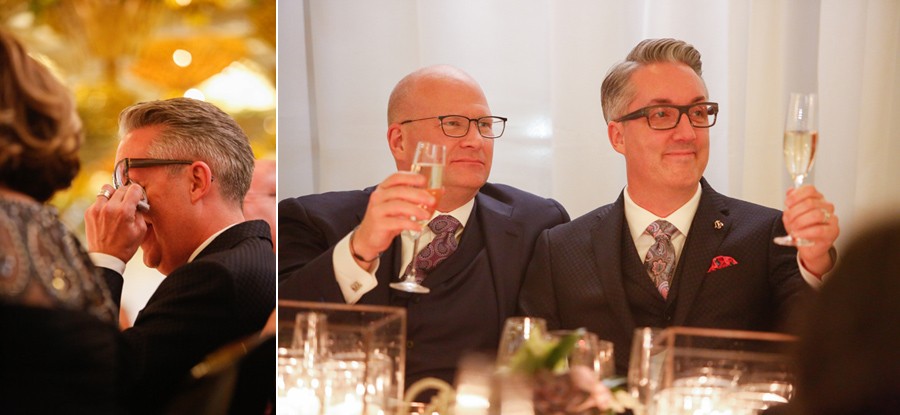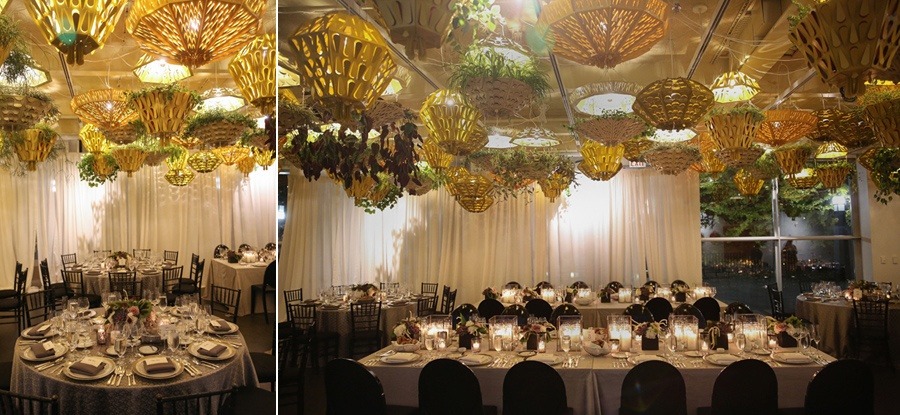 Party down!
After dessert and coffee, shots of perfectly chilled limoncello helped lead guests to the dance floor. Toast & Jam kept the dance floor packed while guests snapped selfies with Felix, the Museum's beloved dinosaur sculpture, and danced all night long. Since Felix is such a fixture at every Museum of Contemporary Art wedding, the couple's custom invitations, menus, signage and welcome notes incorporated subtle nods to the icon. It was quite the night and worth the 22 year wait if you ask us!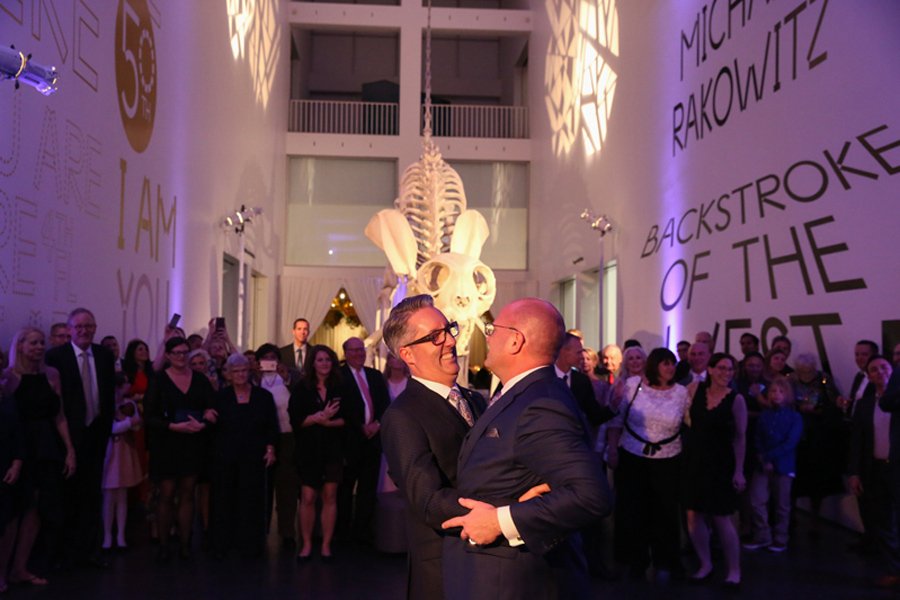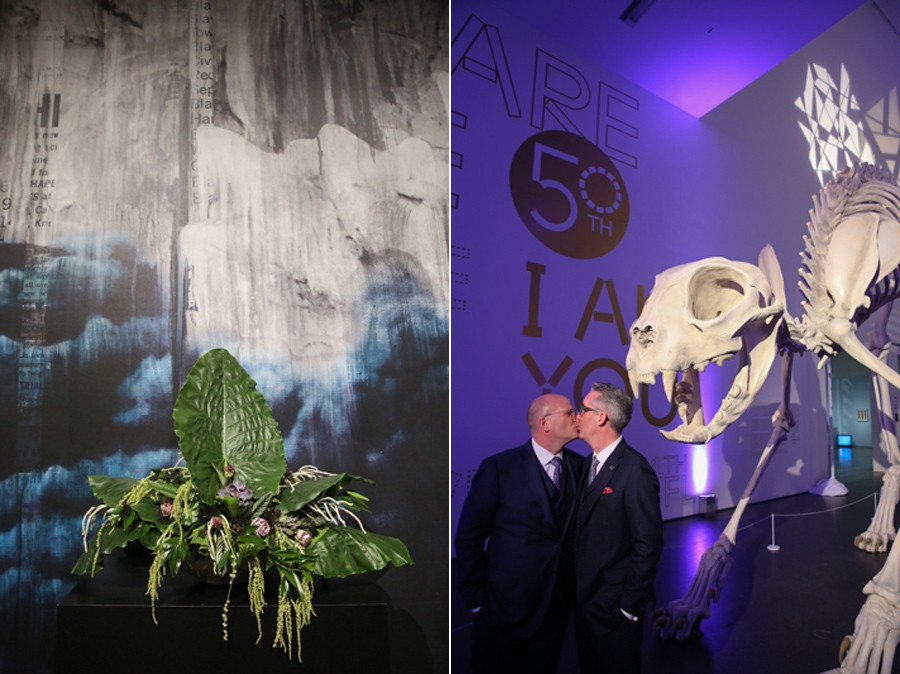 We could not have loved working with Steven + Jeremy any more! Kudos to an amazing couple and vendor team, this was one incredible wedding!
*eye candy courtesy of the uber talented Jeremy Lawson Photography
Steven + Jeremy's Vendors
Ceremony + Reception Venue: Museum of Contemporary Art
Caterer: Museum of Contemporary Art
Planning + Coordination: Anticipation Events
Photographer: Jeremy Lawson Photography
DJ: Toast & Jam
Hotel: W Hotel Chicago Lakeshore
Officiant: Laura Tedball, friend of the couple
Decor/Florist: Revel Decor
Rehearsal Dinner: Gino's East
Transportation: Windy City Limo
Brunch: Highline Bar + Lounge
Invitations: Rachel Street Press
Looking For More? Explore Related Posts: