Well hello there. Meet Mike and Elizabeth: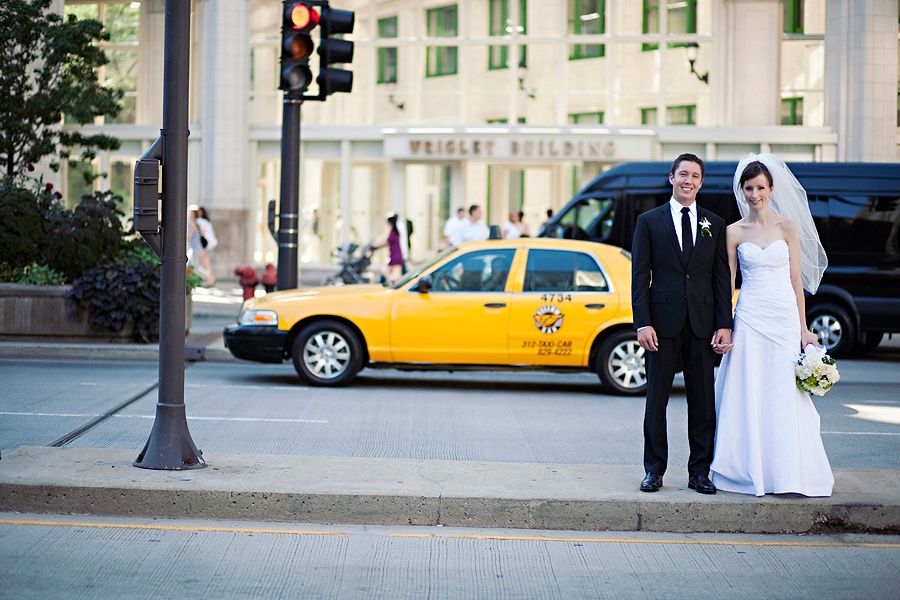 Amazing. They are amazing. Their families and friends are amazing. Their wedding was amazing. Want to see more?? I knew it! Their fabulous photographer Michael Rastall captured their wedding and reception that was held in late August at A New Leaf in Chicago. I'm going to break this up into two posts and first show you all of the things I made for their day. Elizabeth and Mike were planning from Washington DC and Elizabeth basically said, "here's what we want, I trust you, go for it." Music to my ears. Angels singing, birds chirping. I had the pleasure of doing their save-the-dates and invitations so I had a pretty good handle on their style, which is sophisticated and classic, a little preppy, urban/modern and so much fun. They let me get a little cheeky as well, which you know I love. Behold:

The save-the-dates were done in their wedding colors of black, white, yellow and gray. Each card had a calendar of August with their wedding date hand-stamped and embossed with a yellow heart. There was also a small tag attached with yellow and white baker's twine that had the hotel accommodation information on it so guests could start booking right away. We used a gray envelope that I lined with yellow and white striped paper to mail them.
The invitation came in another gray envelope and was lined with floral wallpaper from Anthropologie that gave a subtle nod to the floral element of their venue. The invitation was an accordion fold tied up with a yellow grosgrain ribbon. I drew a line drawing of the Chicago skyline that went across the entire invite so when it was opened all the way the whole skyline was visible. The last panel of the invitation was and RSVP postcard that was perforated so that guests could fill out their RSVP, rip it off and drop it in the mail. Easy-peasy!
Using scrap paper from all of the various paper projects I worked on for them, I created a backdrop for their ceremony space. It turned out to be one of my very favorite things. The pictures Rastall took aren't too shabby either!
I also created programs for the ceremony. I used black linen cover stock to make a little cover for them and punched a heart shape from the wallpaper we used for the invitation liners for the front (we used this everywhere, wait and see!) Simple, classic, effective. The two page program was printed on white linen paper and affixed inside of the cover for guests to look over before the ceremony began.
This kissing ball was put to excellent use by their adorable flower girl—yellow flowers and a gray satin ribbon.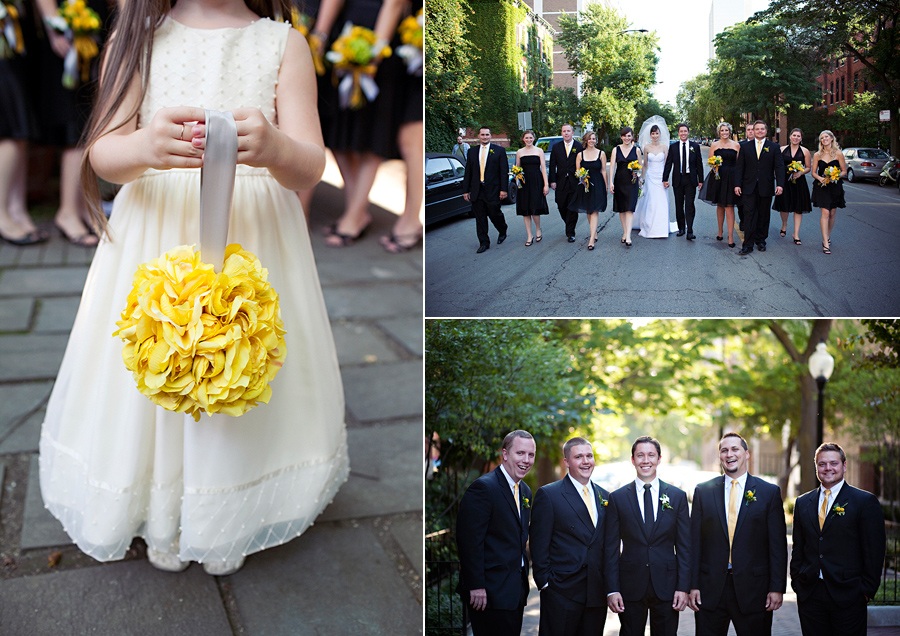 To welcome guests (and let them know they were in the right place, since it is a flower shop and not a traditional wedding venue) I made little signs out of chalkboards and ribbon: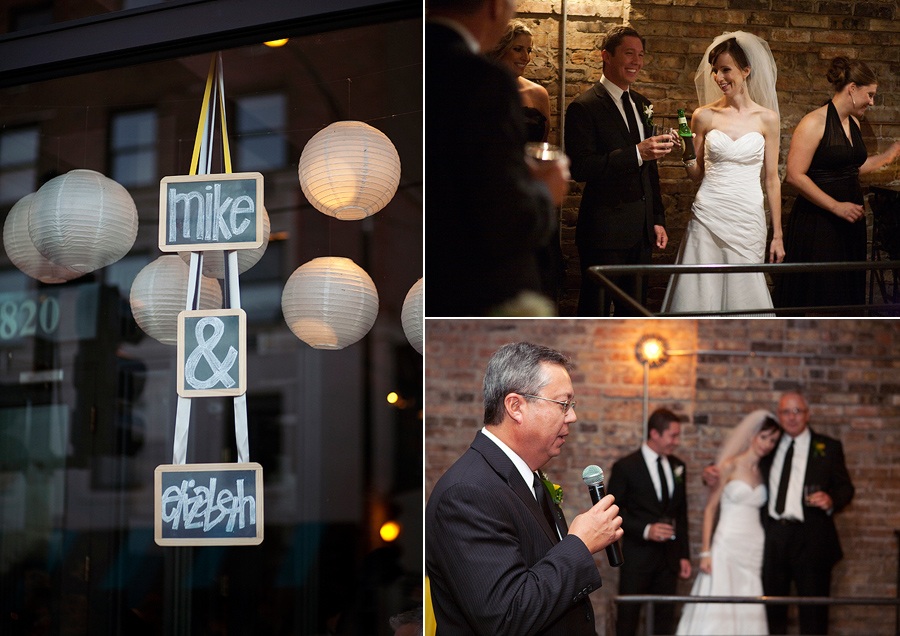 For their favors, Mike and Elizabeth wanted to give their guests a little "taste of Chicago" so they got bags of Garrett's "Chicago Mix" popcorn. Heaven! I created little thank you tags for them out of them with a thank you message from Mike and Elizabeth on each. I backed them with the wallpaper, tied them with the twine from the save-the-date and embossed a yellow heart on each, just so we could all come full circle.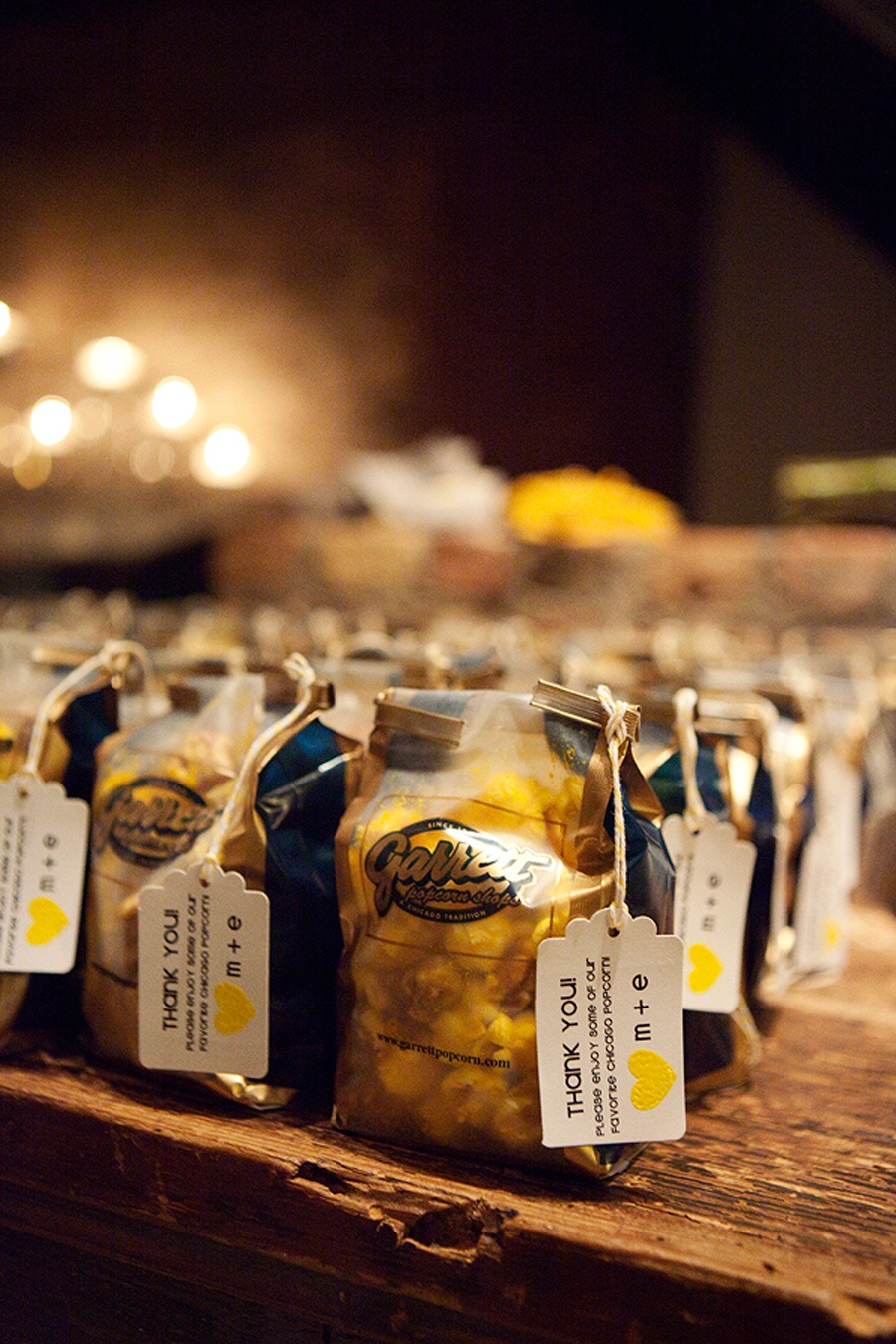 And of course, a little thank you banner for their thank you notes.
*All good photos were taken by the outstandingly talented Michael Rastall Photography. Simply amazing he is!  All crappy photos are my own.  Le sigh.
Looking For More? Explore Related Posts: