Why you should hire a wedding planner, explained. Planning a wedding can stretch from just a few months for a modest wedding to over a year for more elaborate, larger weddings. The spectrum of how clients feel in the process range from "I have no idea what I'm doing or where to start" or "I can do this," all the way to deciding to elope because of the stress of planning the event by themselves.
Whether you're unsure if it is a good fit, or if you're trying to decide whether a wedding planner is worth the spend from your budget, you will discover exactly why you should hire a wedding planner in this article.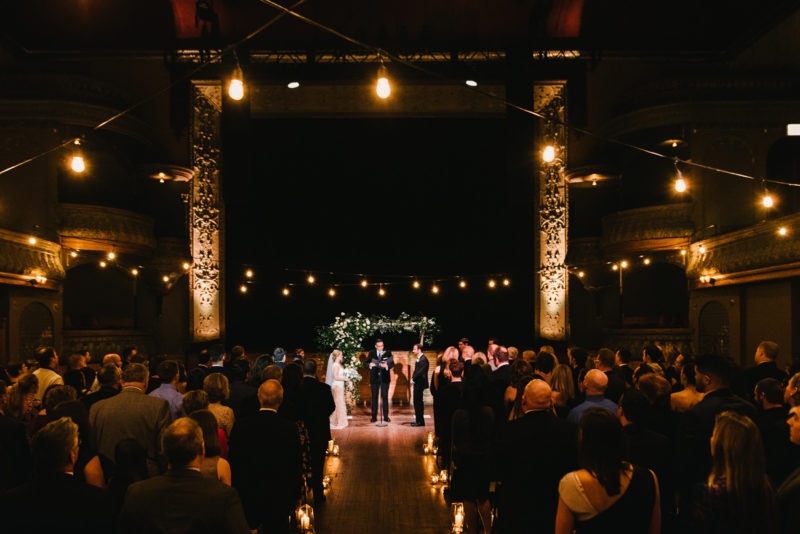 what are the benefits of hiring a wedding planner?
There are several benefits to hiring a wedding planner, especially in the Chicago area. Some might be obvious, such as the ability to help you coordinate and keep the experience pleasant, but the benefits go beyond that.
Planning your own wedding can undoubtedly be stressful, and while wedding checklists and apps (1) make things easier, there are definite limitations that come with planning your wedding solo.
A wedding planner can help with: 
Save for signatures from the couples themselves, wedding planners can finalize almost all the paperwork you need to sign during your wedding and negotiate better deals. This keeps a lot of the stress off the couples' shoulders.
Budget constraints

Wedding planners have experience with every part of the wedding process, and this means they know how to work with a variety of budgets, and how to stretch your money so your wedding turns out exactly how you envisioned it would. Likewise, a good wedding planner knows where it's safe to save money for your wedding, saving you hundreds, if not thousands of dollars, on your venue and reception. This is invaluable, considering Chicago ranks among the highest average wedding cost by state. (2)

Maintaining your wedding vision

Why hire a wedding planner? The biggest reason couples hire a wedding planner is that they will fight for your original wedding vision even if the reception tries to move things around on you. Wedding planners have a lot more pull on venues because, while the couple will be in and out of the event space and never heard from again, the wedding planner is potential repeat business.

Your wedding day is typically a once-in-a-lifetime event and every couple hopes it turns out exactly how they imagined it would.

Hiring a wedding planner who cares about your wedding vision will help you achieve what you want, ensuring you don't end up wondering "What if the wedding had gone how we wanted it to?"

Keeping your wedding timeline on track

Trying to plan your wedding solo can leave you scrambling at the end to make sure everything is checked off the list and ready to go. This leaves the couple stressed and under pressure on their actual wedding day as they go through the list and ensure the event kicks off without a hitch.

Helping you keep the experience stress-free

Your wedding day is supposed to be a celebration of the couple coming together and starting a new life. It is supposed to be happy and joyful, so why taint that with stress? It's common to hear "I would never be like that bride" before the planning begins, but in the midst of the chaos between vendors and the florist getting your order wrong, the cake vendor not showing up on time – it's easy to get lost in the details and become stressed. the. heck. out.

A wedding planner not only saves you time and money, but also saves you the emotional burden of stressing over your wedding day, ensuring vendors are there on time, and getting everything checked off the list in time for the wedding day.

Getting a vendor discount with many vendors

Each couple will book a vendor once, and if the vendor is lucky, they may get a few referrals as the bride's friends get married in the same local area. This isn't sustainable for many vendors, so they tend to upcharge couples who plan weddings on their own. This leads to fees stacking up, paying for extras you don't need or use, and spending several thousand dollars more on vendors than you should have.

Wedding planners are repeat business for the vendor, and they can choose to take their business elsewhere when they work with future couples in the area. Ultimately, this means that hiring a wedding planner will save you money and get you better service and prompt responses from your vendors at any stage in the planning process.
how soon should i hire a wedding planner?
Many couples have different opinions on when you should hire a wedding planner. Often, the couple will get tired of planning the wedding themselves, and at the last moment try to hire a wedding planner to finish the job. This does not leave the wedding planner much time to work out a perfect wedding.
On average, you should hire a wedding planner 12 months in advance of your wedding date. This will give your planner plenty of time to work out deals with the vendors and work with the reception to get the décor and event timeline perfect.
If you're unable to hire a wedding planner that far in advance, book a consultation with potential planners and be candid about your wedding date. It will be up to the planner to decide whether the date is too soon, or if they will have adequate time to make the magic happen.
what to look for in a wedding planner?
In conclusion, why hire a wedding planner?
We learned that, for the more practical couple, it's because they save you money, time and effort. Planning a large event like a wedding takes a considerable amount of these resources, and most couples simply don't have the luxury of planning without letting the stress bog them down.
For the imaginative couple, a wedding planner will take care of the logistics so you can enjoy your magical day without the added stress or responsibility of everyday life.
Now that you are in the market for a wedding planner, here's what you should look for in a wedding planner below:
A portfolio that matches your wedding vision

Most wedding planners will have a portfolio of weddings they have worked on in the past. Some planners like to diversify, but others choose their niche. It's up to the couple to determine whether the wedding planner has the skill set that matches their needs, whether it's a small, quaint wedding, or a large and extravagant wedding.

A Personality that works well with yours  

If you don't get along with your wedding planner, you're not going to have a good experience planning your wedding, and the event may not come out how you always wanted it to. It's important to talk with the wedding planner beforehand. Many planners offer a free consultation, during which you can get to know the individual or team behind the branding to see if the personality matches your needs.

Communication – and that includes honesty  

"Yes, I can do that" is not always the answer you want from a wedding planner, especially if they are unable to deliver on their promises. Find a wedding planner that isn't afraid to say "No, I don't think we can do that."Sometimes, hearing a "No" will help direct your vision and allows you to hand off the responsibility to the planner.

Strong communication, such as suggesting alternatives, honesty, promptly responding to questions, and keeping you updated are all indicators of a good wedding planner.
Clearly, you realize now you are ready to hire a wedding planner, so reach out to us now!
References
Looking For More? Explore Related Posts: