Whether you are planning a corporate conference or a wedding, it is important to familiarize yourself with the different stages of a great event. But what are the stages of event planning, and how can you best organize the planning to create an amazing event?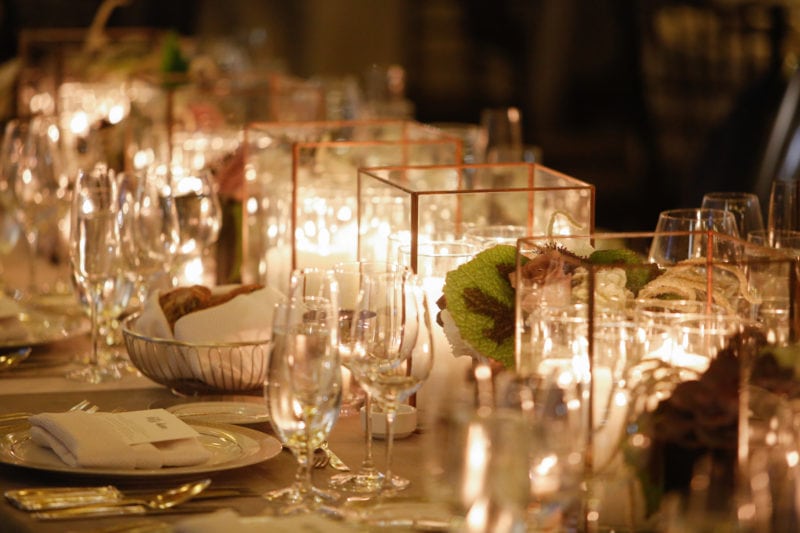 You might be surprised to learn that there is a formula for creating events, and it can help you feel more organized in the event planning process, whether you plan to host events just this once, or turn it into a serial hobby. (1) These five "stages" as we will call them, are essential to planning a great event and can help you improve for the next one.
"Planning an event is a massive undertaking. Before you get too far into it, think about why you want to host it. Are you looking to grow your customer base? Drive sales revenue? Educate customers? Recruit new employees?"
 —  Adam Rosenthal
In this article, the team at Anticipation Events will share what are the stages of event planning, and how you can create a successful event. Anticipation Events is a Chicago-based event planning agency with years of experience in all types of events from social, to corporate, and anything in-between.
what are the stages of event planning?
If you are like many people, having a plan when you venture into the unknown is comforting. Many people dread event planning because they have never done it properly. They have never used a formula or researched what are the stages of event planning. Because you are here, you are already ahead of the game.
Creating a successful event depends on the resourcefulness and careful planning of the event coordinator. Budgeting, guest satisfaction, and vendor communication are all important parts that need to be taken into consideration, so prepare yourself for some multi-tasking and learning how to keep a cool head under pressure.
There are several stages of event planning that can help you stay organized and keep a cool head throughout the planning process:
create the project plan and budget
This is the first stage you should tackle when planning an event, and it will help you determine the form the rest of your event takes. In this stage, you should create and define your event objectives. What is the event meant to accomplish, and what action do you hope guests will take? Maybe they are just meant to enjoy the event and have a great time, or maybe the goal is to help increase company sales or promote a new product.
Who is the target audience, and do you have a maximum budget determined?
Once you have a budget in place, you can begin to segment that budget into estimated percentages. How much will the caterer need, and how much is that giant bounce castle you saw advertised down the road? This will help you plan accordingly.
If you need help planning your event, this is an excellent stage to get your team involved in the process and provide input. What is determined in this stage is flexible but will shape the next four stages of event planning.
What will your Key Performance Indicators (KPIs) be for the event, and how will you measure success at the end?
If your event needs buy-in from a manager or a friend, present your event plan to them before moving forward.
Whether you are using an in-house team or working with external vendors to make the event great, it is important to partner with outside help to make the event truly unforgettable.
You will want to consider the needs of the guests, such as providing food, water, seating, and entertainment. Will you have keynote speakers? Musicians? Shops? The type of vendor you choose will change the atmosphere of the event, so choose vendors who are relevant to the event theme and willing to work with you on any changes you might require.
Material for post-event marketing and indicators of success is also important, such as hiring a videographer to capture the guest interactions and edit the material into a trailer for the next event, or photography as a point of interaction for the guests that they can enjoy even after the event is over.
create event activities and begin marketing
The content of the event is what makes it engaging to the guests. Now that you have your vendors, you can dive into the content of the event, such as any activities and an itinerary for speakers, musicians, and any entertainment you have lined up.
Provide ample space for guests to interact with dedicated time for socialization and mingling. Dancing is a great way to get people to open up no matter the type of event.
Have a costume contest going on? Be sure to include that in your itinerary so guests know when to get their submissions in. Make sure there is time for every guest to get a chance to enjoy the amenities provided, whether is as simple as an interactive photo booth or a chalkboard with a prompt.
Pace your event so guests know they have time to fit in the activities they want, and ensure there are short but semi-frequent lulls where guests can dedicate time to mingling or taking a break to recoup some social energy.
If the event is open to the public, you can begin marketing the event through pre-determined avenues, such as email newsletters, ads, and social media marketing. If your event is closed to a private audience, such as coworkers or family members and friends, then it is time to break out the invitations and RSVPs. These steps are important in creating a buzz around the event and keeping the audience aware of the time, date, and theme of the event. If it is at the forefront of their mind, they are more likely to show up.
It is important for you, as the host, to be there when the event happens. Not only will this allow you to take the reigns if a vendor gets confused or a problem crops up, but it also allows you to reap the rewards of your planning efforts.
You have come this far, but your job isn't finished yet. If you have multiple vendors or staff, you should keep tabs on them to make sure they are doing their jobs correctly and everyone is kept content.
Guests should be attended to for as long as the event goes on, with food and drinks provided throughout the main event, whether you choose to serve appetizers, provide the main meal, or a buffet area where guests can serve themselves. Seating should be provided, even in a cocktail party scenario.
The vendors should be taken care of just as much as the guests, so if the event is going on all day, you should ensure they get food and drink throughout the day and some time to rest between guest interactions.
Evaluating your event after it has happened is a crucial step in determining how successful it was. (2) You can evaluate your own event, but you will also need to provide a follow-up evaluation with your guests to thank them for coming and ask if they have any comments about the event.
"It's important that you have some way of gauging event success in order to make the next one even better."
 —  Whova
The success of an event is dependent on the type of event, the targets, or KPIs you set for yourself. Determining these key indicators of success ahead of time will help you work towards those goals.
If you are hosting a corporate meeting, one key indicator of success might be the positive interactions between guests or social media activity related to the event from attendees. A social gathering might revolve around how much food was eaten, or how long guests stay.
You should also follow-up with guests with the contact information that you have. If your guests RSVP'd through social media or email, use that information to send a short survey asking what the guests thought about the event.
You can ask whether they would attend a second event if they are likely to engage in the event's goal and leave an open space asking for any additional comments or concerns. These surveys will help you identify weak points in the event's planning and help improve the next event.
Monitoring the social media activity around the event can also help you determine the success of the event. If there were more than a few complaints, it will tell you an area to work on for the next event. If the comments are full of praise and happy pictures, then you know you nailed at least one part of the event.
looking for an event planner in chicago?
Creating a successful event takes dedication, and it helps to start with small events before you take on anything larger. Large events often require a whole team of planners to help make sure everything goes off without a hitch. As one person, you can only do so much; and by the time the event rolls around, you are going to be exhausted from all the planning.
For many people, however, the planning, stress, multi-tasking, and tight deadlines are all worth it when they see the fruits of their labor. Event planning is a stressful job, but it is rewarding to see how much fun the guests have and how successful the event was after the event.
If you are feeling overwhelmed with the different stages and the sheer amount of planning that goes into each event, even on a small scale, then you are not alone. The pressures of running an event can catch up with anyone.
In times like this, it can be tempting to hire an event planner on the outside to take care of the vendor negotiations and do the multi-tasking for you.
If you are in the market for an event planner in Chicago, talk with the experienced planners at Anticipation Events. Working with every type of event in the Chicago area from weddings to business events and social gatherings, you are sure to find the perfect planner for your needs.
Looking For More? Explore Related Posts: