What the hell is this Indie Wed thing you keep talking about?  From the horse's mouth: "Indie Wed is THE alternative to the traditional bridal expo.  For those in the midst of wedding planning, Indie Wed offers a one stop shop for all the best wedding artisans and professionals from the Midwest and beyond. Not only is our focus on promoting and supporting small, independent (indie) businesses, but also couples with an independent spirit."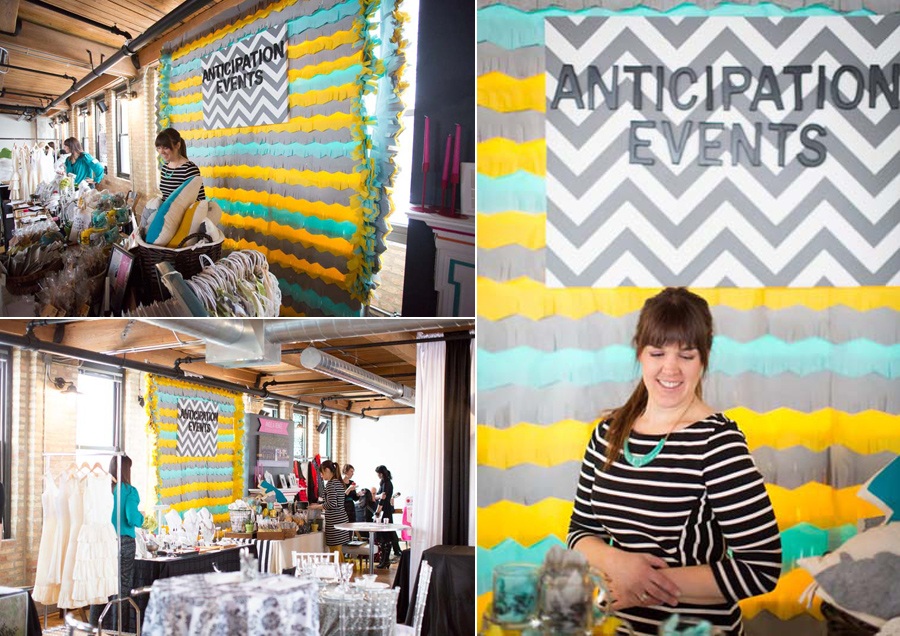 I was thrilled to be chosen as one of the vendors and wanted to make sure that I killed it.  Take a look, if you please, at how it all turned out.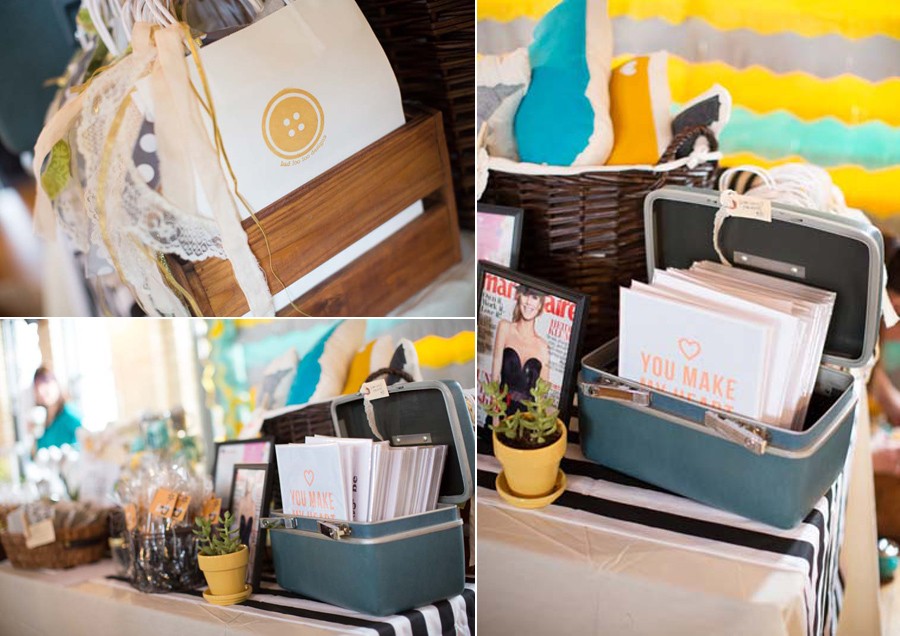 I spent way too long making my backdrop but was really happy with how it turned out. It's all tissue paper and love.  We had three hours to set-up at Ravenswood Event Center the day before the show and I cut all of the chevrons and fringe then.  I morphed into a bizarre combination of Edward Scissorhands and Martha Stewart, but it was worth it and I finished in the nick of time.  Ryan came to capture some shots for me, caught a few of me in action and I managed to step in front of the table to snap a quick i-phone picture of Katie chatting it up!
I spent a ton of time preparing for the show: tying my business cards to rock candy sticks for guests to take, packing up candy for the "swag bags," and putting together packets of information about our services that I tied together with ribbon, hand-stamped each envelope and closed with some adorable black and white polka-dotted tape.  Also, Indie Wed proved the perfect excuse to debut my new business cards which I had been wanting to design for awhile.  So cute, right?
 As if that wasn't enough to do, for the very first time, I attempted to sell some things that I had crafted.  I was very pleased with the results.  Stay tuned for an Etsy store announcement soon.
 All in all it was a fantastic day: I met tons of lovely ladies (and gentlemen) some of whom I hope will become frients (client-friends), I sold some things I made and got to reconnect with and meet a lot of new friendors (vendor-friends).  Thanks to Indie Wed for a fabulous show!
*eye candy courtesy of the generous and helpful Ryan of Ryan Moore Photography who not only took all of these lovely photos for me but also helped me hang my backdrop and carry a million loads of my crap up the stairs of Ravenswood Event Center.
Looking For More? Explore Related Posts: