OMG. You guys. We post some seriously gorgeous weddings here and this next one is no exception. Hope you're sitting down, because Sana + Albar's hipster Pakistani wedding is a visual delight you won't want to miss!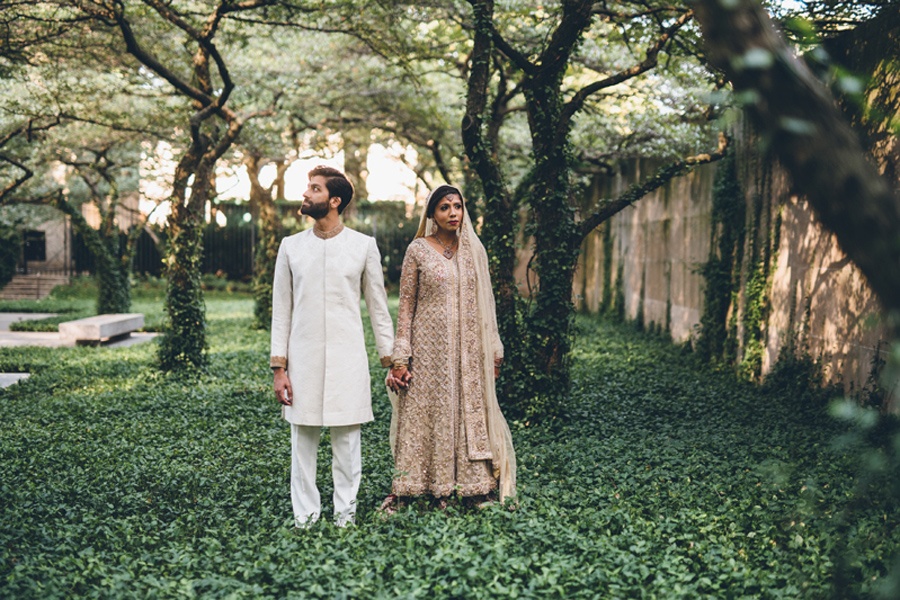 Sana + Albar's wedding weekend started with the traditional mehndi ceremony at the Gallery at Latin Rhythms in the West Loop. Sana + Albar and their family and friends danced choreographed dances, enjoyed amazing food, and celebrated the eve of their wedding night with a mixture of traditional and nontraditional fun.
The next morning, Sana + Albar got ready at the Palmer House Hilton Hotel before having their first look in one of the most beautiful hotel lobbies in the city. Wow. Ed & Aileen Photography hit it out of the park with this one.
While Sana + Albar were out taking photos around the city, we were busy at Ovation Chicago getting every little detail in place for their ceremony and reception. We love all the gold details, elegant furniture and rich colors. Everything looked perfect against the backdrop at one of our favorite venues, Ovation, and set the stage for an unforgettable evening.
Sana + Albar's wedding was filled with all of the wonderful things a wedding should be full of – love, happiness, laughter and dancing! We had a blast working with them and wish them a lifetime of happiness.
*eye candy courtesy of Ed & Aileen Photography (who are also AE clients!)
Sana + Albar's Vendors
Ceremony + Reception Venue: Ovation Chicago
Photographer: Ed & Aileen Photography
Coordinator: Anticipation Events
Caterer: Usmania
Staffing: Carol's Event Staffing
DJ: Style Matters
Hair + Make-up: Sameen Khan
Hotel: Palmer House Hilton
Florist: Flowers for Dreams
Bakery: Alliance Bakery
Rentals: Tablescapes + Chicago Vintage Weddings + Sound Investment AV
Mehndi Venue: Gallery at Latin Rhythms
Mehndi DJ: DJ Prashant
Swing Rental: Bandham Rentals
Looking For More? Explore Related Posts: