Pam and Ed were married in June at Art Institute of Chicago and had their reception at Chicago Park Hyatt.  I remember getting off the phone with Pam after our initial call and saying out loud "I want this wedding."  Fifty-somethings, neither of whom had ever been married and then they flipping found each other.  How inspiring is that?  I loved it so hard and really was so, so happy to be a part of their day.  It was also completely hilarious that Pam kept saying it was the best day of her mom's life because she was finally getting married. HA. Pam, you slay me.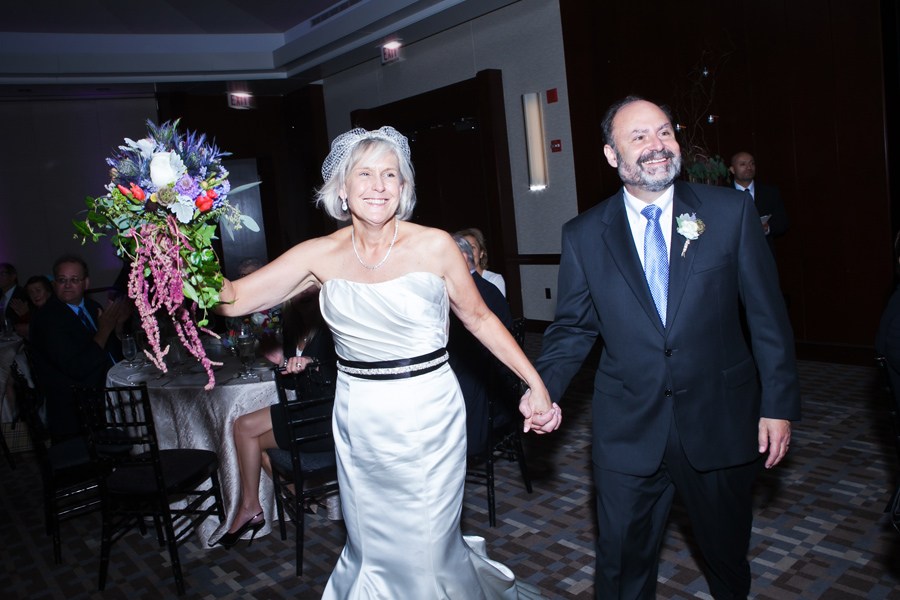 Pam and Ed had their ceremony on the Grand Staircase at the Art Institute of Chicago.  I had never done a wedding on the staircase there and it was so amazing.  All of the guests watched from above and it was such a cool 360 degree view.
My pal Janessa and her team at Forget Me Knodt made their visions of a forest in the city come to life. Pam and Ed are travel lovers and love to hike so they wanted to bring a touch of that into their sleek city venues.
Ed was the cutest groom. Not only was he heavily involved in the planning and production of the wedding day but he cared so much about all of the little details they planned and that all of their guests had a great time. I was downstairs setting up at the Chicago Park Hyatt that morning, and Ed came down to check on me.  We chatted about a few things and then he asked if he could borrow the dance floor. I set up place cards while Ed practiced his first dance solo.  He was so adorably nervous and wanted to make sure he nailed it.  And boy did they.  It was one of my favorite first dances to date.
*eye candy courtesy of my the lovely Susan Ryan Photography
Pam + Ed's Vendors
Ceremony: Art Institute of Chicago
Reception: Chicago Park Hyatt
Day-of Coordination: Anticipation Events
Catering: Chicago Park Hyatt
Sweets Table: Cake Chicago
Photography: Susan Ryan Photography
Band: Matt Stedman Band
Florist: Forget Me Knodt
Transportation: Chicago Trolley Company
Rehearsal Dinner: Mid-America Club
Guest Hotel: Chicago Park Hyatt


Looking For More? Explore Related Posts: