Louisa + Jeff's wedding at Garfield Park Conservatory in Chicago was nothing short of simply gorgeous.  Louisa and I worked together for over a year and it was such a pleasure to get to see how all of the planning came together on a perfect day for the happy couple.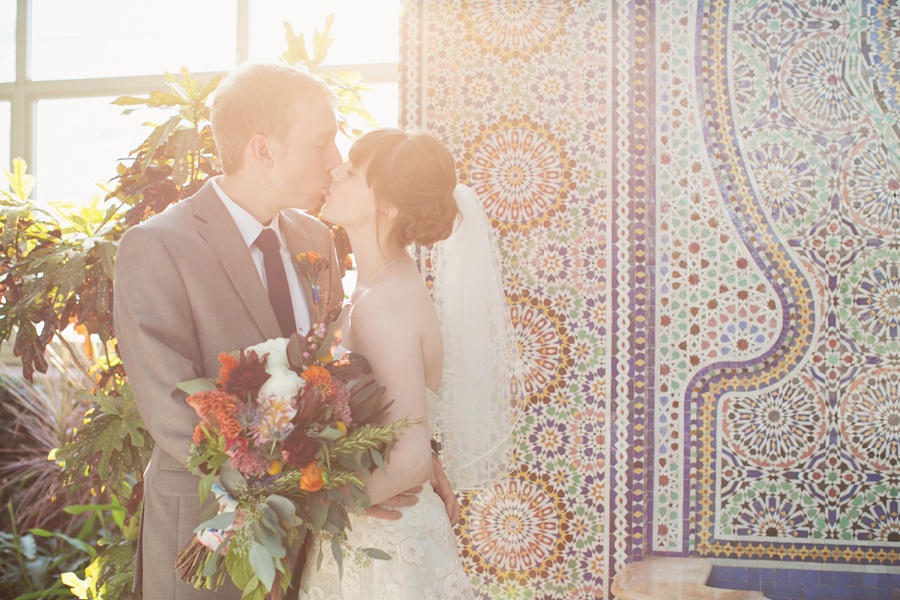 I loved getting to know them over the year and meeting Louisa on her lunch break at work for a coffee, honestly, I say it all the time but I have the best clients ever.  It's also really fun for me when I love everything a bride picks.  Her dress?  Love.  Those red shoes?  To die for.   And you know I'm a sucker for those map garlands.  PLUS an entire room full of cacti?!  Slay me.  And also, I die.
The dream team of vendors that we put together, it didn't hurt.The ethereal pictures from Laura at Lark Photography are show stopping.  I was audibly ooh-ing and ahh-ing as I looked through them.  She captured everything so ethereally.  You look at the pictures and think, that was in Chicago!?
Louisa + Jeff really wanted to keep their love and appreciation of the natural world in the forefront which is not always an easy feat in a city wedding but Laura nailed it.  And the flowers, oh the most lovely flowers.  Janessa of Forget Me Knodt really knocked it out of the park with this one; so many of Laura and my favorite pictures featured her gorgeous creations.
Overwhelmingly, everything we did or element we included we tried to be very thoughtful about it. Louisa water-colored each individual invitation and all of the table numbers and we incorporated little packets of seeds for guests to take home and plant. There wasn't a lot of "stuff" just for the sake of "stuff" and the whole event turned out so effortlessly chic, I think we were all a bit in awe as it came together that day.
*all photos courtesy of the lovely Laura of Lark Photography
Louisa + Jeff's Vendors
Ceremony+ Reception: Garfield Park Conservatory
Planning + Day-of Coordination: Anticipation Events
Catering + Cake: Limelight Catering
Photography: Lark Photography
Florist: Forget Me Knodt
DJ: Ruby with Toast & Jam
Transportation: M + M Limo
Ceremony Musicians: Neil Dixon Smith
Photo Booth: The Traveling Photo Booth
Guest Hotel: Hotel Burnham
Looking For More? Explore Related Posts: