Candice and Bill were married in June 2014 at Hotel Monaco.  The funniest thing happened at our final walk through, Bill looks at me and says: "I just have one more question: what happened when the hatch to the roof got thrown off of the apartment?" I had NO IDEA what he was talking about. It turns out that he was my landlord at my first apartment in Chicago and my jerk roommates broke a piece off of the roof (and then threw it off?!) He said I handled it well, and it's a good reminder that this big city is really kind of small. And also that someday you might be planning your landlords wedding so you shouldn't throw pieces of an apartment that doesn't technically belong to you off your three-flat. He let us coordinate anyway and Laura killed it!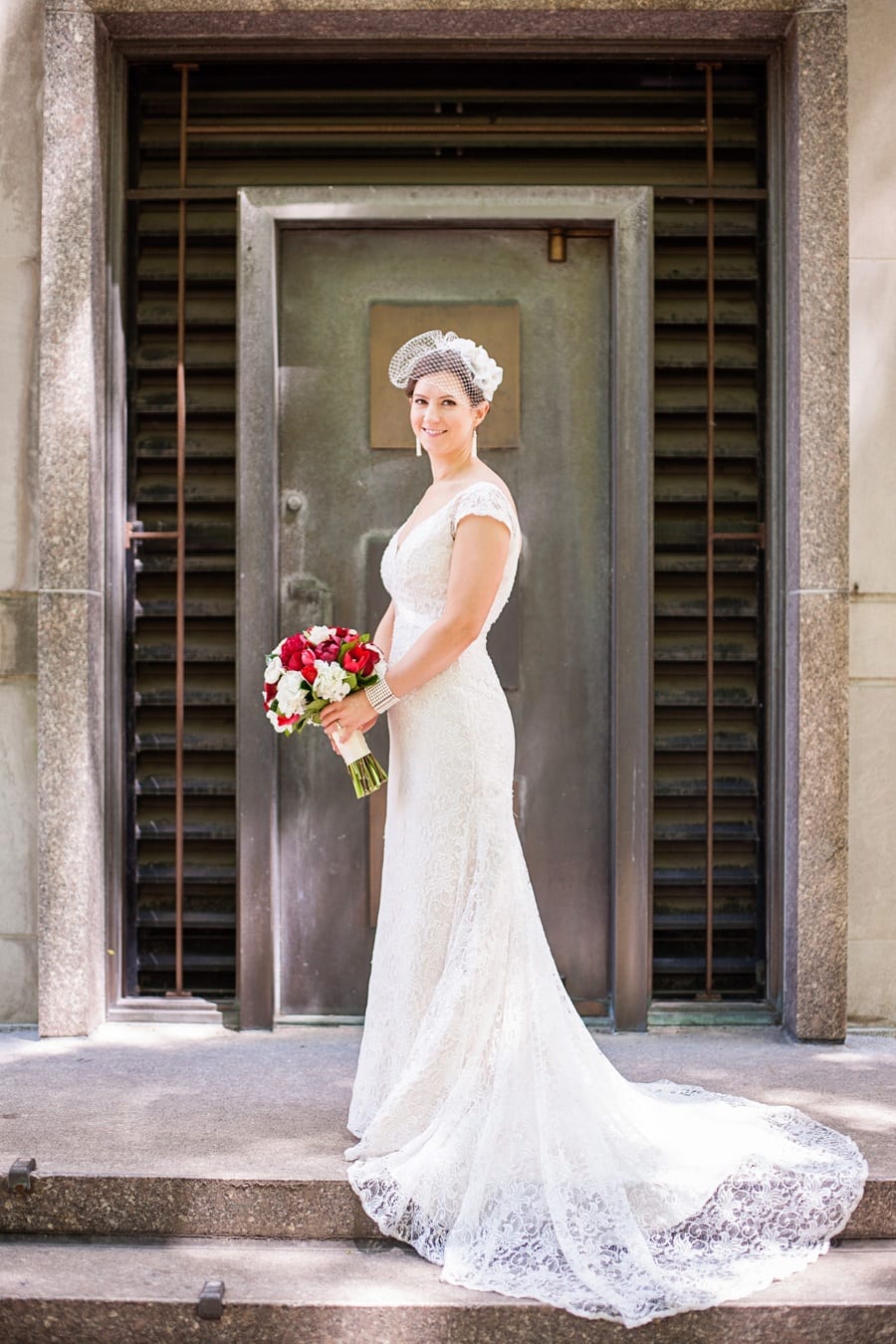 Hotel Monaco was amazing to work with and Candice and Bill were so fun. Candice was super easy to work with and incredibly organized, which always makes our job so much easier!
They even brought their pot-belled pig Rosie to cocktail hour for a little while.  If you've never oogled over a little pig in a cocktail dress, you really should try it sometime. She is adorable and Candice and Bill are crazy in love with her (and each other!)
They chose a bold yet classic color palette, they incorporated the things are are so very special to them, and then with a little help from their amazing band 16 Candles, they danced the night away! Truly the recipe for a great party and an amazing life together!
Let's hang out downtown again this summer yeah? Congrats to Candice + Bill on an amazing party and best wishes for a very happy life together (with Rosie!)
*eye candy courtesy of Cage and Aquarium
Candice and Bill's Vendors
Ceremony + Reception: Hotel Monaco
Catering: Hotel Monaco
Ceremony Musicians: Jennifer Ruggieri
Day-of Coordination: Anticipation Events
Band: 16 Candles
Cake: Alliance Bakery
Photography: Cage and Aquarium
Hotel: Hotel Monaco + Sheraton
Florist: Pistil and Vine
Make-up/Hair: Morgan Brown (Bridesmaid)
Rehearsal Dinner: Morton's Steakhouse
Post-Wedding Brunch: McCormick & Schmick's
Cocktail Hour Musician: Jennifer Ruggieri
Officiant: Anita Destino

Looking For More? Explore Related Posts: