This sweet, sweet baby shower took place in Omaha, Nebraska at a private residence in November of 2009. The parents-to-be were waiting until their little one arrived to find out if it was a girl or a boy so the color palette was orange, yellow and green so it would be fantastically gender neutral. They decided to use animals for the nursery so I jumped on board with that for the invitations!
I got craft paper cards and envelopes and a big pack of animal-themed scrapbook paper along with a giraffe stamp and some ribbon to create these. I just used some green, orange and yellow paper that was part of the paper pack to stamp and emboss the giraffe on, rounded the corners and used colorful brads to attach them to the front of the invite so it would have some motion. When it was all done, I tied a variety of yellow, green and orange striped and polka-dotted ribbons to close it at the side.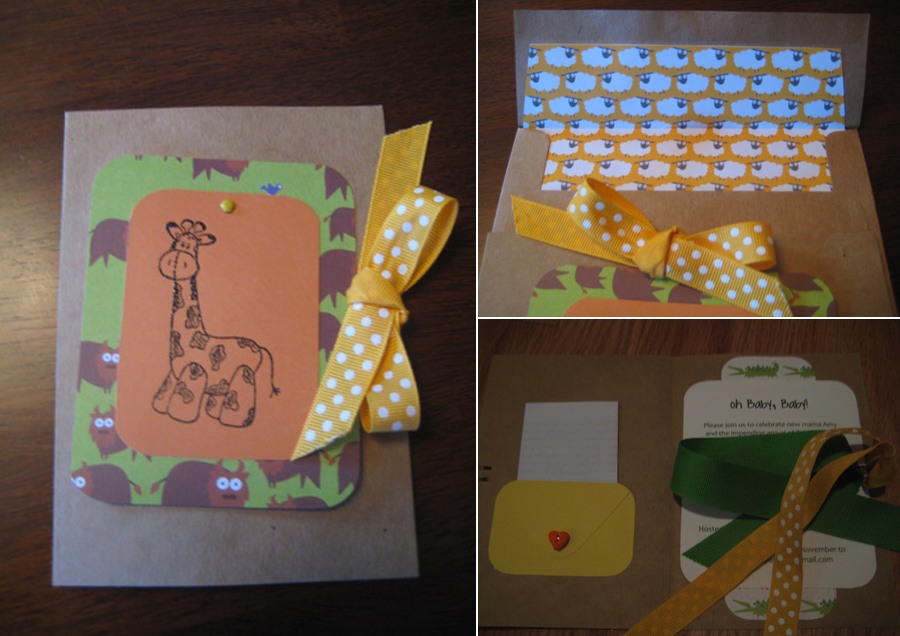 I used the animal-printed papers for the envelope liners, behind the return address labels and address labels and as a strip of fabulous behind the informational part inside. I printed all of this out and glued away. The pack of paper had paper adorned with sheep, ducks, buffalo, penguins, alligators and lions…so stinkin' cute and everyone's invite had at least two different prints on it somewhere.
I also created a little mini-envelope for the inside that had information on a "Letters to the Little One" book that was going to be put together for Amy as a surprise. I used scraps of the green, orange and yellow paper and little buttons I had already.
I really loved making these and I think everyone liked receiving them in the mail. Isn't snail mail such a wonderful thing?
I used more of the paper pack to make the sign for the front door to reference the invitation so people would know that they had found the right place! (Don't worry I put it up looking nicer and evened out the letters before guests showed up. I was so worried I would forget to get a picture of everything!)

As a last minute thing, I whipped up some name tags because I had just gotten a xyron machine that I wanted to try out and used some giraffe printed paper from the same pack to back them. Easy peasy.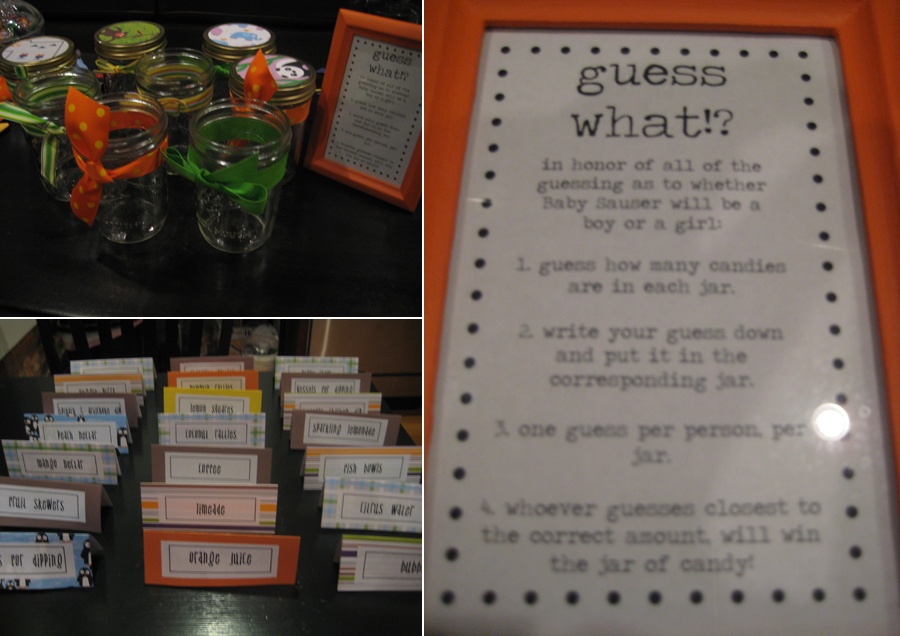 Flowers are expensive right? So I made some paper flowers, used mason jars and ribbon to create candle holders, put dried peas in the bottom, found a few cheap frames at the thrift store which I painted and framed some of the scrapbook paper in (seriously, i used this one pack of paper for almost every single project.)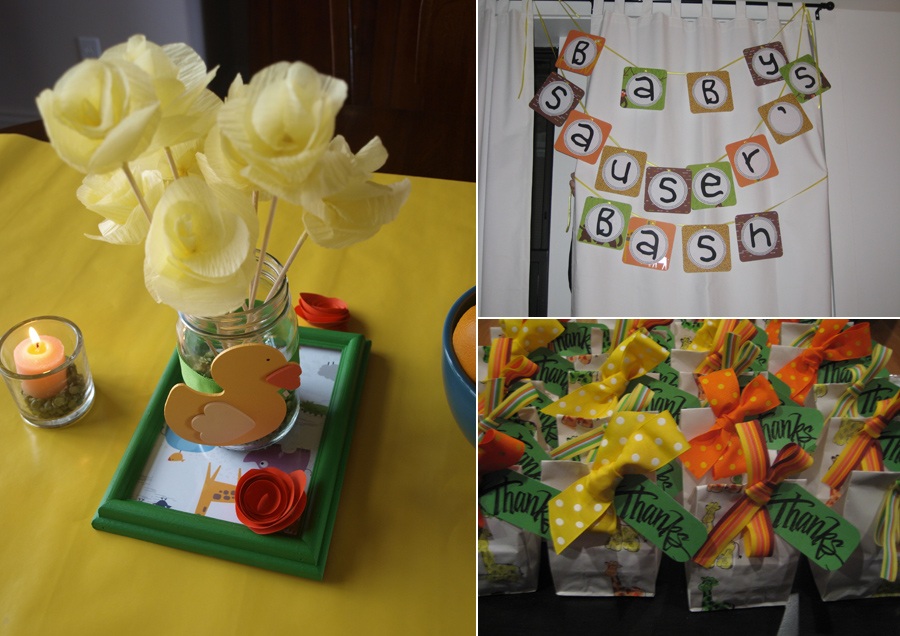 The other table had the same components but instead of the oranges in bowls I whipped up a quick diaper cake. I actually wasn't going to do this because sometimes I think they can be a little cheesy, but I was gifted a half a box of diapers and I didn't want to just hand it over like that. Each layer got a ribbon in a different color/pattern and I topped it off with an awesome floppy lion I found. He just looked so dang cute lounging on the top.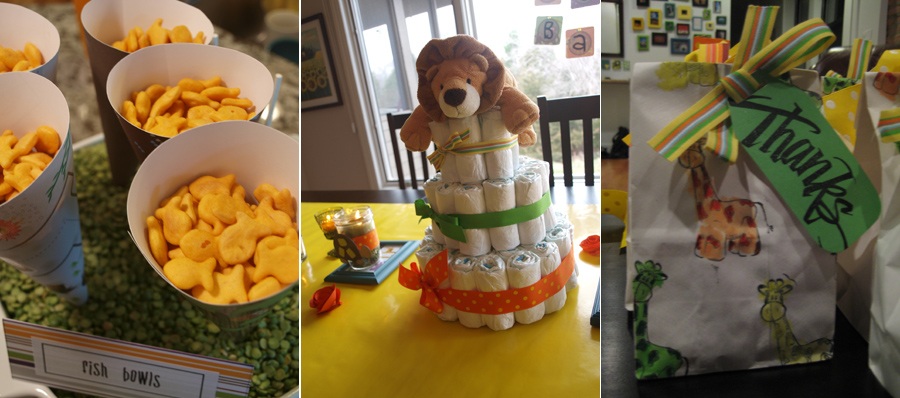 A friend of Amy's (mom-to-be) carved this stroller out of a watermelon and I made skewers for fruit kabobs that had little animal flags on top. This actually turned out to be the biggest pain of any of my projects. I originally wanted circles, but didn't have a circle punch, so that failed quickly. Then I realized that it was really hard to get them to match up exactly (my type-A personality shining through). So I redid them a third time, flipping the image in InDesign so that I cut two out together, folded them over the skewer and they looked perfect! Third time is the charm, (or maybe it was three strikes and skewer flags would be out.)
Using more of the paper I made paper cones to hold "goldfish" and "puppy chow." Get it? I know, SO clever. To make them stand I cut a piece of styrofooam to be a little smaller than the shape of the pan. Then I stuck lollipop sticks in the foam to hold the cones up (leave a hole [or snip the end] of the paper cone so that it just barely slides down the lollipop stick) and cover the styrofoam and bottom of the cone with dried peas. Cutting the foam smaller than the pan is essential if you are using a see-through pan like I did so that you can get peas around all of the sides as well. Fill with your favorite treat and the crowd will go wild. Promise.

I wanted to make sure there wasn't 1,000 glasses to wash at the end of the party. You know how you set your glass down and then you walk away and when you get thirsty again you cannot for the life of you figure out what you did with it? Well champagne deserves champagne flutes and everyone was getting one chance. I made these tags for each glass so guests would be able to keep tabs on it. If you have an RSVP list beforehand it's easy to do, otherwise I would forget it–if you miss someone and they don't get an adorable bird tag they might cry. I would.

little birdies for bubbly!
Chocolate cupcakes
, 
coconut cupcakes
 and 
pumpkin cupcakes
 were turned into rattles with lollipop sticks, ribbon bows and gumdrops. And lemon bars were included as they are one of Amy's favorites. The coconut and pumpkin cupcakes got RAVE reviews. Go bake them. Now.
We had lots of drinks to choose from. Champagne was the only alcoholic choice, because it was 10:00 am, and it was Sunday and the guest of honor was with child and therefore not drinking. But pairing it with carafes of juice: orange, mango and peach make it a perfect Sunday morning drink. Amy does LOVE lemonades and fruit juices of all kinds so we had sparkling lemonade, citrus water (it looks so pretty!) and blueberry limeade as well. Behold: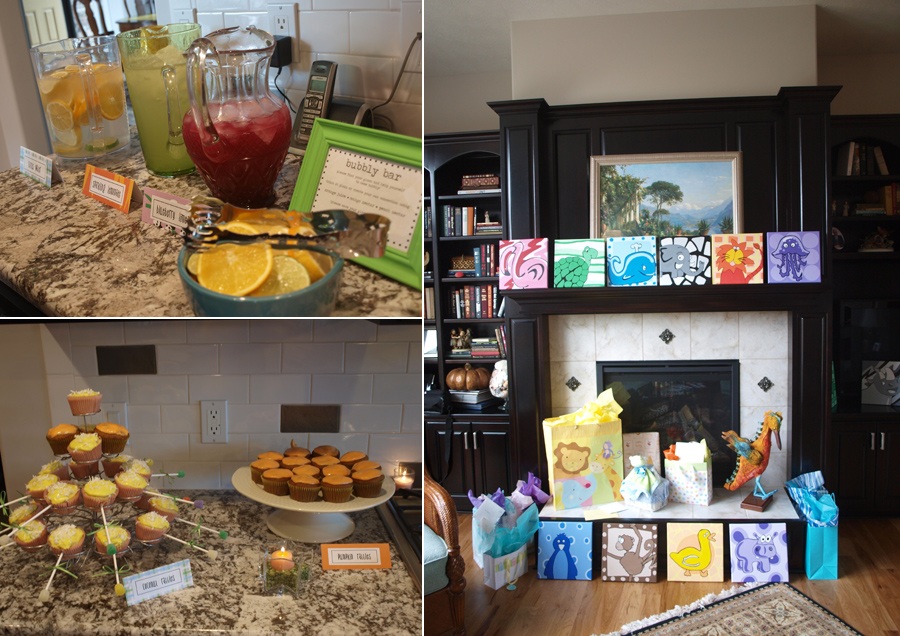 I found a recipe for Sparkling Raspberry Lemonade, pretty much ignored it and made Blueberry Limeade instead. It was delicious. It's also kind of a pain in the behind to make, but I promise it's worth it! Here's the gist, feel free to edit to your tastes.
Blueberry Limeade – serves 6 (or me)
Ingredients
• 1/2-3/4 cup sugar (i like it tart, add more for sweet)
• 1/2 cup water
• 1 1/2 tablespoons grated lime peel
• 1 cup fresh lime juice (MUST be fresh, please.)
• 1 liter (or whatever will fit in the rest of the pitcher) chilled water
• Ice cubes
• 1 bag frozen blueberries, no sugar added please, just the fruit!(or your favorite berry)
• Lime slices & fresh blueberries to garnish
Preparation
Combine blueberries, sugar, and 1/2 cup water in medium saucepan. Stir over medium heat until sugar dissolves and berries thaw. Increase heat and boil 3 minutes. Strain blueberry mixture into bowl, pressing on solids to extract as much liquid as possible; discard solids in strainer. Mix lime peel into blueberry syrup in bowl. Chill until cold.(Do this ahead of time, it'll keep for a few days at least.)
Stir blueberry syrup, lime juice, and water in large pitcher to blend. Pour over glasses with ice cubes and add garnish with fresh blueberries and lemon wheels. Devour. Thank me later.
When guests left they all received a bag of vanilla animal cookies to take with them! I bought a giant container of animal cookies at Costco and put them individual zip-top bags (if you do this you can make them weeks ahead of time and they'll still be fresh). The white bags were from Party City and I used the giraffe stamp that I used on the invitations to stamp each bag. I painted each one with thinned out paint so it wouldn't totally cover the stamp (watercolor would be great but I didn't have any at the time) and then, because I am completely insane and was annoyed that the paint faded the stamp ink, I traced each stamp with colored pencil to make it stand out more. I cut green tag shapes from leftover paper in the invitation paper pack, stamped and embossed each one with a "thanks" stamp and then strung it on a ribbon that I tied in bows on top of each bag. Boo-ya.
If nothing else I hope you have learned just how far one pack of scrapbook paper for $19.99 can go! Congrats Amy & Brian, what a lucky little monkey your baby will be!
Amy's Vendors
Venue: Private Residence
Invitations:
AE style
Favors:
AE style
Decor & Styling:
AE style
UPDATE: Julia Diane arrived on January 1st, 2010. Welcome to the world, baby girl!
*All photos in the post except for Ms. Julia's photo (taken my Mom) were taken by me. They are terrible, I realize this. This is an excellent example of why you should hire a professional. Please. Hire a professional