Last weekend I headed out on the road again to put together a bridal shower for one of my dear friends, Melissa.  We hosted it at Amy's house and ran with a sugar and spice theme.  Melissa's wedding colors are red and pink so we used those along with some teal to create a lot of sweetness.  I made the invites and it's sort of where the theme began. I drew three kitchen canisters labeled sugar, spice and nice so when you opened the envelope, this is what you saw:
A red envelope lined with pink and white striped vintage wallpaper (which I bought at a thrift store at least a year ago and just KNEW it would come in handy some day. I was right. Also, Melissa hates thrift stores and I love them so HA my friend.)
I printed the details in "empty" canisters on a separate sheet of paper and cut it down to size.  I sewed a blank sheet to the canisters and stuck the info in the pocket…and viola!  All the necessary info. is tucked inside the canisters for safe keeping.
I even rigged up my sewing machine using a popsicle stick so I would get straight lines, genius!  My OCD would not have handled that well otherwise. I was pretty proud that I got all the lines to line up perfectly — small victories my friends.
At the shower we served sweet and spicy foods and I made signage with our little logo on it with teal card stock and more wallpaper.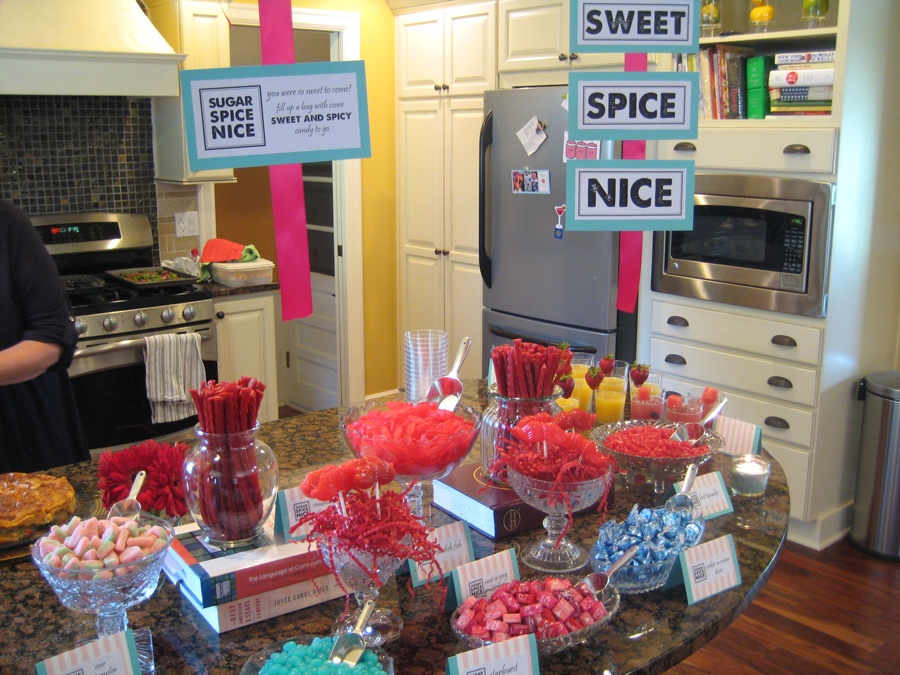 It was a brunch shower and I just could not resist the cereal bar pun.  I cut them into heart shapes and dipped them in white chocolate with pink sprinkles.  Why the heck not, I say.  I used light pink, dark pink and red ribbon to make a super simple table runner down the middle of the table…
Inspiration comes from my clients all the time!  I had recently done a wedding where we hung up paper lanterns in the tent and it inspired me to create a red and teal and pink filly lantern for this shower.  Cheap paper lanterns, tissue paper, a circle punch and my trusty glue gun was all it took! 
Every shower needs a fabulous cocktail so for brunch drinks I made a "Bride to be-llini" which was a pomegranate bellini garnished with fresh blueberries and watermelon cubes and a "Mis-mosa" (her nickname is Missy and you wouldn't have been able to resist that either.)

I haven't done a candy bar in a long time and realize they are sometimes overdone, but when you have a sweet and spicy theme, it just works.  I gocco'ed these little bags for guests to fill up on their way out.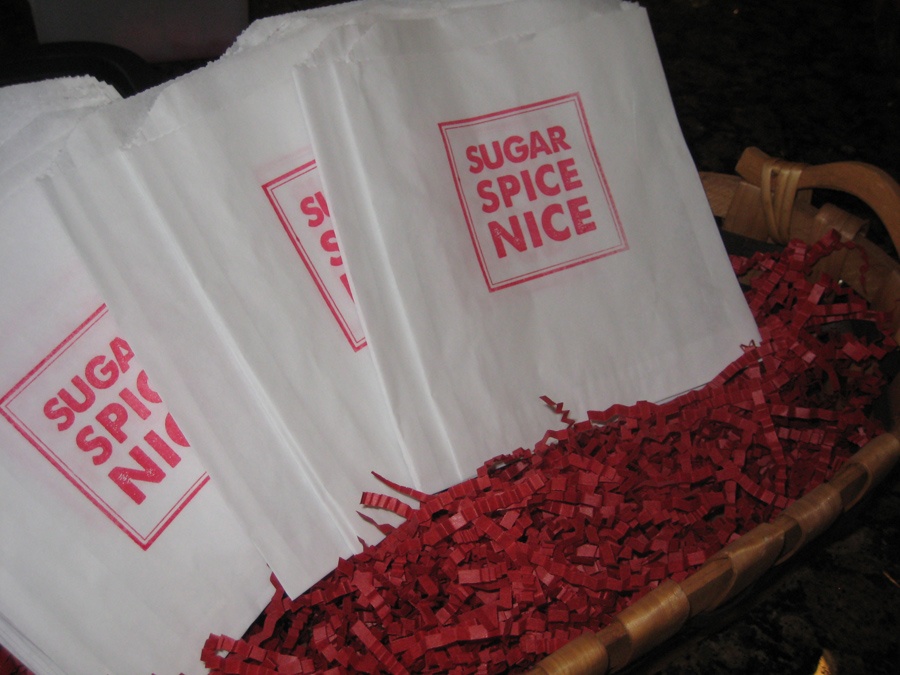 The bride got some candy to go for herself and the Mr.!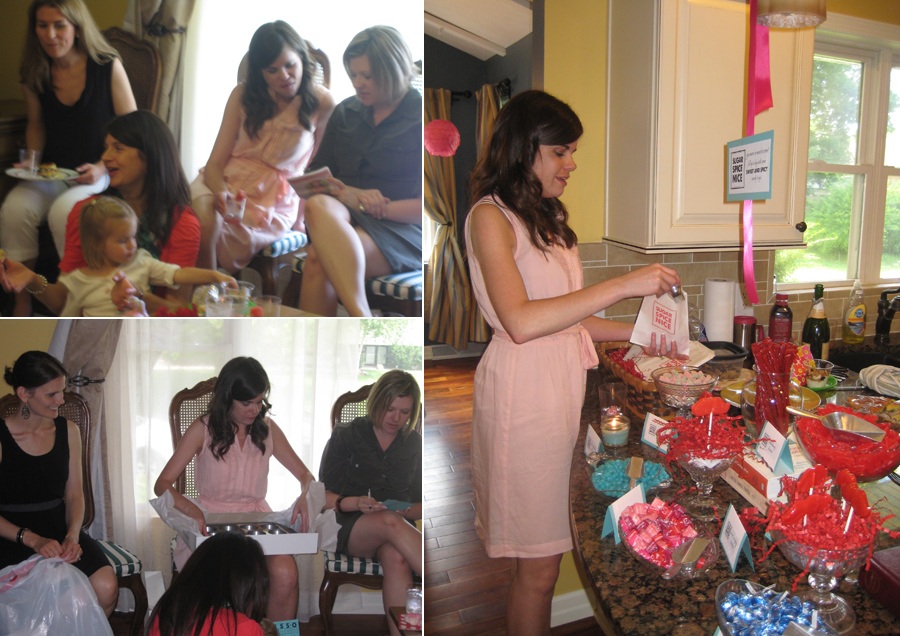 Amy made an awesome game of the "spice" variety and Melissa even got a few gifts to boot!

Three weeks until the big day and all they have to do is move into a new house in the meantime!