Kate and Mark were married at St. Linus Church in June 2010. Kate was a super organized bride, she knew what she wanted and did all of the planning herself. She hired me to run the rehearsal for her (this is something I have found that almost everyone dreads) and then coordinate the ceremony and a cocktail party that Kate's parents hosted in between the ceremony and reception. DiNolfo's took care of the rest!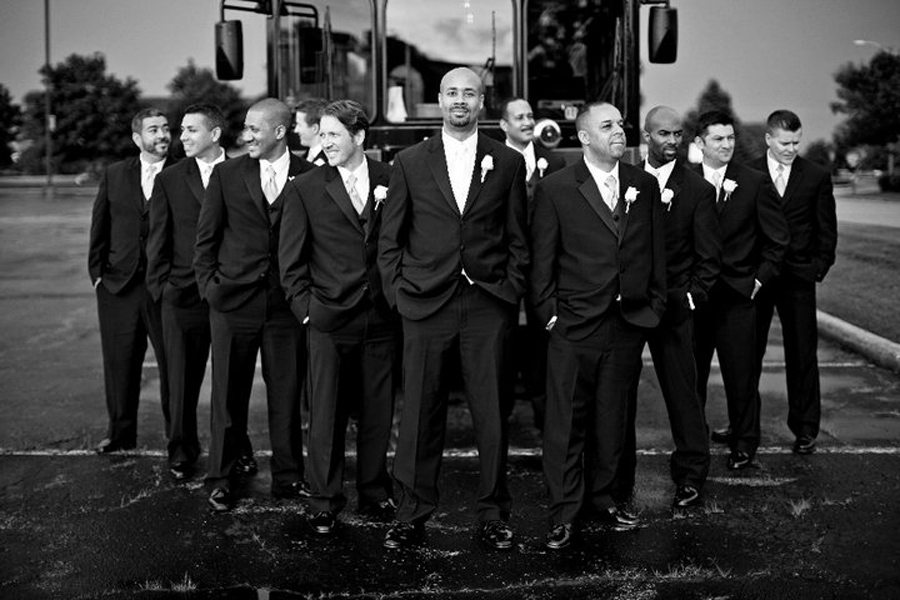 It was so fun to be at Kate's parents' house with them in the morning while Kate was getting ready:
This is Mark. This is how guys get ready for their wedding day. I am jealous. I actually met Mark last year at another wedding I was coordinating. Mark owns Trailing Edge Media and really saved the day when there was a big ol' technological glitch at that wedding. He must of thought I wasn't so bad myself–I was so happy to get an email from Kate a few weeks later about their own wedding!


Since they were both all dolled up and ready to go, we headed over to St. Linus in Oak Lawn. Kate had all the details ready to go:
It was one of the hottest, stickiest days of the year. Right about when Kate and Mark were saying I do, a monsoon started. Literally. A crack of lighting made the lights in the church flicker on and off and winds were throwing patio furniture around Kate's parents' backyard. But Kate and Mark just carried on.
I'm always amazed at photographers ability to catch these great expressions:
Congrats to the beautiful couple and thanks for letting me take part in your amazing day!
*Glossy photos courtesy of Danielle Aquiline Photography
Kate + Mark's Vendors:
Ceremony: St. Linus Catholic Church
Reception, Catering: DiNolfo's Banquets
Cake: Naples Bakery
Photography: Danielle Aquiline Photography
Videography: JJ with Orange Video Productions
Florist: ZuZu's Petals
DJ: Spencer with Style Matters
Ceremony music: Panache Entertainment
Makeup artist: Maggie & Sonia with Sonia Roselli Makeup Studio
Hair: Holly Kasprisin & Erica Anderson
Transportation: Chicago Trolley
Day-of Coordination: Anticipation Events