There are times in life when things line up.  When what's meant to be is.  When magic happens.  My sisters' bachelorette party was one of these times.  There were times during her planning where I had to put a lot of thought into things: writing a toast for the reception, how was I going to be a maid-of-honor AND wedding coordinator, if I should get chicken or fish, but choosing a theme for her bachelorette party was not one of those times.  Hence, Saradashian's Last Stand was born.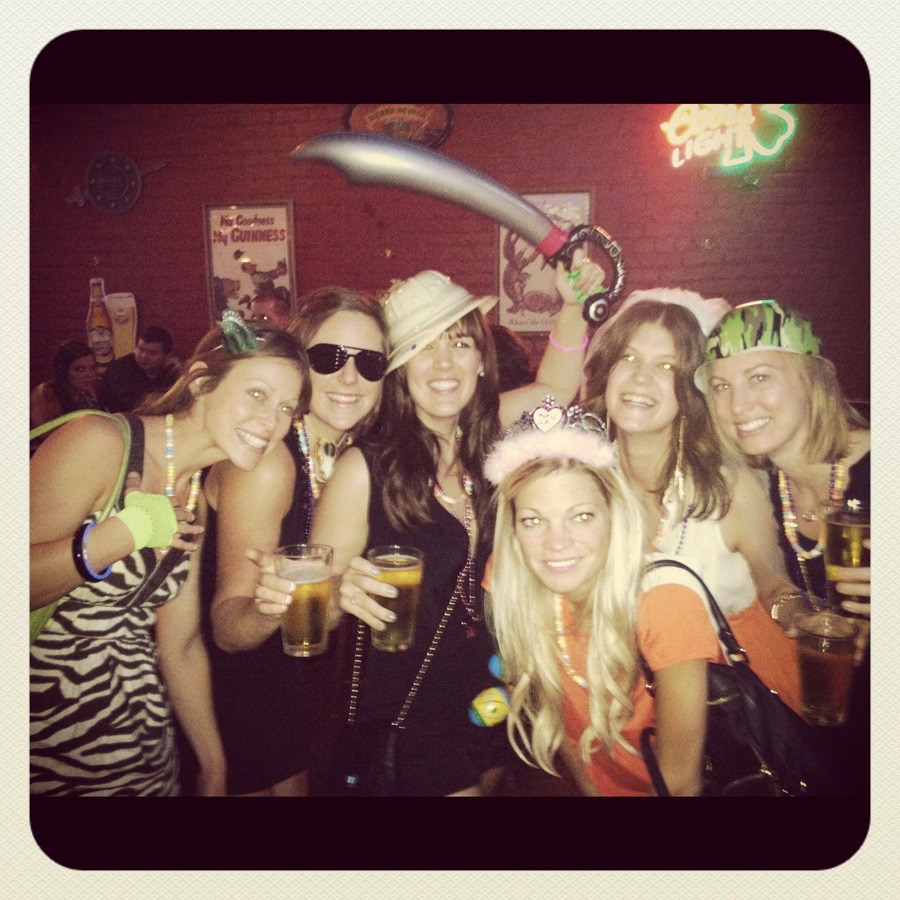 I designed and printed the invites (front to back) complete with photshopping my sister in with the Kardashians, tied them up with ribbon and stuffed each envelope with feathers and sequins.  The liners were custom made because really, when other time am I going to get to do something like this?  When you're talking about the Kardashian's, it's got to be over the top.  Bible.
I didn't tell her anything about the party other than what the invitation gave away which was to meet at a hotel downtown at 5:30.  At 4:30 I had an SUV (just like Kim Kardashian gets driven around in) pick Sarah and her bridesmaid Shannon up at her house and when they got in the car Shannon gave her a card I had had my parents write her (likely ending with, "be safe!")  Then they stopped to pick up two more bridesmaids and she got a card that I had my brother write (surprisingly sentimental).  One final stop to pick up the last bridesmaid Molly, and Molly gave her a card I had written her (recounting some of our drunken escapades together to ger her in the mood to party!)  I was so happy Shannon send me these pictures as a play-by-play!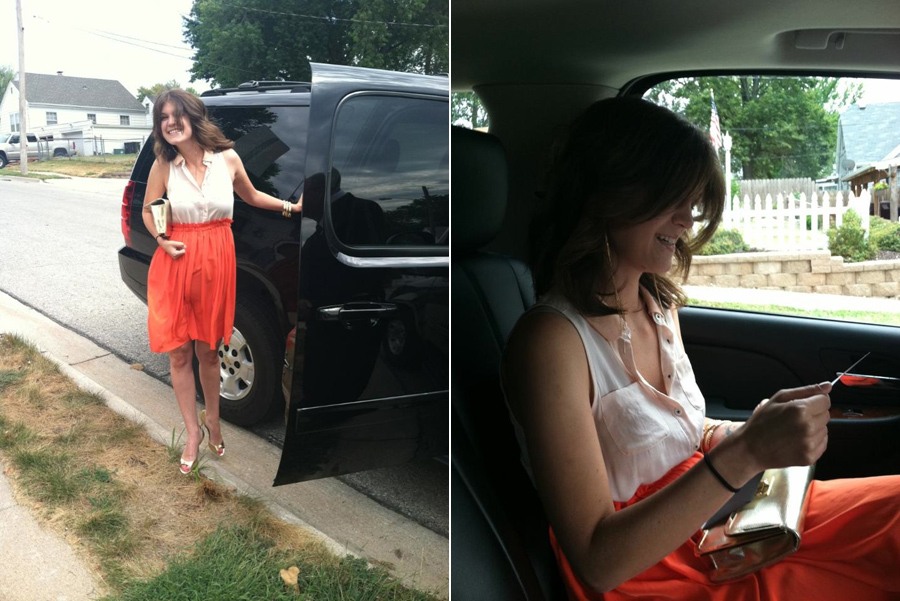 So in this case, I had the party in a hotel room.  This makes things difficult for a myriad of reasons: no access to your dishes, kitchen utensils or dishwasher, having just a tiny fridge and a microwave etc.  Even though we used a lot of things that could be thrown away at the end of the party, I still wanted to make it special.  Everyone got two glasses, one for champagne and one for kahlua and creams (my sister's favorite) adorned with the Kardashian of their choice.
I made the kahlua and creams by freezing the cream in ice cube trays and pouring kahlua over them.  A bathtub full of beer, and the party was on!  As for food, choose lots of things that are easy to eat on your lap and don't take a lot of prep.  I did sushi, chips and dips, fruit and dip in individual cups and individual popcorn boxes.  Mini cheesecakes and cupcakes for desserts, topped with engagement rings, perfect for taking to the bar afterwards to fend off any unwanted advances.  Oh and candy.  I just filled a bunch of patterened cupcake liners with all of Sarah's favorite candy.  She is ridiculous and eats it for nearly every meal yet still somehow manages to be as thin as a rail and never has any cavities.
You know I splurged and bought a life-size cardboard cutout of Kim, Kourtney and Khloe to greet guests.  Much to her fiance's chagrin, the girls are living in their basement, watching over the laundry pile, naturally.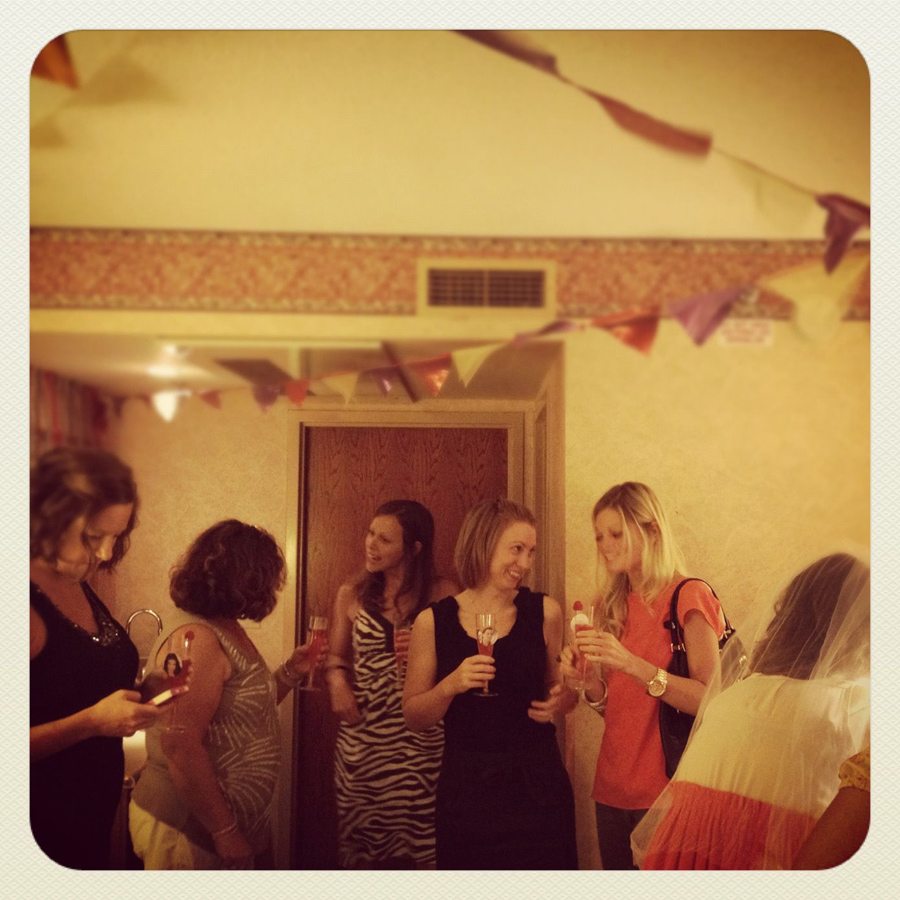 Goody bags for the girls were in little felt buckets I found at Target and I created tags for each using a heart-shaped punch and ribbon.  Easy-peasy.  Included in each was a mini can of Sophia champagne (mini, pink straw included!), a mini-bottle of Kim Kardashian's perfume, individual packs of Advil, a couple of blow-pops and a ring pop, a pack of Starburst and a pack of Skittles (see: candy obsession above) and then a few things to take to the bar: a stick on mustache, glow-stick jewelry, pixie sticks and mardi-gras beads.  Sarah got a homemade veil and light up diamond to ensure everyone knew who the star of the party was.  Classy, simple and accentuated her outfit.  Seriously, how long did your sister/best friend/future-in-law spend picking out an outfit for her bachelorette party?  Don't ruin it!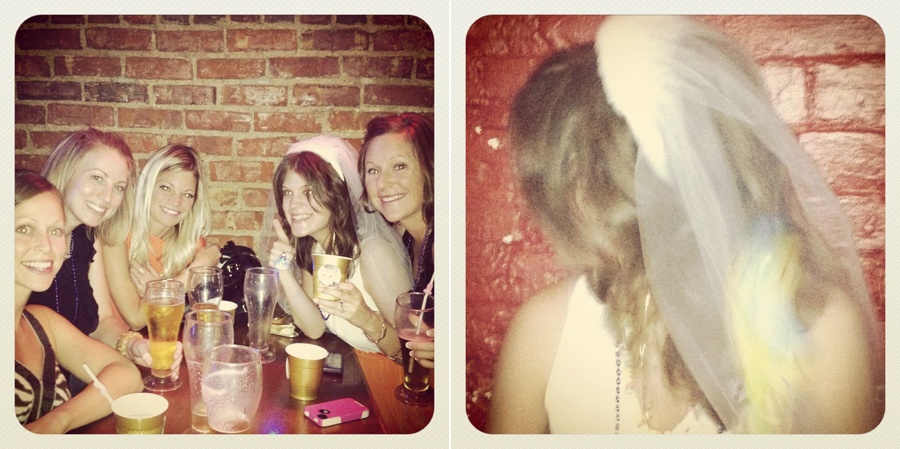 Timeline wise, for a shower or bachelorette party I like to welcome guests with a drink as they are arriving, let them eat and chat for a bit, play a game, open gifts and call it a day.  At a shower, people can stay and mingle, at the bachelorette party we keep drinking and told some hilarious Sarah stories.  I really hate forced bachelorette party games, but think they can be a good ice-breaker when people don't know each other well.  I created a "Kardashian Kuiz" full of questions about the infamous family (which my sister promptly won) and then took a bag full of props out to the bar with us. And obviously the penis straws and Scott Disick.  Did you think he was going to let us go without him?  Not a chance, doll.