If you've been chosen to plan an event, chances are, you're scrambling to find all the right answers. Event planning can be difficult if you've never had to navigate the murky waters of venues and vendors, guest lists, and decorations before. 
It doesn't matter if it's your niece's birthday party, a corporate fundraiser, or a wedding – event planning is tough. It takes connections to find the right vendors, it takes months to plan everything out perfectly, and a crew to set-up everything exactly right. 
We haven't even gotten to the day of the event yet!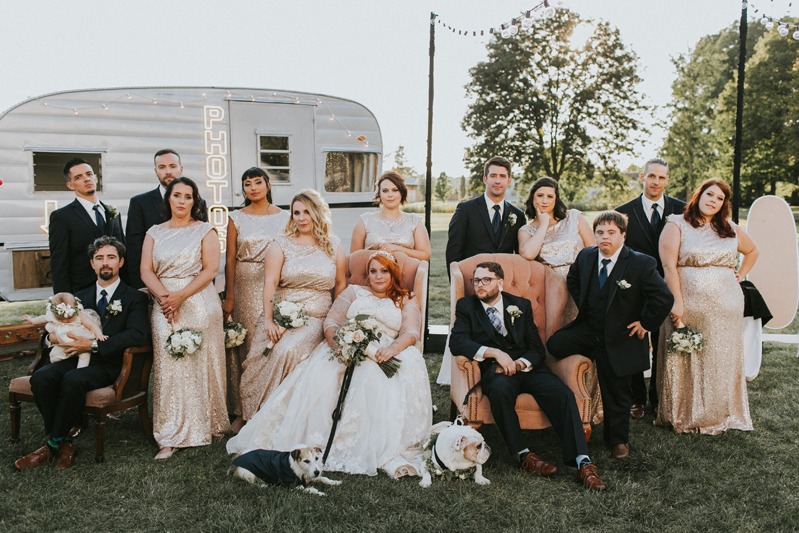 The day of the event is, without a doubt, the most important part. Despite putting in hard work every step of the way, many amateur event planners tend to skip the event day itself thinking they can finally kick back and relax. On the contrary, event planners tend to work twice as hard on the event day itself making sure that everything goes off without a hitch. 
The decor needs to be set-up on time, people need to be entertained, the schedule must be maintained, and above all else, the event must be memorable and appear effortless. 
That's a lot of pressure on one person. 
The team at Anticipation Events are the top event planners in Chicago, making events of all kinds a success in the metropolitan area. In this article, we share our top 7 event planning ideas to help make your event more fun and memorable for your guests, providing unique and special event ideas of every kind. 
creative ways to make your event more memorable ahead of time
The digital age has changed the way a lot of people communicate. Now, digital invites to events are everywhere, but overall event attendance is down. One creative way you can make your event more memorable is by sending them a printed invitation ahead of time. (1)
This RSVP is a signal that the event is important, that their answer will be considered more heavily than the simple click of a button. Your guests have an opportunity to think about the event more and consider whether they can make it.
Receiving an RSVP in the mail is a lot like receiving a hand-written letter. Put simply, it means more.
"These four letters should be enough of a signal to guests that the host needs to have an accurate headcount to make arrangements for the event." – Celia Chen
Many event planners have even taken to creating hybrid RSVP's. A hybrid RSVP is a great solution for the event planner who does not want to burden guests with replying through the mail, requiring stamps and envelopes. Instead, guests receive the physical invitation in the mail and are given instructions on how to RSVP online. 
This is a great solution for the eco-conscious event planner who might be concerned about their carbon footprint, or let's face it – there might be too many guests to track how many are sending RSVP's back. This way, your email inbox is flooded, not your mailbox. 
2 unique and special event ideas to add some fun to a serious event
Give your guests a reason to get involved after the event with a social media contest! Announce the contest at the event, asking people to take pictures with the interactive elements or write about their experiences at the event, and publish them on social media using an event hashtag, or publish them to an event page. If you want to up the ante, you can provide prizes for the best or most creative photos.
Everyone likes gifts and favors and receiving one at the door to your event will help them remember the event that much better. If you plan to include party favors at the door, try giving the guests something you think they'd enjoy, such as a pair of socks with your faces on them or beanie with the company logo printed on it.
You can also make it clear to guests that they are welcome to trade. This adds a little bit of fun and keeps things interactive.
3 event planning ideas to make your event more interactive
Dedicated Time to Network or Mingle
People are social creatures by nature, but at an event, guests may feel uncomfortable or unsure if it's the right time for mingling. (2) Create a space within your event, even if it's an open corner of the room, where guests are allowed to freely mingle and network. Make sure it provides ample space and it's not closed off from the rest of the event.
"People seek a relaxed environment to connect with other attendees, so be sure to build ample time in your agenda for networking and create a welcoming environment." – Ellevate
 If you have a schedule, make sure to include some free time between events where guests can mingle, make conversation about the event, and get to know other guests. 
A Photobooth with Funny Props
Nothing relieves the tension at a serious event quite like funny mustaches and weird hats. Photobooths are easy to rent out for any event, and props don't need to be expensive. Try visiting a party store and picking out a variety of fun costume pieces that are easy to put on and take off without visiting a changing room. Guests will love the opportunity to play, making it an ideal interaction spot for coworkers and honored guests alike. 
A message board is a fun way for guests to interact with each other and play games, reminiscent of passing notes in class. The key is in providing a physical message board, not a digital chat group.
All you need for this is a large, wall-sized corkboard and plenty of materials to work with. Give the guests pens and markers of different colors, multicolored push pins, and a few ideas to start the message board off right. 
If you are feeling daring, you can even provide a couple of instant polaroid-type cameras so guests can take pictures and post them to the message board. 
2 interesting ideas to make your event more memorable
Not sure how to fill the time in the event? Hire entertainment. Not only will it keep the guests entertained, but it will also give them something to talk about in-between activities. While live music might be a part of the event, it isn't always great eye candy. Provide flashy and exciting local talent, like dancers or circus performers. 
If you are worried your choice of entertainment will be too out of the box, then good. The weirder the entertainment is, so long as it stays appropriate for the event, the more memorable it will be for your guests.
Whether you're planning a fundraiser, a corporate meeting, or a wedding, there is always more you can do to get the guests to care about the event. 
For more personal matters, such as a wedding or birthday party, of course, the guests care, but they might not be engaged. Likewise, most corporate events are looked at like a chore, with coworkers hardly caring about what the event is about on their own. 
There are several ways you can engage guests, no matter the event type. Our favorite way is to incorporate art in some form, followed by a call to action: 
Perhaps you have something you want your guests to take away from the event. While anyone can pick up a microphone and walk on stage, droning on about a company's core message, it's better to hire a professional speaker to deliver a short speech based on how the guest's lives are affected by the event. 
Talk about the fundraiser cause for charities and balls, or at a wedding, you can make a call out to all those who have been married and will get married. For a corporate event, you might have an important brand figure talking about how the brand will revolutionize aspects of the guests' lives. 
Whatever it is, keep it quick and wrap it up with a call to action. What do the guests take away from the speech? Why do they care, and what should they do about it?
find an event planner in chicago
Is event planning in the Chicago area getting you down? 
Chicago is the place where great events happen, and no event planner came into success without a little help along the way. Whether it's your first time planning an event, or if it's an event that needs to look amazing yet effortless, it may be time to bring in the experts. 
Let us guide you through the process. If you need a little extra help, the experts at Anticipation Events can help make your event one to remember. 
Whether you're interested in professional consultation for your event planning ideas, or someone to take the reins, you can trust your event will be one your guests are talking about for years to come with help from the team at Anticipation Events. Give us a call or book a consultation today to learn more about what we can do for you.
References:
Looking For More? Explore Related Posts: