Katie & Jeff were married at the Hard Rock Hotel on Michigan Avenue on 9.10.11.  A fantastic date to get married and even more special because while they celebrated their wedding weekend, Katie's parents celebrated their wedding anniversary too!  It was so sweet!  I am particularly tied to this crew as I had the pleasure of helping Katie's sister Elizabeth with her wedding to Mike last year.  It was so fun to see the whole family again!
Katie and Jeff shared their first look before the ceremony and then had their bridal party join them for a photo shoot around the city courtesy of Mr. Michael Rastall himself.
Back at the Hard Rock we were ready to begin. Katie's dad escorted her down the aisle to her beaming groom.
One of the major style elements Katie wanted to do was transform the Hard Rock's conference room into a beautiful space to get married.  We nearly set the room on fire with massive amounts of candles.  We created aisle decor using records, ribbon and paper flowers and Janessa of Forget Me Knodt made sure we had some towering floral pieces in the room.  The biggest piece I made was the floral backdrop.  It included paper, satin and grosgrain ribbon along with dozens of strands of flowers made from tissue paper, deconstructed faux flowers and yes, coffee filters.  Who'd have thought? (this girl!!)
Some vintage sheet music punched into heart shapes played into the vintage rock & roll theme we had going on and guests were invited to shower the newlyweds with love on their way back down the aisle…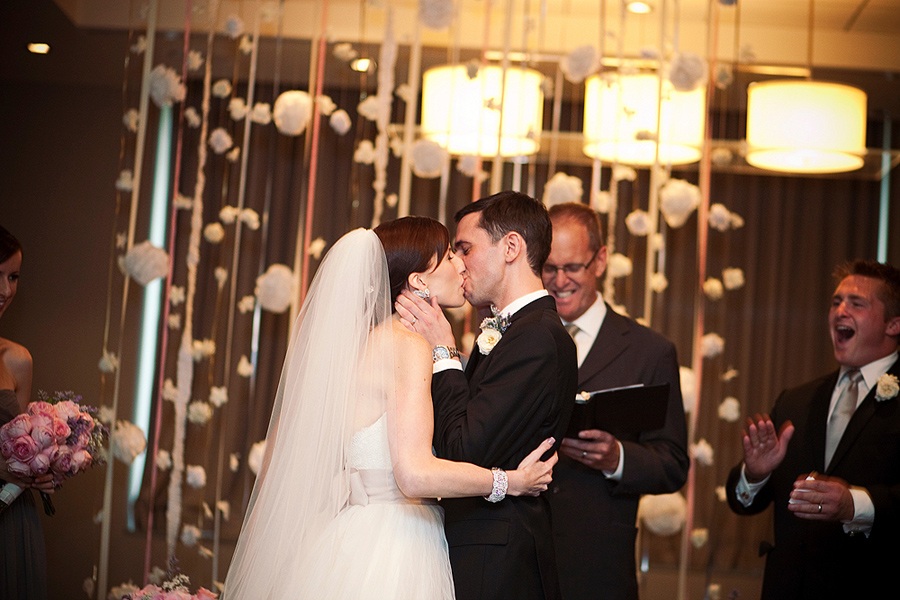 …and showered they were! (Side note: I found these miniature cups at the craft store and they were perfect for holding a handful of confetti. They are meant for individual portions of mixed nuts and therefore called "nut cups." Katie and I found that pretty hilarious and it was pretty tough to type it or say it aloud to each other without giggling uncontrollably.)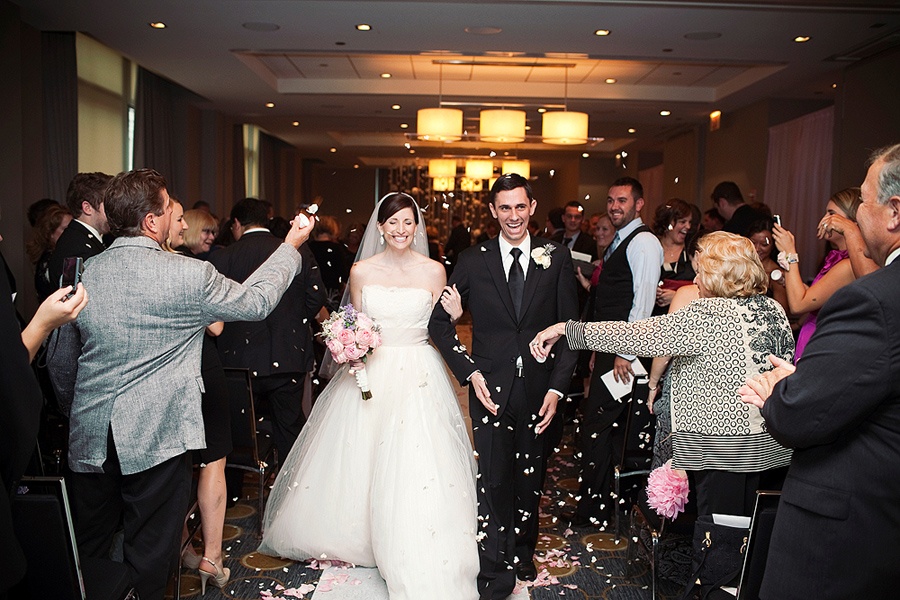 I hit the jackpot one afternoon at my neighborhood thrift store and feverishly send texts to Katie about finding a giant box of old 45's that we HAD TO HAVE.  She agreed (I like her SO much) and even though we weren't sure at the time how we were going to use them. To go with their vintage rock and roll theme, I built a structure out of PVC to hang the place cards from (I mixed my own concrete for the first time, which was as awesome as it sounds.) Each couple received a hand-painted record with their name and table number on it, we used light pink, ivory, silver and gold and strung them from black ribbon via clothespins.  This really turned out exactly how I envisioned in in my dreams (yes, I dream about bring crafty) which almost never happens.

We hired Chicagoland Photobooth to entertain their guests and boy, did they ever — complete with props Katie gathered up and a guest book so they could enjoy each ridiculous photo after the fact!

We used some of the remaining records to create Mr. & Mrs. signs for the back of Katie & Jeff's chairs, the cake table and the card box.  Katie found this amazing cake topper on Etsy and we had many a conversation on whether she wanted to spend the money on it.  Totally worth it, it's so stinking cool.

Yum.  Amazing cake by Swedish Bakery for the cake topper to reign over.
One last photo shoot with Michael Rastall capped off an incredible evening for Mr. & Mrs. Jones.  What a fantastic party for a fantastic couple.
Katie & Jeff's Vendors
Ceremony & Reception Venue: Hard Rock Hotel Chicago
Planning & Styling: Anticipation Events
Photography: Michael Rastall Photography
Florals: Forget Me Knodt
DJ: Alexander with Cage & Aquarium Productions
Cake: Swedish Bakery
Ceremony Musicians: Panache Entertainment
Photobooth: Chicagoland Photo Booth
Cake Topper: Tilly Biedron
Groom's Custom Fingerprint Wedding Band: Fabuluster
Invitations: Invited Ink
Bridesmaid Dresses: J.Crew
Bride's Shoes: Vera Wang Lavender
Bride's Jewelry: Nadri
Bride's Dress: Tara Keely (Fall 2010) from Wedding Belles