When Claire + Tim asked us to coordinate their wedding last fall, we knew we were going to have a blast. Claire has one of those infectious laughs and she and Tim both have personalities that makes you just want to hang out with them all day. So we did!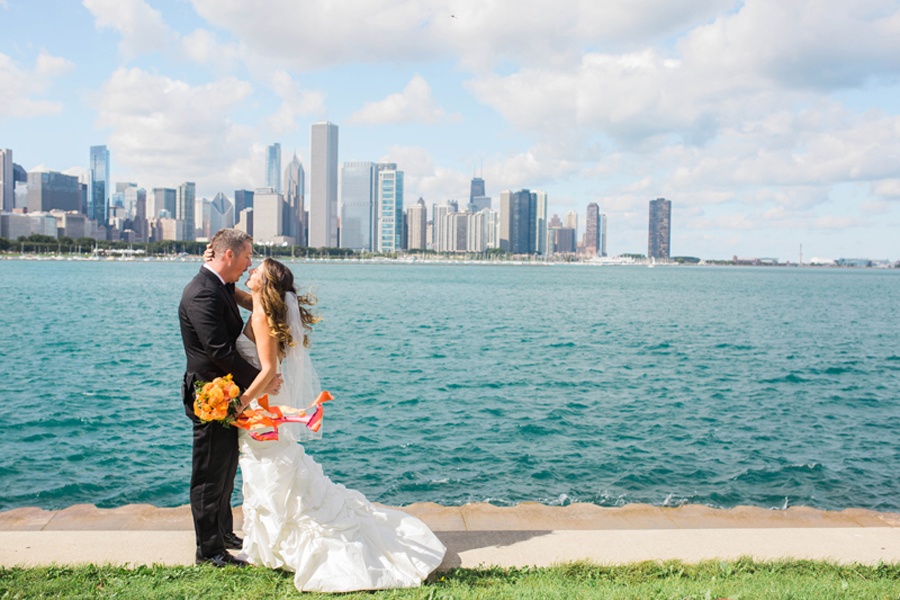 Claire + Tim started the day getting ready surrounded by tons of family and friends at the Hotel Monaco . We don't think either of them stopped smiling all day.
From there, Claire + Tim headed to Holy Family Catholic Church to get MARRIED! Their beautiful reception in one of the most gorgeous churches in Chicago was absolutely perfect, especially for Claire, who went to school at St. Ignatius next door.
Since the weather was absolute perfection, Claire + Tim headed to the lakefront for some classic Chicago wedding photos with their awesome wedding party.
From there, the gang headed to Prairie Production to eat, drink and dance the night away at the reception. We loved their unique Polaroid guest book and guests loved it even more. And we can't get over how their bright orange and green flowers from Becca Blue Flowers added just the right pop of color to their white reception space.
And if you think the photos from the amazing Lindsey Kay Photography are incredible, don't miss the highlight video from the talented Zach Mundzic Media.
We absolutely adored being part of Claire + Tim's day, especially since we were part of such an amazing vendor team. As the owner of a small business (Amplify7), it was really important to Claire to assemble the best team of small businesses for her wedding (many from Beverly, the South Side neighborhood where Claire + Tim grew up). It was an honor to be part of it and wish them the best of luck with Baby Victoria!
*eye candy courtesy of Lindsey Kay Photography and Zach Mundzic Media
Claire + Tim's Vendors
Ceremony Venue: Holy Family Catholic Church
Reception Venue: Prairie Production
Caterer: Froggy's Catering & Cafe
Photographer: Lindsey Kay Photography
Videographer: Zach Mundzic Media
Day-of Coordination: Anticipation Events
Florist: Becca Blue Flowers
DJ: Cage + Aquarium
Ceremony Musician: Joe Labozetta
Hair & Make-up: Pin Me Up
Hotel: Hotel Monaco
Cake: Gourmet Frog
Rehearsal Dinner: RoSal's
Transportation: Chicago Trolley & Double Decker Co.
Liquor: Grand & Western Armanetti
Looking For More? Explore Related Posts: