Everything is weird right now. And even weirder that you all are out there trying to plan a wedding during this upside-down time. SO, anything that resembles the before times, or just a moment to get out of your routine and pretend things are normal is such a treat. So when the team at Belle Atelier asked us to swing by to see their new Chicago wedding dress shop (literally opened right as the pandemic got going) we jumped. We also showered, put on hard pants, lightly blow-dried, and put on EYE MAKE-UP (took a minute to remember how, tbh) so it's clear we are in love with Giselle and the team.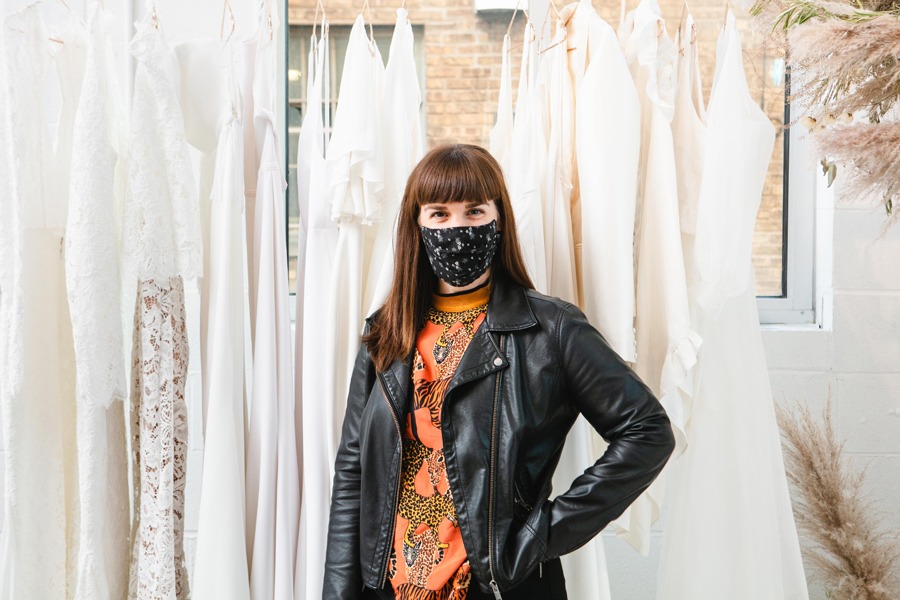 So last week we headed to her shop, around the corner, and to the back, and entered the calming paradise she created. Muted, neutrals, dried floral, and a whimsical neon finishes it off. Giselle is so warm and welcoming and immediately puts you at ease. Belle is a curated bridal boutique for the rule-breaking bride and their mission is to work hard to curate an exclusive and unique collection of designers that are for every bride. At some wedding dress shops, the vibe is sale-sy and intense and that's not our vibe or what you will get at Belle. It was such a treat to be welcomed in and touch beautiful fabrics and see such gorgeous design. She supports amazing local talents and small businesses, like Goli June, as we ALL should be right now and always.

We've also been following Goli June since she kicked off her career here in Chicago. Goli June is the spot for non-traditional bridal attire, perfect for the modern, fashion-forward bride seeking something different. They are inspired by culture and perspective and seek to celebrate and respect diverse brides through design. Their designs feature lush fabrics, flattering silhouettes, and unexpected touches. If you need any more reason to love them, inclusive and ethical design are pillars of their brand and all of the gowns are designed and made to order in Chicago!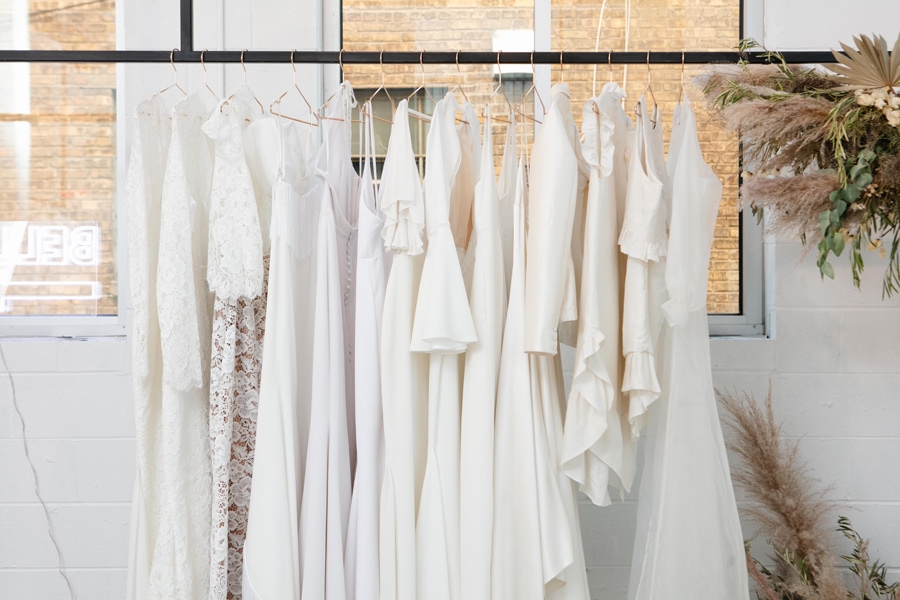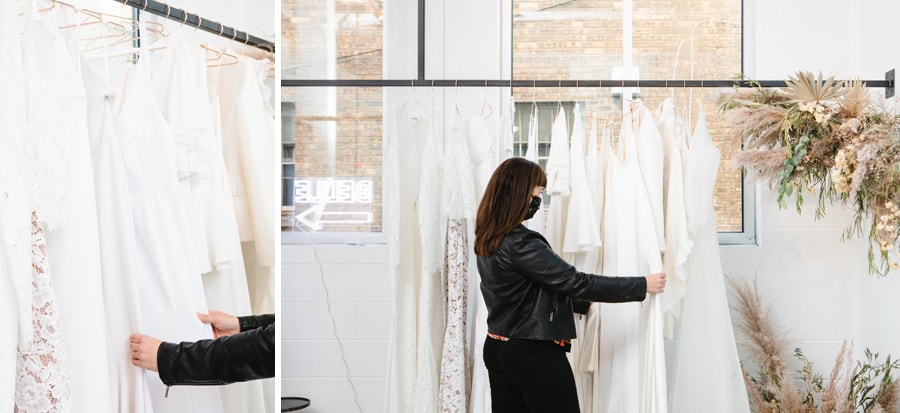 We got to go in and get a sneak peek of her FW21 collection "Stray Here" full of the most sumptuous fabrics and gorgeous lines. We loved the super silky Luca Gown and would totally pair the Hawthorne Coat over it. The Burke Gown WITH THE FRINGE is epic and the Collins and Kilda suit is totally perfection. If you are engaged, you should go try this on, and if you are married, you should start planning a vow renewal, and if you are single, then you should treat yourself to one of these epic pieces!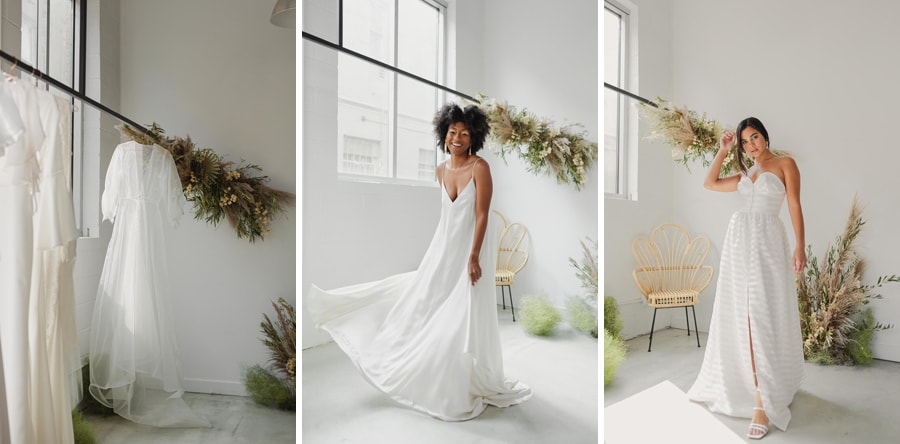 Book an appointment at Belle, the new Chicago wedding dress shop here before November 22 to try on the collection. And we didn't tell you this, but you don't have to be getting married to get one of these stunners, if you want to support a small, local business, and get yourself something nice—the look we picked out is likely the most comfortable dress and duster out there. Pair together or add some tights and a chunky cardi to the dress or throw on some dark cigarette pants and a print under the duster and you are the belle of whatever ball you attend–even if it's just dinner at home.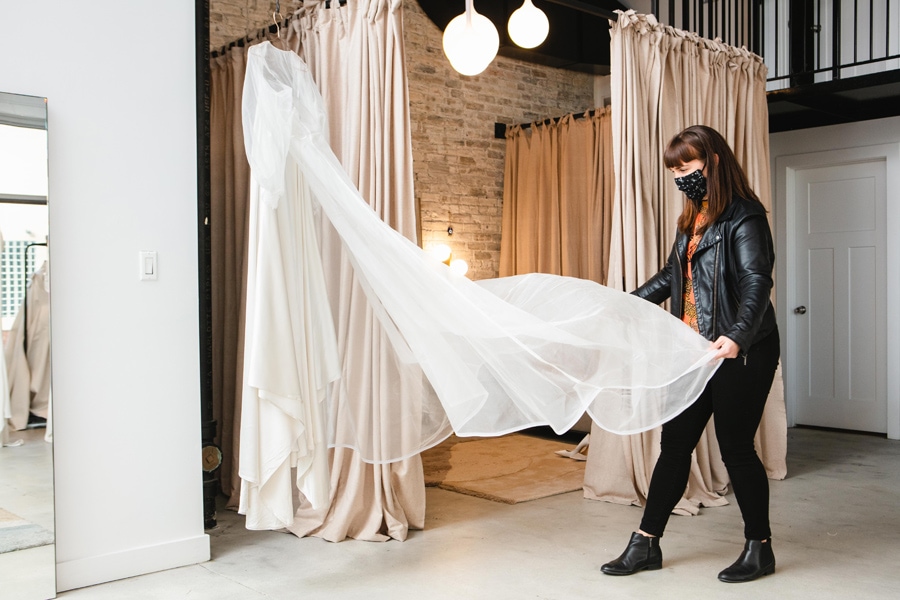 And if your vibe is like theirs, atypical, non-traditional, and inclusive, hit us up and we'll get you down the aisle in one of these beautiful gowns!
Looking For More? Explore Related Posts: